What Happened to Dillon the Hacker? We Have Some Very Bad News
What happened to Dillon the Hacker? The YouTuber garnered fame with videos that saw him launch attacks on many YouTube celebrities. Where is he now?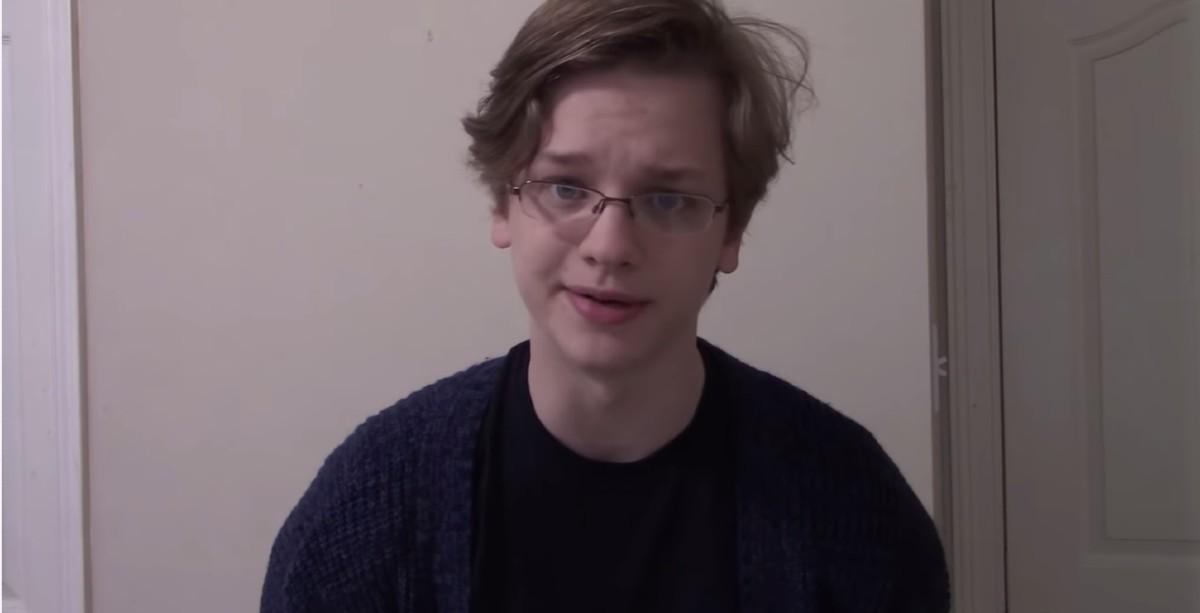 Dillon the Hacker (Dillon Prescott Henderson) obtained an enormous social media following by playing tricks on established content creators like PewDiePie, James Charles, and Jenna Marbles.
Many have fallen for his mock smear campaigns, including Markiplier, a fellow gamer who ventured so far as to sue him for defamation. Dillon disappeared from YouTube shortly after the first news about the court case had emerged. Some now claim that he has passed away.
Article continues below advertisement
So, what happened to Dillon the Hacker? 
Dillon the Hacker was one of the most controversial YouTubers out there. He earned renown for his ruthless attacks on just about every YouTube celebrity.
This highly unconventional strategy yielded to unexpected success, and in a few years' time, his vitriolic pieces were watched by as many as hundreds of thousands of subscribers. At the height of his career, Dillon was hailed as PewDiePie's most-dreaded nemesis.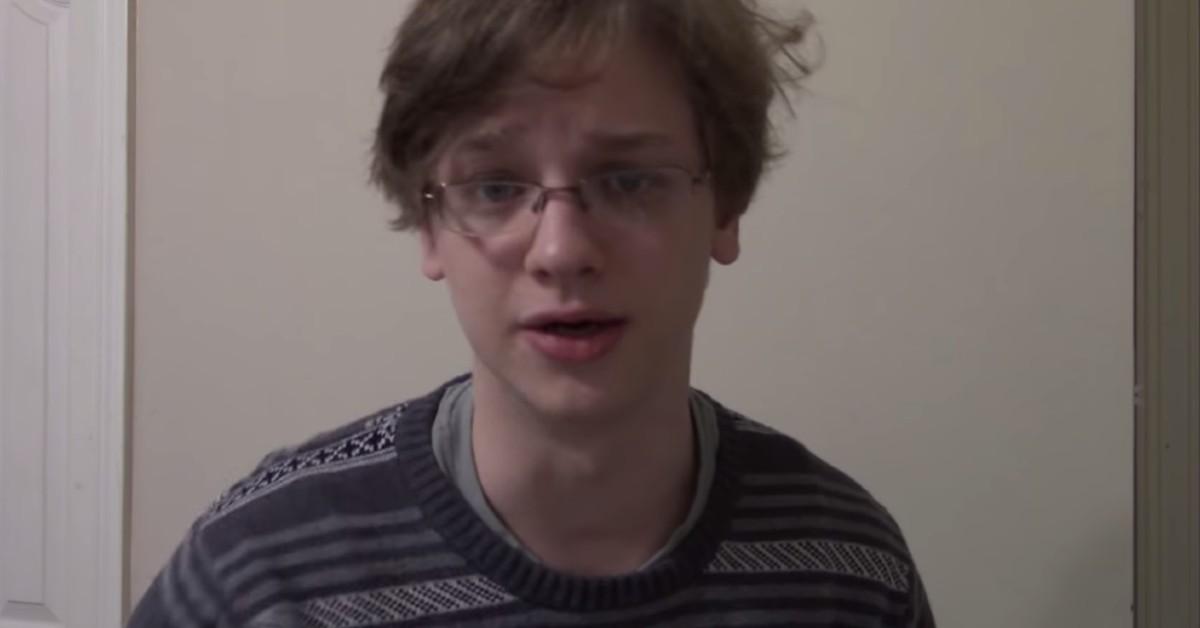 Article continues below advertisement
However, Dillon's most-watched publicity stunt involved another gamer.
With the video titled "What Markiplier is like in REAL LIFE *When Not Recording Games*," Dillon took a firm stance against the popular gamer.
As Dillon reasoned in the piece, Markiplier was undeserving of fame because he disrespected Jimmy Kimmel, acted inconsiderately towards a wheelchair user in the past, and regularly mocked his fans.
It didn't take Markiplier long to respond — and he took Dillon to court for defamation.
Dillon vanished from the social media platform soon after first word about the court case got out.
At the time, most believed that the two events were strongly correlated to each other — and that he saw it best to abruptly quit after he became embroiled in a legal dispute.
However, as a tweet posted by PewDiePie reveals, there was much more at stake.
Article continues below advertisement
"Dillon the hacker was such a talented young comedian. He successfully trolled my entire audience at one point. Such sad news to hear about his passing. My condolences to his family and close ones," wrote the YouTuber in a now-deleted Tweet.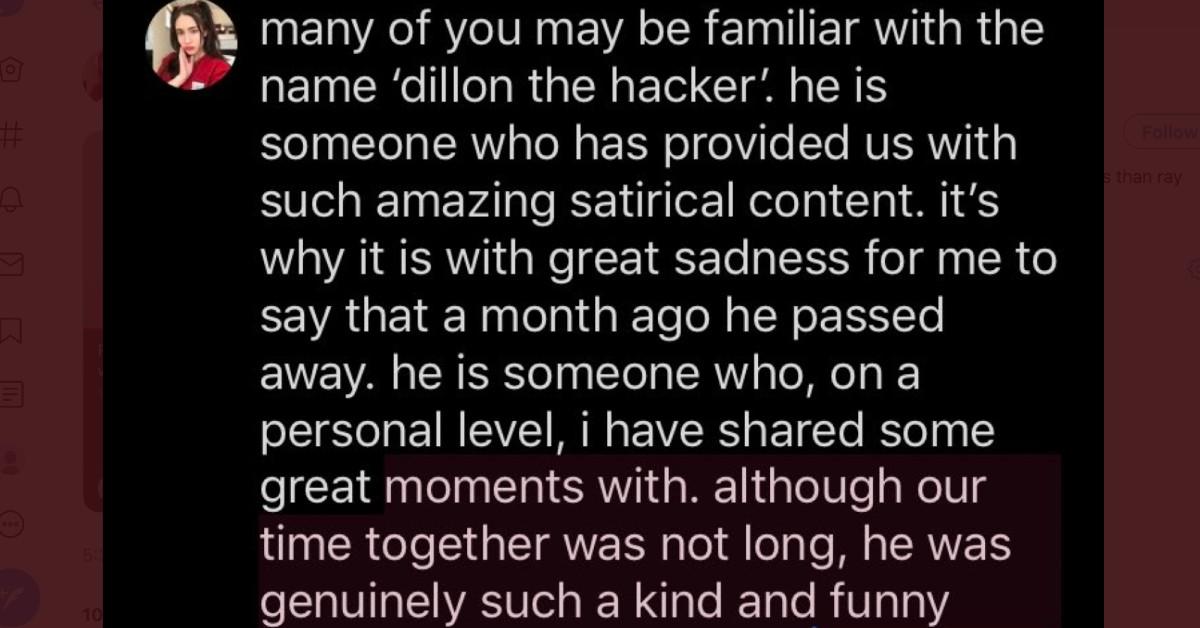 Article continues below advertisement
As The Daily Mirror notes, it was this tweet that brought to light the real reasons behind Dillon's sudden disappearance.
While many fans took the tweet to be a mere hoax, it was revealed soon afterward that Dillon's family made the conscious decision to keep the YouTuber's tragic death a secret.
Instead of making a public announcement, the family chose to maintain their privacy and grieve alone. For this reason, Dillon's fans only found out about the horrid event much later.
It is believed that Dillon passed away on July 28, 2019 at the age of 20. The family refused to publish further details.
Article continues below advertisement
"It was hard to keep this in for so long. RIP Dillon… my only friend in this dark world. Drink a Mountain Dew in Heaven with Jesus for me buddy," tweeted Dillon's best friend, BG Kumpi (Kevin Stafford) in response to the horrifying news.
"Many of you may be familiar with the name 'Dillon the Hacker.' He is someone who has provided us with such amazing satirical content. It's why it is with great sadness for me to say that a month ago he passed away. He is someone who, on a personal level, I have shared some great moments with. Although our time together was not long, he was genuinely such a kind and funny person. He will be missed," wrote Dillon's friend, Selma.