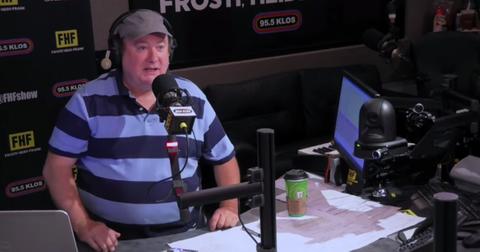 Frosty Stilwell Was Fired From 'The Frosty, Heidi & Frank Show' Due to Budget Cuts
By Leila Kozma

Updated
Frosty Stilwell is leaving The Frosty, Heidi & Frank Show, the popular morning show on KLOS 95.5 FM he has been hosting for about a decade.
He was furloughed in March 2020, as part of a reshuffle aimed at reducing the financial losses resulting from the coronavirus (COVID-19) pandemic. He announced that he was leaving the show for good on Monday, June 1. So, what happened?
What happened to Frosty, the show host of 'The Frosty, Heidi & Frank Show'?
"Yes it is true. Sadly, management at KLOS has terminated me and I am no longer on the show. It is now the Heidi & Frank Show, and I hope you will continue to give them your support. Don't blame them, they had no say in this," Frosty explained in a new Facebook post.
"Some of my best friends are in that room and I only wish everyone remaining on the show the best going forward," he added shortly after.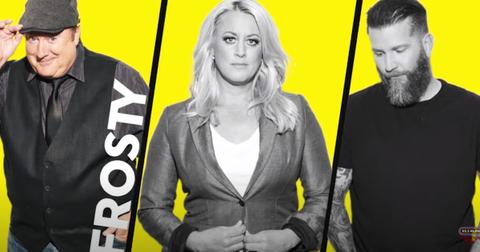 Frosty and his co-hosts, Heidi Hamilton and Frank Kramer, have been working together since 2000.
Fans often praise them for their incredible chemistry — and it's easy to see why. They consider themselves to be close friends, frequently spending time together when they're not working.
As a veteran in the entertainment industry, Frosty has always been eager to nurture new talent and help others rise to the top. Frank is only one of the many stars he mentored.
"Frosty got me into radio and I always said I would keep him in it," Frank previously told The OCR.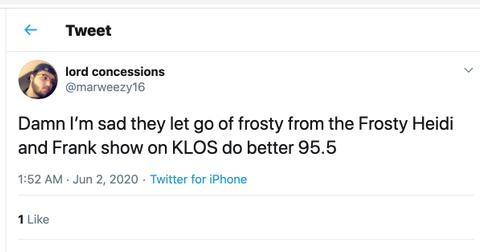 Frosty was furloughed in March 2020.
News about Frosty's potential departure first got out on Friday, March 20, when Heidi and Frank announced live on air that he was taking an indefinite leave from the show.
According to Los Angeles Daily News, the management had to make up for the loss in advertising revenue caused by the rapid spread of the coronavirus (COVID-19).
Frosty was made redundant on Monday, June 1, alongside other stars like Gary Moore, Jim "JD" Daniels, Steve Jones, Frazer Smith, and Ken Anthony.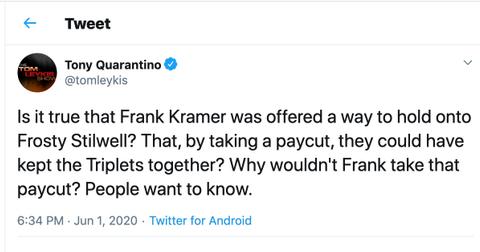 "Apparently management's budget-cutting axe swinging also cut several others and perhaps I should feel honored to be in the same company of executed LA radio legends Gary, JD, Jonesy, and Frazier on KLOS. Anthony was also cut from the morning show," he wrote.
Angered fans have taken to Twitter to express their disappointment.
"Damn I'm sad they let go of frosty from the Frosty Heidi and Frank show on KLOS do better 95.5," wrote a person.
"Damn. @955KLOS f---ed up letting Frosty go! Now it's back to garbage," opined someone else.
However, not everyone was saddened by the latest developments. A loyal listener of the show claimed that they strongly prefer the new version anyway.
"Frosty was garbage I use to listen to them on talk radio.. Heidi and Frank is where its at," tweeted the person.