'Fox & Friends First' News Anchor Heather Childers Was Fired For "Looking Sick"
Heather Childers was fired from 'Fox & Friends First' after showing up to work looking sick on March 18. What happened to the news anchor?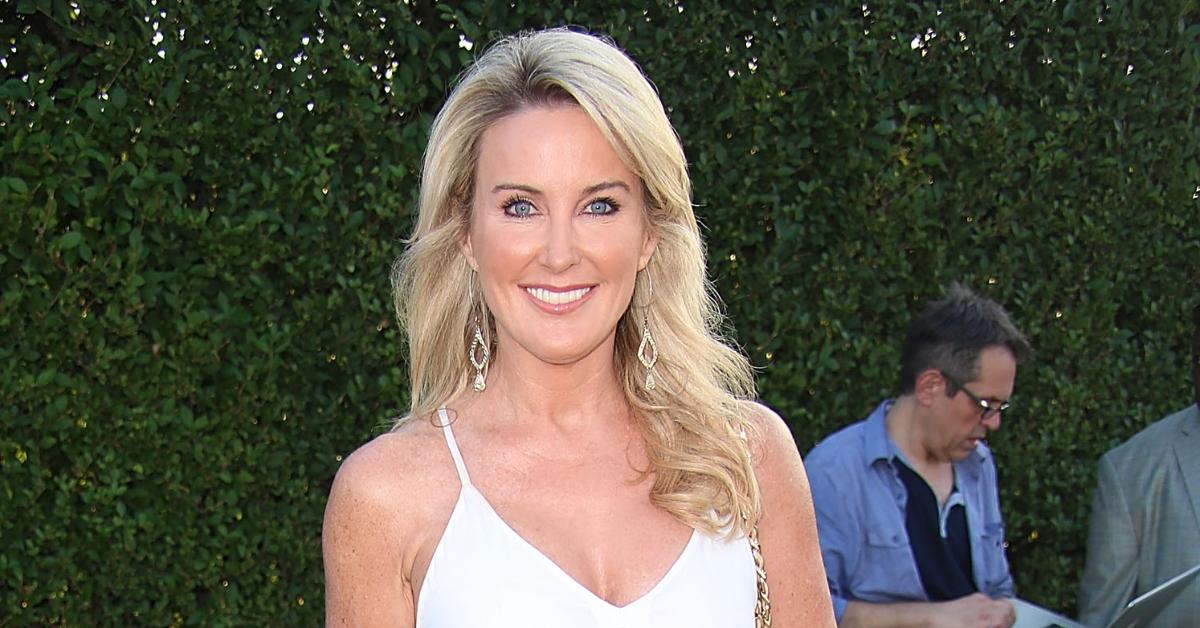 After a months-long Twitter campaign targeting Fox News, Fox & Friends First, and President Donald Trump, Heather Childers has finally received a much-needed update on whether she would be allowed to return to work ever again.
Unfortunately for the Fox & Friends First anchor, the news was anything but positive. Heather was fired from her job after showing up to work "visibly sick" on March 18 — with no chance of a return in sight. What exactly happened to lead to this?
Article continues below advertisement
What happened to Heather Childers?
On March 18, Heather showed up to work "visibly sick," triggering a great deal of alarm among Fox News executives and her co-workers alike. According to Daily Mail, she went back the next day, only to be told to go home.
As Heather outlined in her tweets, she got tested for COVID-19 shortly after being told to leave. She requested two tests to make sure, both of which came back negative. Regardless, she wasn't allowed to return to work again.
On April 9, she went on Twitter to send out a few probing messages. But instead of addressing her employer, she sent a tweet to President Trump.
"I'd love to go back to work @realDonaldTrump but the antibody tests only show positive if you have had the virus. I've had TWO negative COVID19 tests results & no symptoms. Including a doctor testing temp, oxygen, all vitals 3 weeks ago today. All normal. Can I go back to work?" Heather asked Trump. This would not be the last time she asks.
Article continues below advertisement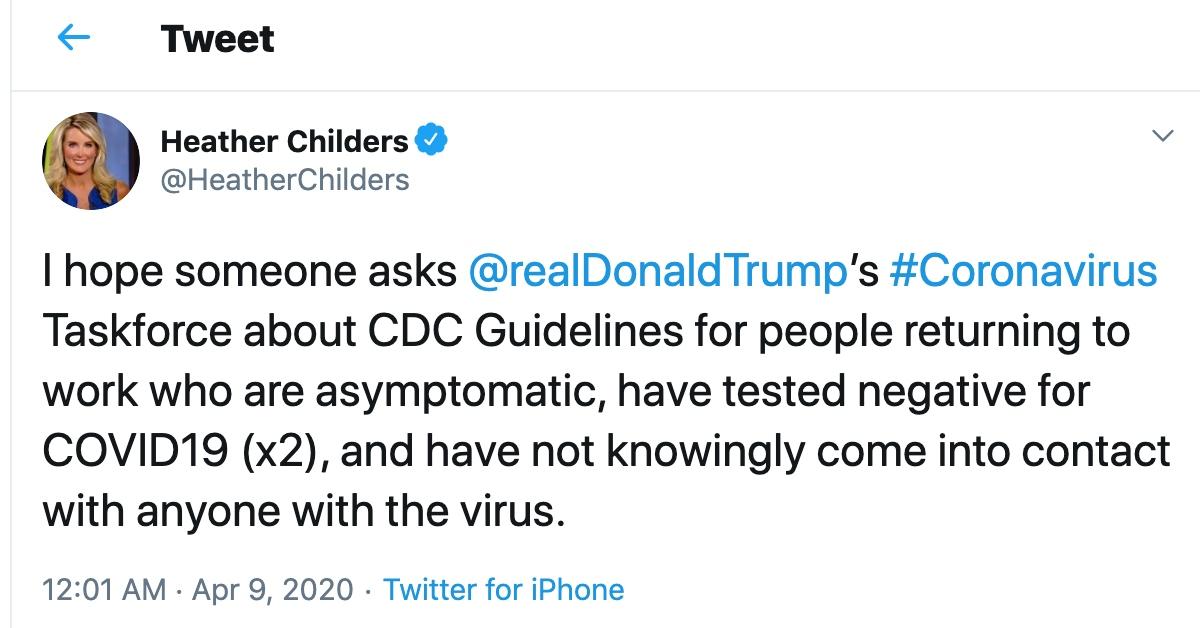 On April 19, Heather returned to the social media platform with renewed spirits. This time, she sent an inquiry to Fox & Friends First.
"Starting Week 5 sitting at home & not anchoring @FoxFriendsFirst at 4AM for you. Sorry I won't be there again after 25+ years as a journalist. @realDonaldTrump please get us all back to work. Negative #Covid19 or any testing is worthless if ignored by employers & municipalities," she tweeted.
Article continues below advertisement
Unfortunately, her efforts turned out to be futile. Her contract was terminated in July.
"Fox News and Heather Childers have parted ways [...] We wish her all the best," Fox News spokesperson Caley Cronin told USA Today shortly after Heather was officially dismissed from her role.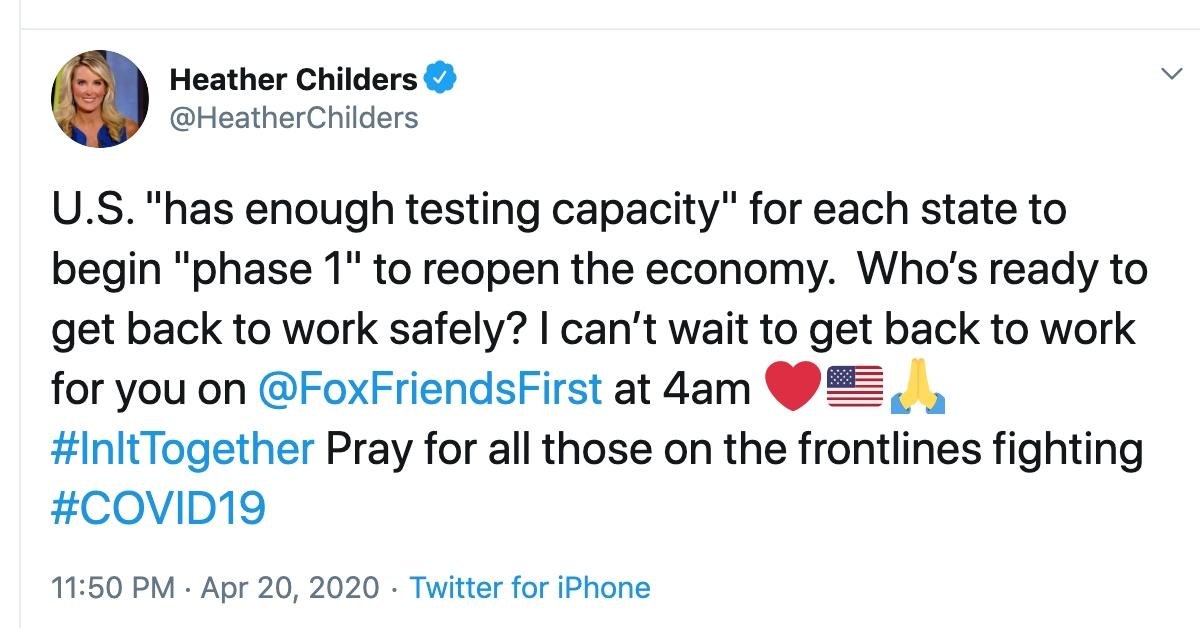 Article continues below advertisement
So, why was Heather fired from 'Fox & Friends First'?
Some believe that Heather's firing was a necessary step for the network eager to clean up its reputation. Fox News came under scrutiny for its unreliable coverage of the COVID-19 pandemic — and some think that Heather had to leave because she represented values the network no longer deemed acceptable.
But some see it otherwise. As viewers argue, the network has deliberately withheld further information on why the former host was dismissed.
"I can't believe Fox fired Heather Childers for coughing on air," tweeted a person.
"Ok, so #FoxNews finally fired #HeatherChilders, but more importantly & pathetically, @HeatherChilders was asking #DonaldTrump if she could 'go back to work' at @FoxNews??? She might say she was kidding, but we know #Fox is NOT a 'news' network, just a shill. #COVID19 #coronavirus," wrote somebody else.