Influencer Liver King May Be in Danger of Losing His Right Eye — Here's What Happened
What happened to Liver King's eye? The controversial fitness influencer sustained a "serious injury" that may result in the loss of his right eye.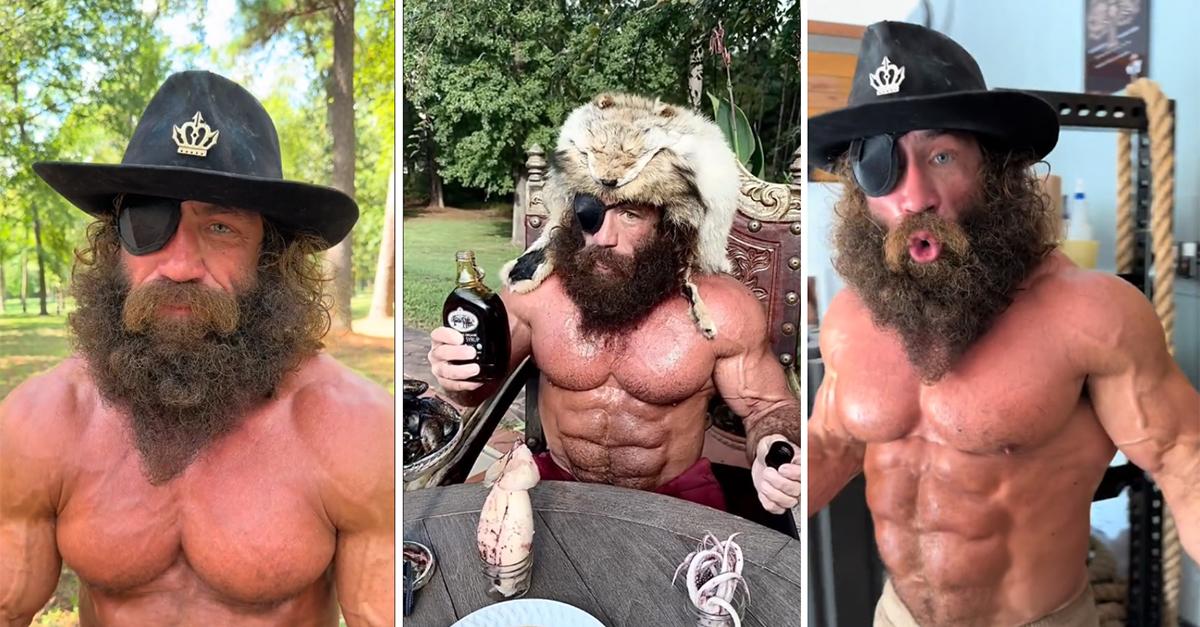 The Gist:
Controversial fitness influencer Liver King sustained a "pretty serious injury".
The incident may result in the loss of his right eye.
Many of his videos feature him with an eye patch.
Article continues below advertisement
Most fitness coaches and influencers will promote healthy lifestyles and firm but supportive encouragement to help you reach your own personal fitness goals. Then there's Brian Johnson, aka Liver King.
This online fitness celebrity has amassed a massive following by promoting his "ancestral lifestyle" of fitness. This atypical fitness lifestyle involves eating copious amounts of raw meat along with daily servings of liver, which as you might have guessed, is how he earned his namesake.
Despite his questionable fitness advice and the swaths of criticism he's received from nutritionists, he currently promotes his ancestral tenants to over 5.1 million followers on TikTok and 2.1 million followers on Instagram. If nothing else, his muscular physique and unique advice have certainly caught people's attention.
However, most people are concerned over the fact that his eye has been covered up in many of his recent videos. Here's what happened to Liver King's eye and the danger he still faces.
Article continues below advertisement
What happened to Liver King's eye?
Starting around mid-September 2023, Liver King began wearing an eye patch over his right eye in his videos. At first, he didn't directly address it as he continued to offer some of his fitness advice as part of his usual content. Of course, it didn't take long for many of his "primals" to start asking what had happened.
He didn't openly discuss it until toward the beginning of October when he started providing updates and explanations.
Article continues below advertisement
Liver King revealed that he "sustained a pretty serious injury" that left him concussed and affected both of his eyes. After being pressed for details, he also admitted that he got knocked out during one of his own workouts. According to him, he'd been doing face pulls with rubber bands stretched out from a doorknob. While he was exercising, the bands snapped. The force of the snap shot both his fists and the bands themselves at his own head, injuring his eyes.
Article continues below advertisement
"At one point, I couldn't see out of either eye," Liver King revealed. And as of early October 2023, he still couldn't see out of his right eye.
The first surgeon he spoke to following his injury revealed that he could very well lose his right eye altogether. He followed up with multiple other surgeons who unfortunately echoed the same sentiment. The last one he spoke to then said that there was "a small percent chance" that he could recover. Apparently, that was all he needed to hear.
"I'm gonna do anything and everything I can to recover my eyesight," Liver King proclaimed. He also took stock of the positive things in his life, including his loving family.
"I ain't going down without a fight, so I'm gonna pull out all the stops."
As of this writing, he is still attempting to help his eye recover.