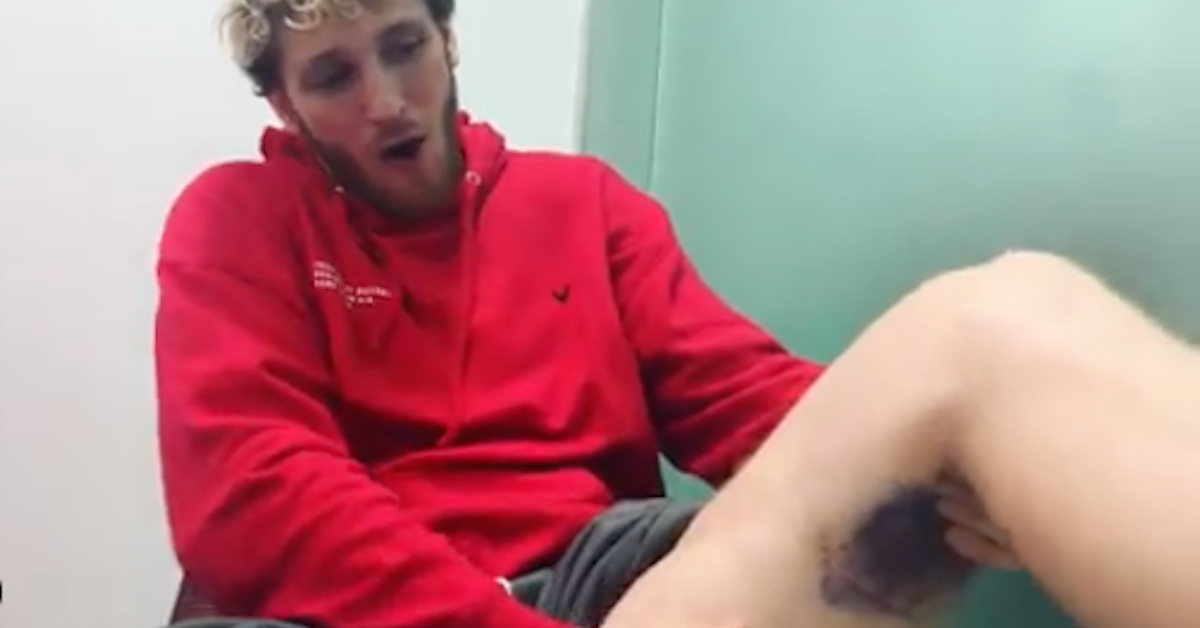 People Aren't Sure Whether to Believe Logan Paul's Injuries
Article continues below advertisement
On the interview, the internet sensation introduced The Challenger Games, a track-and-field competition raising money for charity in which Logan was betting $100,000 that he was the fastest man on YouTube.
"If I'm being honest with you," he said during the Fox interview, "I'm the fastest YouTuber. I'm the fastest entertainer on the planet."
"I could be the quickest man on the planet. I'm betting $100,000 that I'm the fastest man on the planet," he said. But then when it was time to walk the walk, Logan ended up coming in dead last place — hobbling around the relay race.
So, what happened to Logan Paul's leg? Keep reading.
Article continues below advertisement
What happened to Logan Paul's leg?
Despite coming in absolute last place after talking up his athletic prowess, Logan had a great time at the Challenger Games.
"Yo," he tweeted, "What a fkn AMAZING event. Im exhausted and incredibly happy (even though I pulled my hamstring and failed immensely)... We raised a bunch of money for the Special Olympics. Thanks to all athletes, sponsors, donors, spectators; I can't wait for The Challenger Games 2020."
Article continues below advertisement
It's admittedly been a rough couple of weeks for Logan Paul, whose parrot died and who then got a nasty case of pink eye courtesy of his dogs. But his hamstring injury ahead of the Challenger Games was the last straw for the star, who's worth over $19 million.
"I'm two days out of throwing the biggest event of the century, the Challenger Games and I pull my f-----g hamstring. I pull my hamstring guarding Snoop Dogg, of all people, in a charity basketball game," he said dejectedly in a July 25 vlog entitled "I'm out."
Then, he injured himself even more.
Article continues below advertisement
Logan Paul was so upset about his injury — even taking to blaming it in part on his brother Jake Paul, who had sprained his ankle and potentially cursed his older brother for more of an even playing field — that he pushed himself to compete at the July 27 games anyway.
And guess what, he hurt himself even more during the 4x100 meter relay — and now, instead of just having a pulled hamstring, Logan is recovering from honestly pretty graphic and gruesome purple bruises up along his left leg. These are the result of "multiple hematomas" he sustained, pictures of which he put up on Instagram and Twitter.
Article continues below advertisement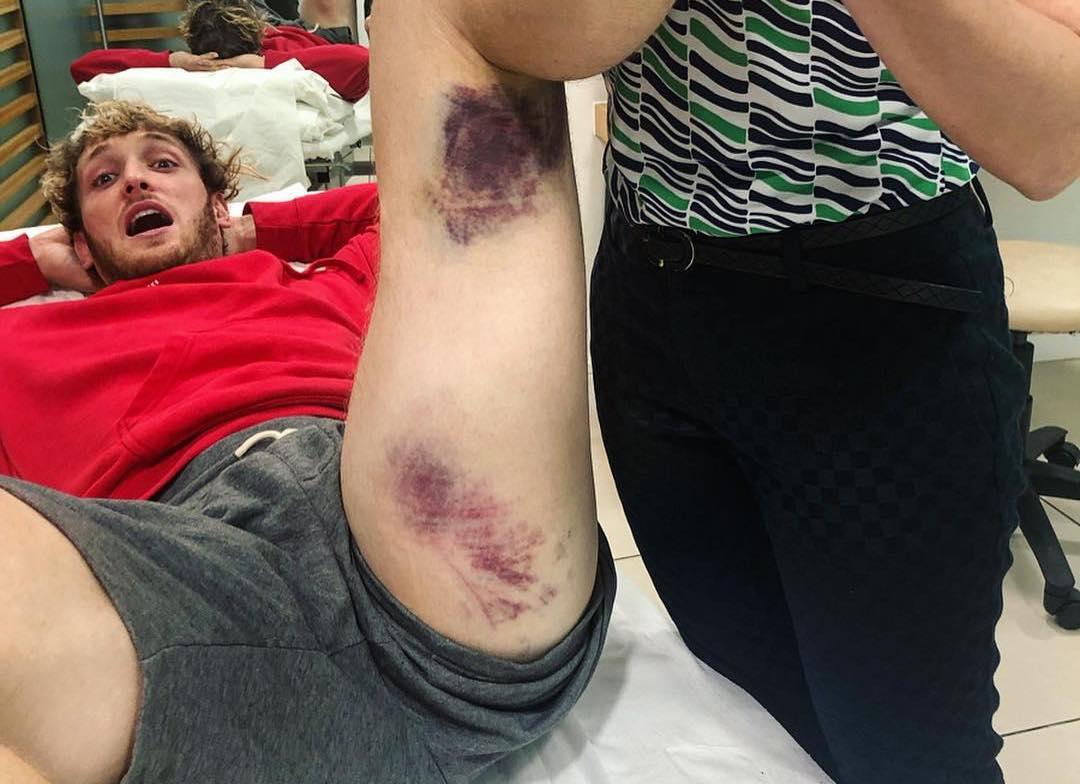 "MULTIPLE HEMATOMAS AND A PULLED HAMSTRING, YAY," Logan sarcastically captioned the footage of his injury. Hematomas, for those unfamiliar, look like bruises, but gnarlier. They occur when there's bleeding outside of a blood vessel.
People aren't sure whether the injury is real or fake.
Article continues below advertisement
Let's admit it, the Paul brothers aren't exactly the most trustworthy people on the internet these days. And now that Jake has come clean about staging his marriage to Tana for clout, many are now doubting whether Logan's injuries are even real. "It looks like u colored ur leg with sharpie then tried to wash it off jesus christ," wrote one person on Twitter.
On Instagram, the comments were just as savage. "Damn, think I can get that makeup artist's number? She did an incredible job," wrote influencer Ayla Marie Woodruff. "Super realistic." Others added, "Might use the paint you used on your leg for my new games room."
If he really is injured, we hope he gets well soon. If not, well, it seems like it was a clever way to get out of that $100k bet.