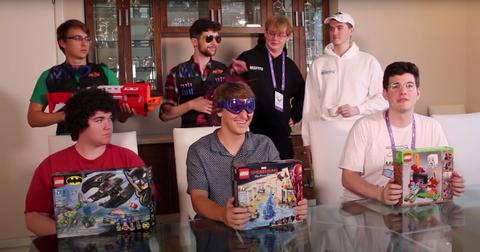 What Really Happened to the 'Lunch Club Podcast'?
By Abi Travis

Updated
Back in May 2019, the very first episode of the Lunch Club Podcast officially launched. Well, that's not exactly true. First, the podcast was called the Goopcast. Then it was Fart Club. And then it was the Lunch Club Podcast. And now? Well, that's the question, isn't it?
The Lunch Club hasn't uploaded a new episode since May 6, 2020, and fans are really starting to wonder exactly what is going on with the podcast (and the Lunch Club members themselves, of course). No one is quite sure what happened to the Lunch Club podcast, though. Well, except for the people who are directly involved, and they haven't said a whole lot.

What happened to the 'Lunch Club Podcast'?
There are a few different theories as to what happened to the Lunch Club Podcast, but one of the most prevalent rumors is that the podcast is over for good. Since it's been several weeks since their last upload, it's easy to see why people might be convinced the podcast is over for good. However, none of the Lunch Club members themselves have confirmed that particular rumor.
The Lunch Club is made up of several streamers who also happen to be good friends. The main group consists of CallMeCarson, jschlatt, Slimecicle, Ted Nivison, Hugbox, traves, and cscoop. Many of the Lunch Club members met and rose to fame via the SMPLive Minecraft server.
From what we can tell, it seems as though there may be some drama surrounding the group and Ryan P, their talent manager. One of the guys, CallMeCarson, said he is no longer being managed by Ryan (although there is also some speculation that he may never have been managed by Ryan in the first place). In a recent personal stream, Carson also appeared to hint that "something happened" behind the scenes, but he said he wasn't going to go into it right then and there.
Fans have also started becoming rather alarmed at the tweets coming from the official Lunch Club Twitter account. They've been super short and kind of bizarre. Honestly, bizarre tweets are kind of the norm, but these ones are apparently even more bizarre than usual. Every time the account makes another tweet, the responses are flooded with concerned fans wondering when they're going to finally get a new episode of the podcast — or any content featuring the entire team, for that matter.
Of course, it's also totally possible that there isn't some huge controversy going on with the Lunch Club, and they're simply finding it difficult to make content as the COVID-19 pandemic continues to affect so many people. They're certainly not the only ones who may be feeling like every day is the same and there's nothing new to talk about!
While we wait for an update, it seems like most of the Lunch Club members have remained relatively active on their own channels, so it's not like they all completely disappeared from the online world. We're still super curious about what exactly is going on, but it looks like we may just have to hold tight and wait for an official update.