Photographs of Mitch McConnell's Bruised Hands Leave Half of Twitter Aghast
What happened to Mitch McConnell? Photographs published around Oct. 20, 2020, show purple bruising on the Senate Majority Leader's lips and hands.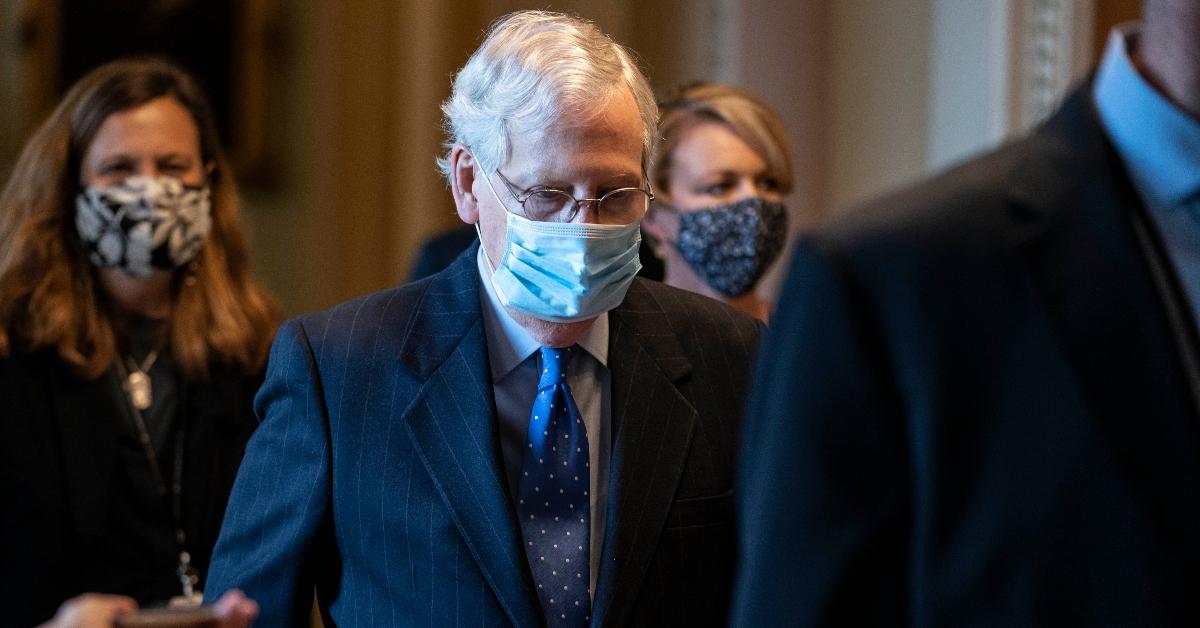 A set of photographs showing dark purple bruising on Senate Majority Leader Mitch McConnell's hands and lips gave rise to fervent speculation among social media users.
Taken around Tuesday, Oct. 20, 2020, the photos led many to wonder if Mitch had contracted the novel coronavirus (COVID-19). Others believe the bruising might be a symptom of vascular disease. So, what happened to the politician?
Article continues below advertisement
Mitch McConnell refused to answer questions about his health.
Leader McConnell has refused to address the potential health condition so far. He tried to dodge the question during a brief exchange with John Bresnahan, a senior congressional reporter for Politico, by asking him about his well-being instead.
"Of course not," he responded to the reporter after he enquired about whether he had any health conditions the public should be informed about, as per Slate Magazine.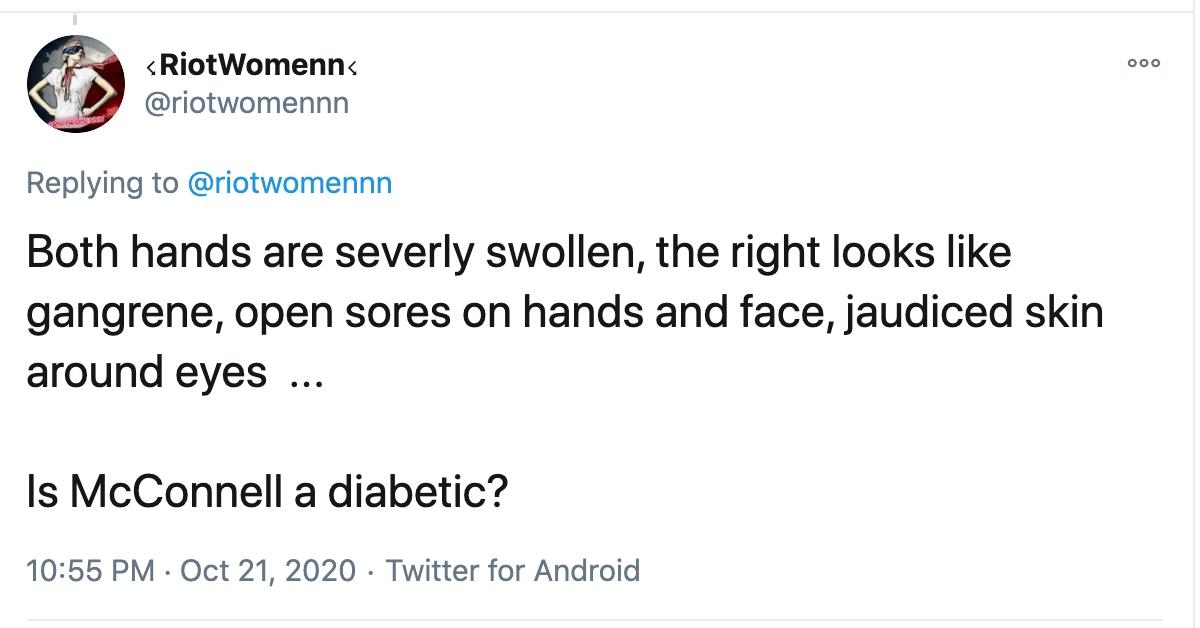 Article continues below advertisement
The harrowing photographs inspired several articles detailing the medical conditions that can cause skin discolouration. According to Health, liver disease, broken blood vessels, and endocarditis are just some of the conditions that can cause symptoms similar to Leader McConnell's. As an article by Forbes reveals, blood clotting disorders, taking anti-clotting medications, and cyanosis can cause bruising as well.
Fox News prompts that thinning skin and easy bruising develops as one grows older. Unfortunately, there's no information available on what caused the discoloration on his hands and lips, as he categorically refused to discuss it with the media.
Article continues below advertisement
Nonetheless, the phenomenon remains a source of bizarre fascination for many Twitter users.
"Is there a death certificate proving Mitch McConnell died years ago? You tell me. You know some people say that he has a death certificate. I'm saying, I don't know. Nobody does. #DeatherMovement," pondered a person.
Article continues below advertisement
"Senators should not be forced to gather in a room with Mitch McConnell until he is seen by a medical doctor and his diagnosis is announced. He is obviously very sick and others should not be exposed," argued another person.
"Our planet is Mitch McConnell's hand," wrote somebody else.
Leader McConnell's dark purple-hued bruises sparked a new hashtag, #DeatherMovement. What's more, the health condition was also discussed on the Oct. 24, 2020. episode of Saturday Night Live.
Article continues below advertisement
Leader McConnell is up for re-election in 2020.
According to outlets like The Washington Post, The Independent, and Associated Press, the bruises weren't visible on Friday, Oct. 23, 2020, when Leader McConnell took to the floor to deliver a few remarks in support of Amy Coney Barrett's nomination to the Supreme Court.
Article continues below advertisement
The 78-year-old is currently running for his seventh term. He was first elected in 1984. According to CNN, he became the longest-serving Republican leader in the Senate's history on June 12, 2018.
In recent months, he came under criticism for advocating Judge Coney Barrett's confirmation to the Supreme Court before the United States Presidential elections take place on Tuesday, Nov. 3, 2020.
On Monday, Oct. 12, 2020, his Democratic challenger Amy McGrath accused him of ignoring the new coronavirus relief bill during a debate held in Lexington, Ky.