This Is How NBA Youngboy Got Those Scars on His Forehead
Many people wonder why NBA Youngboy has those scars on his forehead and wonder if they came from a previous accident or injury. NBA Youngboy answers the question about his forehead scars.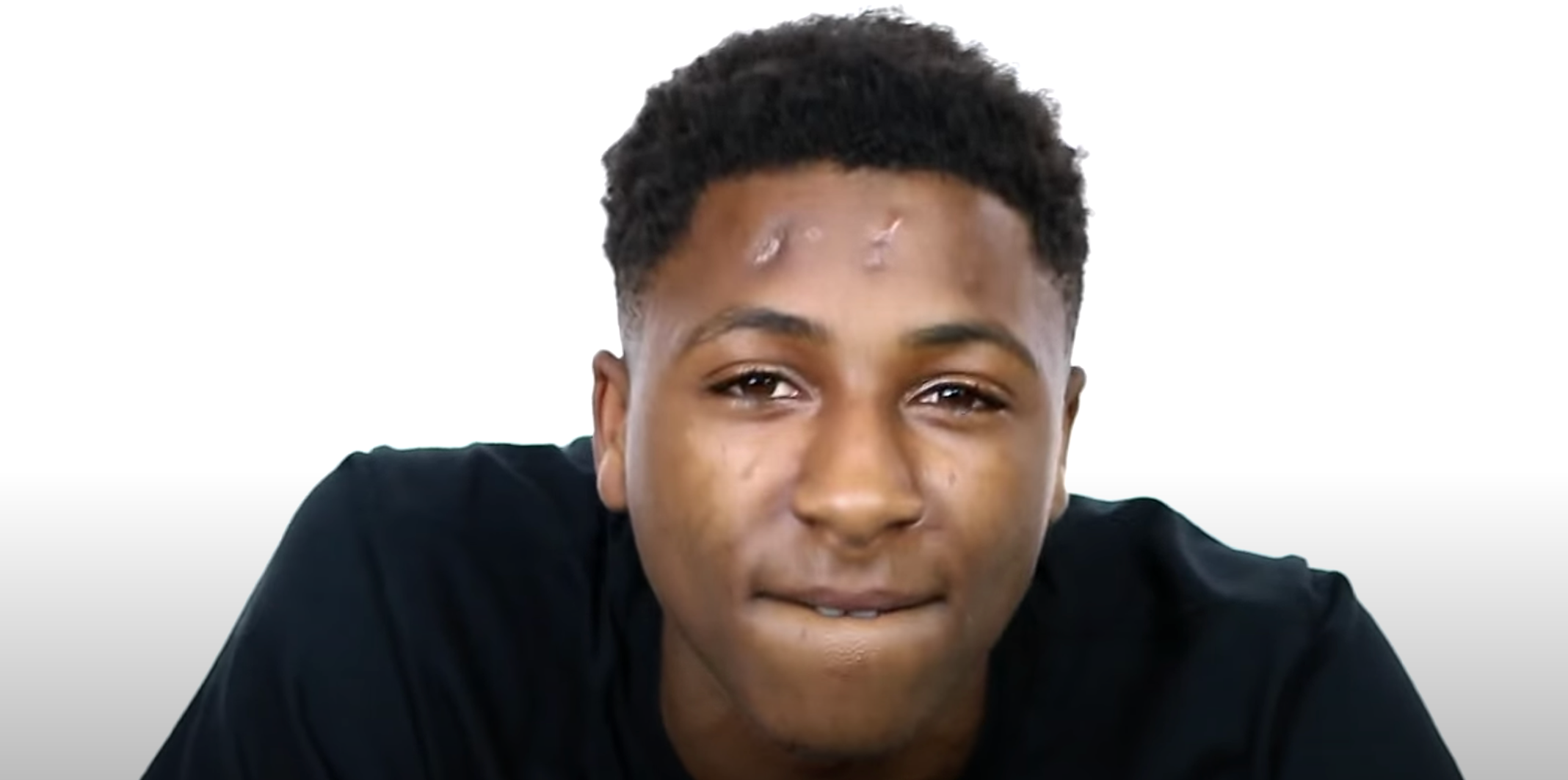 On September 28, 16 people got arrested in Baton Rouge, La. for the possession of illegal drugs and firearms. One of those people was rapper NBA Youngboy (whose real name is Kentrell Gaulden), who is currently facing charges for, according to news reports, drug possession, drug distribution, a felon in possession of a firearm, and stolen weaponry. However, his attorney claims NBA Youngboy isn't guilty. A mugshot of the rapper has been shared on a fan Instagram page with the caption, "New mugshot, Free Youngboy."
Article continues below advertisement
"Kentrell is not guilty of any crimes. There's nothing in the reports that indicates that he did anything wrong. They arrested several people and there was no indication that he had any guns or drugs on him at the time of the arrest. I ultimately believe he will be found innocent in all of this," James Manasseh, NBA YoungBoy's lawyer stated, per a local news outlet. In addition to the drugs and stolen guns, apparently the police found $79,000 in cash on the individuals. However, even though NBA Youngboy might be in some legal trouble, people are actually more interested in...rapper's forehead.
Article continues below advertisement
What happened to NBA Youngboy's head?
NBA Youngboy has scars his forehead, and they're from an accident. The rapper explained, in a YouTube video, that the scars resulted from a halo, which is a brace that's used to wear when one has a neck injury. Halos are metal medical devices used to "stabilize the cervical spine after traumatic injuries to the neck, or after spine surgery." NBA Youngboy needed a halo implanted after he broke his neck while wrestling when he was a four-year-old.
NBA Youngboy says he was lucky and that he was immediately rushed to the hospital so that doctors could save his life. The rapper said the incident could have killed him, but that god blessed him."God blessed me. I'm a blessed child," he said.
Article continues below advertisement
Back in April people were wondering why NBA Youngboy cleared his Instagram account after facing some major personal drama. "You know why I deleted my pictures off my page? [...] Women trying to incriminate me. Posting stupid shit. Well, they say stupid shit. I guess the people that they down talk a n--ga with leaked the shit. I don't know. That shit be playing mind games. Well, I be playing mind games with myself because I be letting it eat me up," he explained in an Instagram Live with Bway Yungy. He didn't explain what he meant or what happened with the women trying to incriminate him, however.
Article continues below advertisement
However, some think it's because he got into a fight with Kodak Black, who believed he had something to do with Iyanna Mayweather's arrest. The rapper, according to The Blast, claimed that NBA Youngboy "cooperated" with authorities, leading to Mayweather's arrest.
Back in December 2019, a judge prematurely ended his probation (NBA Youngboy was arrested in May 2019 for his involvement in a shootout in Florida). "I see growth in you, I hope that things go well for you," the judge stated at the time.