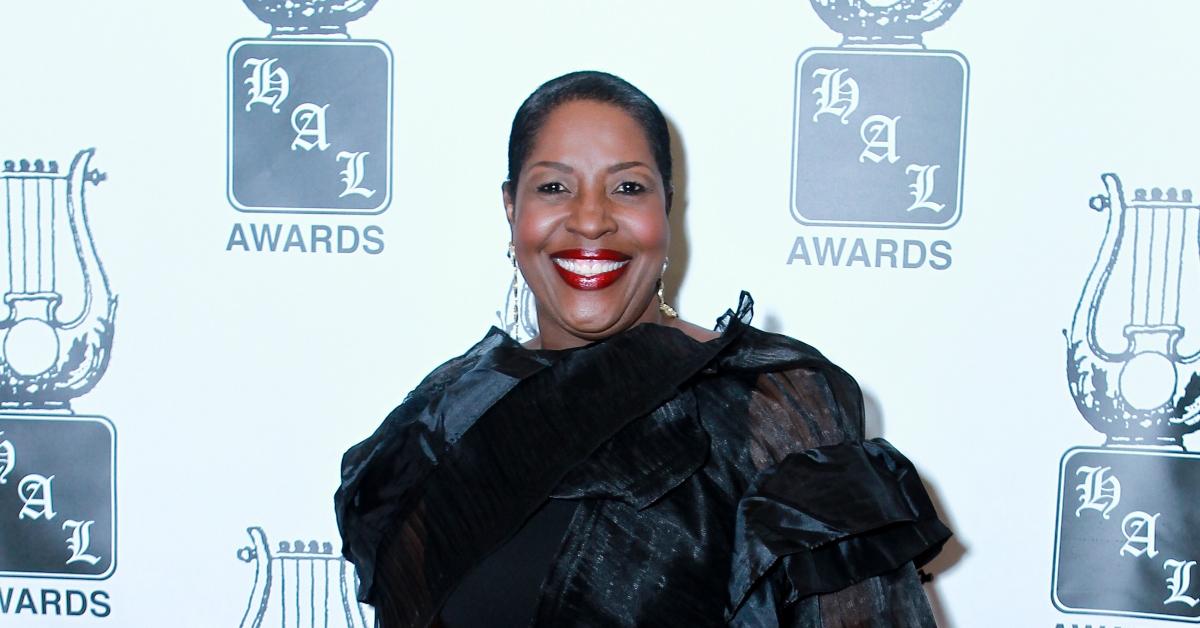 Jo Marie Payton Says She Doesn't Regret Leaving 'Family Matters'
Actress Jo Marie Payton abruptly left Family Matters, the cult-classic sitcom originally airing as part of ABC's TGIF (or "Thank Goodness It's Funny") block, soon after her 200th episode titled "Deck the Malls" aired on 19. Dec. 1997.
The step was considered to be highly unusual at the time. To make matters even more complicated, the creators of the show refused to kill off her character, Harriette Winslow, bringing in a new actress, Judyann Elder, instead.
Article continues below advertisement
Jo Marie Payton left 'Family Matters' just a few episodes before Season 9 ended.
"I don't regret that I left," Jo Marie remarked in a previous interview with Entertainment Weekly.
As the actress told the outlet, she was going through a divorce around the same time as Family Matters was moved from ABC to CBS. Although she spent two years thinking about leaving the show, she only put her foot down just a few episodes before it was curtains for the much-beloved sitcom.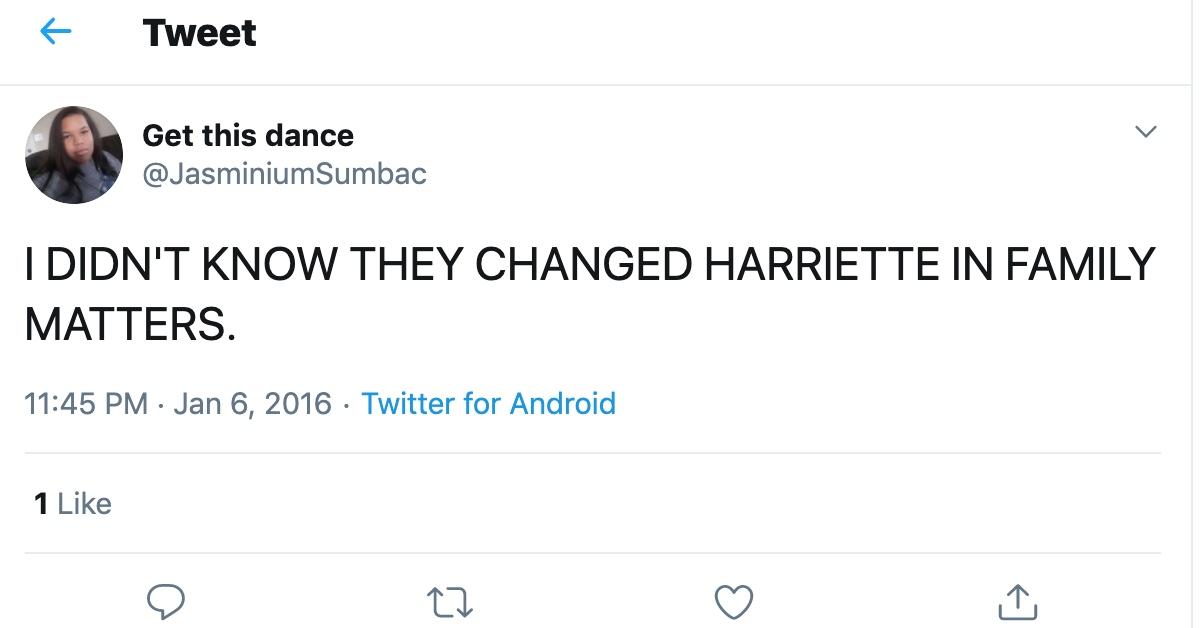 Article continues below advertisement
The exact reasons behind her decision remain unknown. Jo Marie hasn't talked about what made her want to leave midseason — as opposed to waiting until the shooting of the Season 9 Finale — in previous interviews.
However, she did feature in the Family Matters reunion special that aired on Sept. 27, 2017, and it's highly probable that she is still on good terms with most of her co-stars.
Jo Marie was a main cast member since day one, having first appeared on the show in the Season 1 premiere airing on Sept. 22, 1989, titled "The Mama Who Came to Dinner."
Article continues below advertisement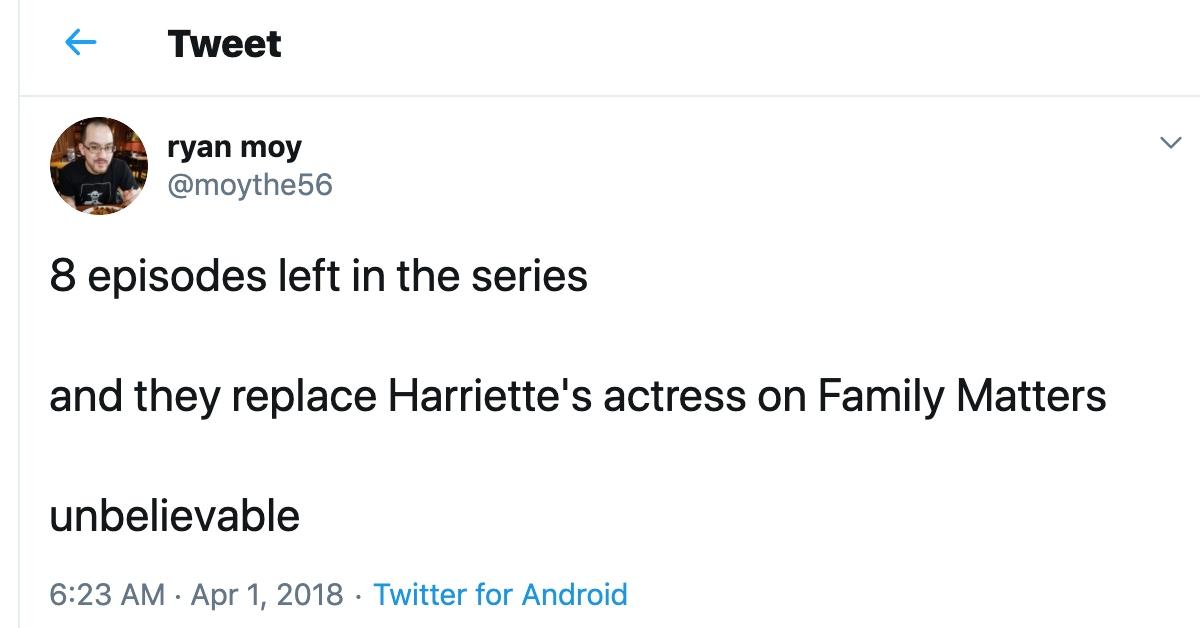 As Harriette, the family matriarch, Jo Marie played a strong character who was able to exert a positive influence on her police officer husband, Carl (Reginald VelJohnson), three children, Laura (Kellie Shanygne Williams), Eddie (Darius McCrary), and Judy (Jaimee Foxworth). She also was there for her sister, Rachel (Telma Hopkins), and for Carl's mother, aka Mother Winslow (Rosetta LeNoire).
Article continues below advertisement
Jo Marie's departure left a lasting impact on the whole cast of 'Family Matters.'
Jo Marie's departure had a lasting impact on the closely-knit cast. Season 9 marked their last-ever season together — and Jo Marie's sudden disappearance further accelerated the already felt sense of loss. Arguably, her decision precipitated the end of an era.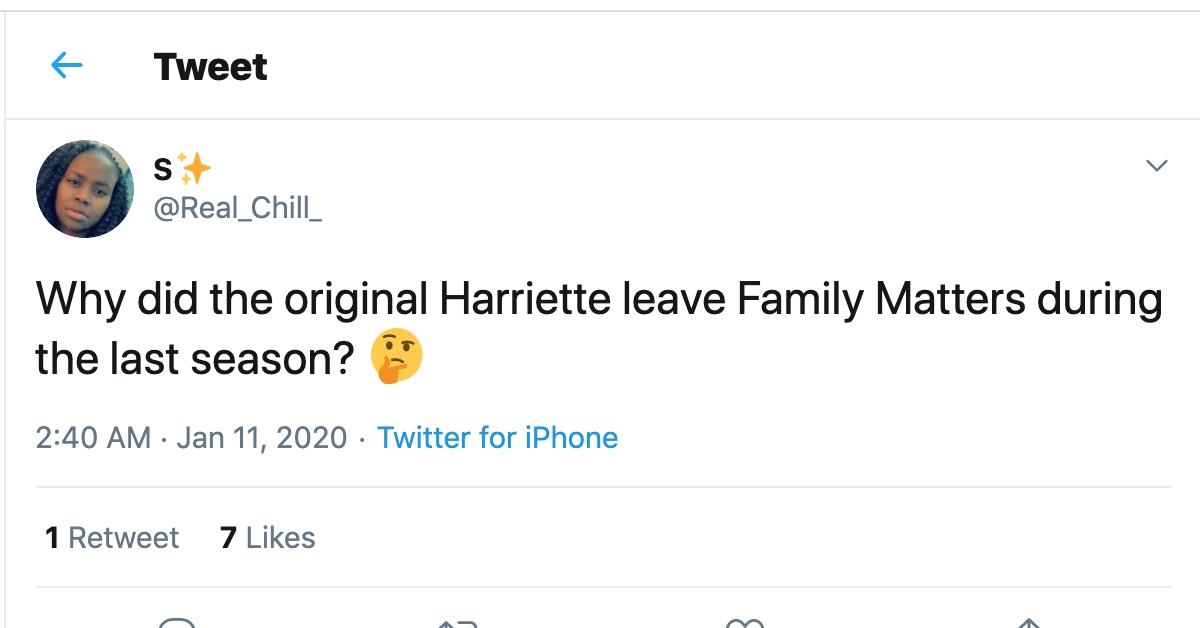 Article continues below advertisement
"We pretty much knew that once the show had switched networks from ABC to CBS that it was a wrap," Darius, the actor playing Eddie, told Entertainment Weekly in a previous interview.
"No disrespect to Judyann … but I felt like my mom was gone, you know? I did my job as an actor, but there were just so many things that had gone on behind the scenes that the audience wasn't privy to that had kind of already shut it down," he added shortly after.
"I already knew that I would miss seeing you guys. I knew that my life would be different. [...] I just remember experiencing the tremendous loss. I spent probably 42 weeks a year at Telma [Hopkins'] house during the weekends. She was like my other mother, [and] Jo Marie. These people are family, and to not have that same amount of time and energy with them was difficult for a long time," Kellie, the actress playing Laura, told Entertainment Weekly.