What Happened to Sarah Phinney — and What's She up to Now?
Sarah Phinney has moved on from ABC News and has started focusing on other ventures. Here's an update about what she's been up to lately.
Plenty of people who watch ABC News have grown accustomed to seeing Sarah Phinney's face in the mornings. Unfortunately, she's no longer with the network.
Article continues below advertisement
She's moved on and started focusing on other ventures. Here's an update about what she's been up to lately.
Article continues below advertisement
What happened to Sarah Phinney?
Sarah opened up on Twitter about her change in career paths on July 18, 2022. A Twitter user named Mayleen wrote her asking, "How come we don't see you in the morning news?"
She responded by saying, "Hi Mayleen! I left at the end of my contract in June. It was great, but time for a change! I'm staying local to work in the parks & rec field, plus I launched SarahsWalkingClub.com! Thank you for checking in!"
Mayleen responded, "Oh ok, well we miss you. Hope you do well. I follow your walking club. Best of luck."
Sarah wrote back, "Thank you! I appreciate that!" Now that her news contract is over, it seems she's ready to focus on something new.
Article continues below advertisement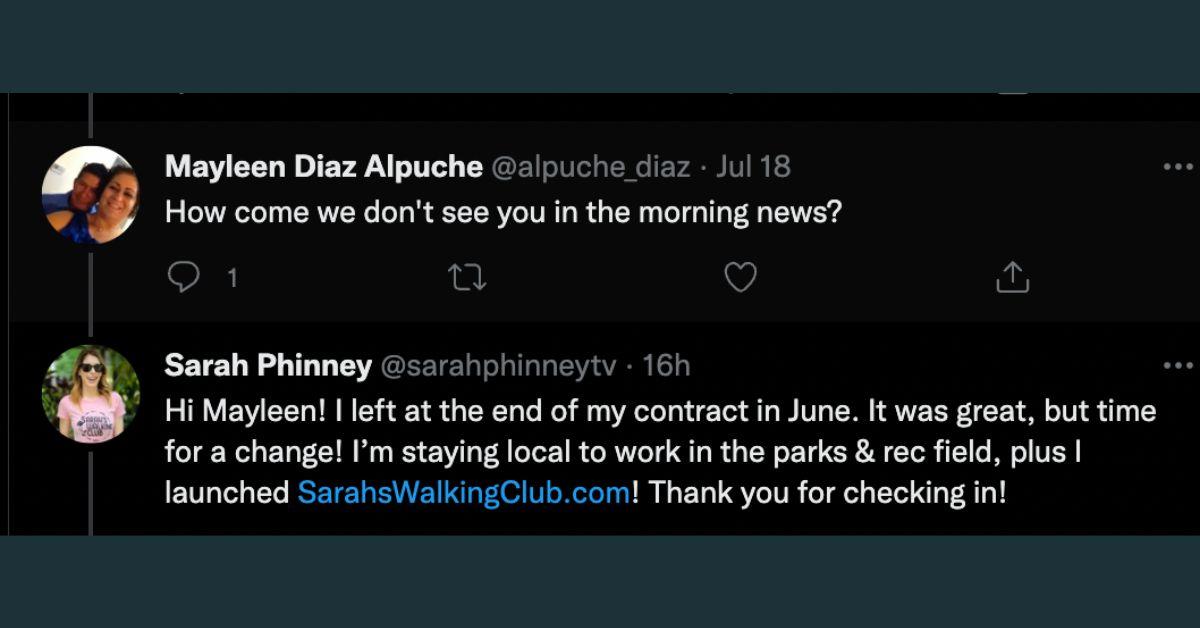 What is Sarah Phinney up to now?
Sarah told her fan on Twitter about the walking club she launched, which has its own website. The informational section on her site says, "I'm so excited to blaze a new trail for Sarah's Walking Club through the Sarah's Walking Club subscription. The SWC subscription will enable you to connect more, save more, and explore more, all while supporting the community you've come to know and love." Anyone who wants to subscribe will receive benefits including access to subscribers-only events.
Article continues below advertisement
Signing up for an individual subscription will cost you $4.99 a month. You can also opt for the yearly subscription option, which costs $49.99 per year. If you're interested in signing up for her program with your significant other, a family member, or a friend, she has a deal set up for that also.
Two people who sign up for subscriptions together only need to pay $9.99 per month. If two people want to join for a year, it will cost them $99.99 per year together.
Article continues below advertisement
According to the website, joining SWC comes with a slew of fun challenges, as well. Between July 5 and August 5, you have to agree to go on a 30-minute walk every single day in order to complete the challenge at hand.
You'll have to find something that starts with each letter of the alphabet during your walk. Each day, you can only fill in one letter and you'll keep other people in the group updated through the SWC Facebook channel.
Once you've completed your alphabet sheet, you'll send proof of it to Sarah's SWC official email. The site also states that one person per challenge will win an item of their choice that has the SWC logo on it.
Sarah's decision to start a walking club like this will help motivate people to exercise and take care of their bodies. Health, wellness, and fitness is a huge market in a post-pandemic world which means it makes sense that she would pursue a venture like this.