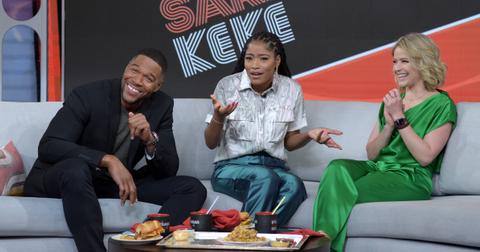 Here's Why 'Strahan, Sara and Keke' Was Temporarily Suspended
By Gabrielle Bernardini

Updated
Wait, what happened to Strahan, Sara and Keke? The afternoon talk show featuring Michael Strahan, Sara Haines, and actor Keke Palmer has been temporarily suspended by ABC.
Amid the coronavirus pandemic (also known as COVID-19) the pop culture talk show has been replaced by a special report segment that will update and inform viewers about the current virus.
According to Page Six, the broadcast network hopes this segment, called Pandemic: What You Need to Know, will help "address the widespread issues caused by the global pandemic and offer solutions on how to adjust to a new way of life, from homeschooling to mental health."
Additionally, the program will reportedly aim to stop the spread of false information online and provide viewers with human interest stories.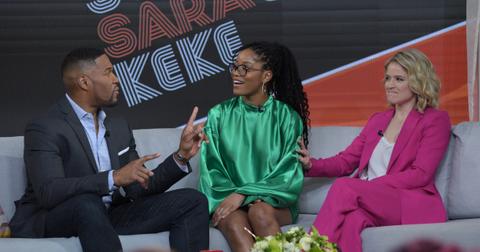 The show will be anchored by Amy Robach and will feature interviews with experts, such as ABC News' Chief Medical Correspondent Dr. Jennifer Ashton to give audiences tips and health updates.
Though Strahan, Sara and Keke has been suspended, it is reportedly only temporary.
What happened to 'Strahan, Sara and Keke'? Fans are patiently waiting for the trio's return!
On March 17, Keke sent out a video message to fans of the show sending her love and giving viewers an update on the current situation. "I hope you guys are staying healthy and safe, just like my TV besties and real-life fam [family] Sara and Michael are doing. We're just trying to stay as safe as possible and respect the boundaries set before us ... and also respecting other people's space and keeping them safe," she said.
Adding, "That's why we're not on air right now. We will be back soon! We'll 100% make sure we bring the laughs and the love. Hate that all this is going on, but we have to stay positive. Much love."
As the widespread public continues to practice social distancing or self-isolation to help slow the spread of the virus, people have been wondering when the trio will be making their return to the small screen.
"I miss them so much," tweeted one fan.
Another viewer wrote, "SSK is my top day time show. Sad that they aren't on air but I understand. Love you guys." This individual tweeted: "Hey guys, love & miss you as well!!! Stay Positive, healthy & wise. Stay prayed Up All see you guys soon."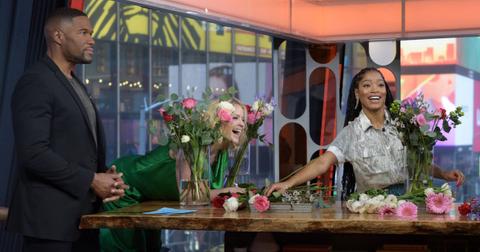 'Today' Show employee tests positive for the coronavirus.
Following the outbreak, NBC has taken extra precautions among its staff after an employee in the third hour of the show tested positive for the virus. Al Roker and Craig Melvin were ordered to stay home after coming in contact with the individual who contracted the virus.
Noah Oppenheim, the president of NBC News, reportedly sent a message to all employees explaining the precautions the network is taken to help slow the spread.
"As you know, we have been preparing for this possibility and are taking all necessary steps to ensure the health and safety of our teams, which includes multiple deep cleanings of our offices, control room, and Studio 1A," he said. "Additionally, we are identifying employees who had been in close proximity to the affected employee and — while not required to do so by the NY Health Department — are in the process of asking those who had close contact to self-isolate."