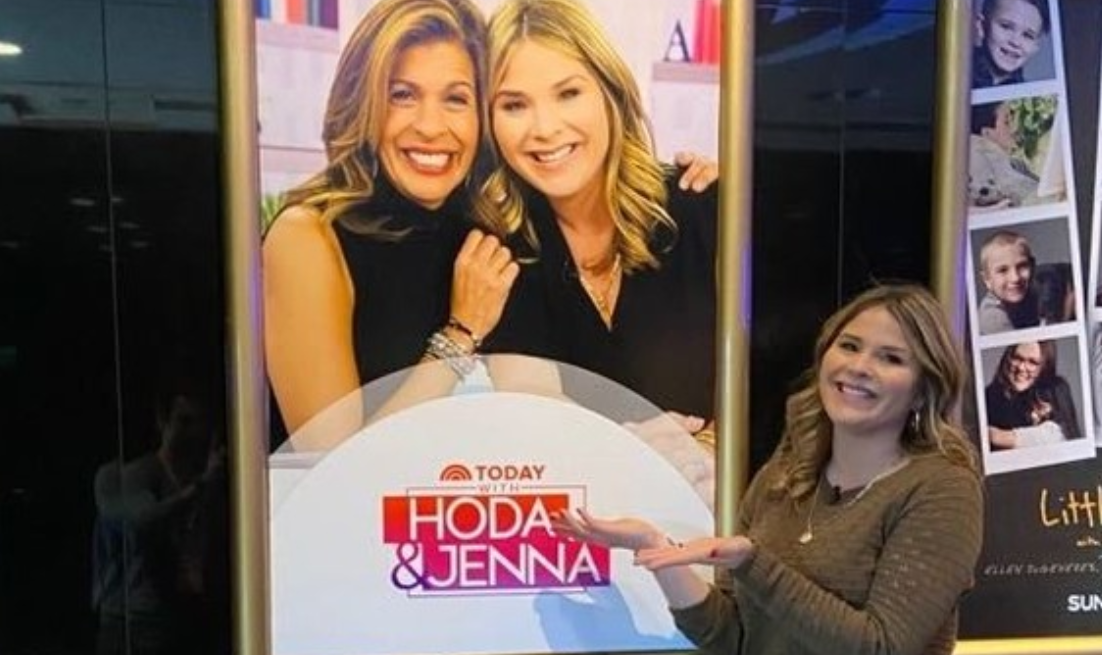 Jenna Bush Hager Taking Time off From 'Today Show' Amid Coronavirus Pandemic
Many of us are quarantined at home amid the coronavirus pandemic, which has brought many people to watch morning and daytime TV more than ever. Specifically, The Today Show. But if you've noticed over the past few days, the third hour's co-host, Jenna Bush Hager, has not been on the talk show, sparking questions on whether or not she's left the show for good. Here's everything we know!
Article continues below advertisement
Has Jenna Bush Hager left the 'Today Show'?
Jenna is currently taking time off from the Today Show, specifically Hoda & Jenna, her co-host, Hoda Kotb, announced on Monday, March 16. Though she did not explicitly say that it had to do with the coronavirus pandemic, it was insinuated. "Jenna is spending a couple of days with her kids, they are off from school like so many kids around the country," she revealed. She reiterated the news on Tuesday, March 17. "Savannah [Guthrie] is in for Jenna, Jenna is spending a few days with her kids."
Article continues below advertisement
The last time we saw Jenna on the Today Show was Friday, March 13. At this time, she's not made it clear on whether not she's coming back to the show, and if she is, we do not know her return date as of now. However, the fact that Hoda said "a couple of days" gives us hope that she'll be back soon.
Hoda has really been stepping up in her place, co-hosting nearly every hour of Today. On March 16 and March 17, she co-hosted Hoda & Jenna with her early hour co-anchor, Savannah Guthrie.
However, Savannah revealed that on Wednesday, March 18, she'd be co-hosting Today from her basement. "Well, this will be a first. I'm going to be anchoring TODAY from my house! In an abundance of caution, and to model the super vigilance the CDC has asked of all of us, I'm staying home because I have a mild sore throat and runny nose," she admitted on Instagram.
Article continues below advertisement
"This was the advice of NBC's superb medical team and my bosses," Savannah added. "I feel good and am sure I will be back in no time — but during these days, it's on all of us to be extra cautious and caring of those around us."
Since Savannah's absence, Hoda continued to co-host Hoda & Jenna, but with NBC's Vicky Nguyen on March 18 and March 19. The talk show is currently filming without a live audience even though they recently introduced the Hoda, Jenna, & Friends concept to their show.
Article continues below advertisement
Additionally, instead of having guest appearances, they are pulling engaging content from their archives after giving fans the news at the top of the show. They announced on Instagram: "We're here for you this week and will be bringing you the latest at the top of each show, followed by some of our favorite moments! Join us every day to lift your spirits and put a smile on your face."
Here's hoping Hoda and Jenna (and friends!) will be back together on the third hour of the Today Show soon!
The best way to prevent contracting or spreading the coronavirus is with thorough hand washing and social distancing. If you feel you may be experiencing symptoms of the coronavirus, which include persistent cough (usually dry), fever, shortness of breath, and fatigue, please call your doctor before going to get tested. For comprehensive resources and updates, visit the CDC website. If you are experiencing anxiety about the virus, seek out mental health support from your provider or visit NAMI.org.