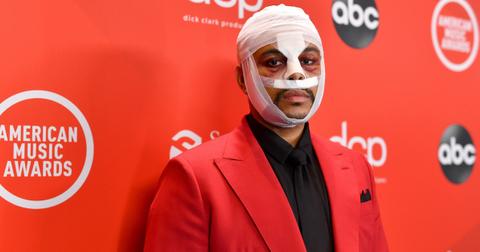 What Happened to The Weeknd's Face? The Meaning Behind His Bandaged Look Explained
By Michelle Stein

Updated
Is The Weeknd OK? The singer (real name: Abel Tesfaye) startled audiences when he showed up with a bloody and wrapped face to the 2020 American Music Awards.
It certainly wasn't the first time the performer had sported a look like this at an awards show. While accepting multiple awards at the 2020 VMAs earlier this year, The Weeknd also startled viewers with his cuts and bruises.
Article continues below advertisement
Let's just say it looked like he was on the losing end of a serious fight, and now it looks like he's undergone an operation or two.
So, what happened to The Weeknd's face? Keep reading while we get into why the "Starboy" singer is looking so rough, and to learn the meaning behind this shocking new look.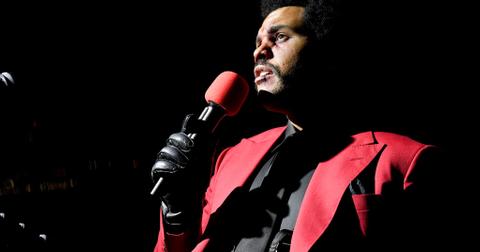 Article continues below advertisement
What happened to The Weeknd's face?
Singing onstage with a bloodied and bandaged face like nothing is wrong is a pretty bold move for any performer — but that's exactly what The Weeknd did. The thing is, this isn't the first time he's sported this particular "look." And people are understandably all like, "WTF, is he OK?!"
As it turns out, The Weeknd's face is actually a reference to his short film, After Hours, and music video "Blinding Lights." We suppose it could be interpreted as extremely obscure and jarring marketing.
Article continues below advertisement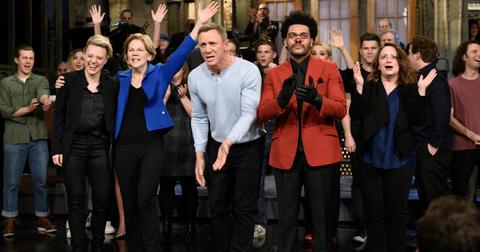 One fan took to Twitter back in March, following his SNL performance where he sported the same makeup, to clarify the situation:
"For everyone who's wondering, The Weeknd's face looks bloody & messed up on SNL because he's promoting his new short film After Hours which precedes his new album of the same name," they wrote.
"He wears the same bloody makeup & bandage in the After Hours clip." (Suddenly, it all makes sense!)
Article continues below advertisement
What's the significance of The Weeknd's bloody face in his music video?
The music video for The Weeknd's project begins with the singer laughing maniacally — or perhaps crying — while bent over and bleeding from his face. He also appears injured later in the video when he's not speeding around on empty streets in his car.
In an interview with Esquire earlier this summer, the singer revealed that his song is about "how you want to see someone at night, and you're intoxicated, and you're driving to this person and you're just blinded by streetlights."
Article continues below advertisement
He continued, "But nothing could stop you from trying to go see that person, because you're so lonely. I don't want to ever promote drunk driving, but that's what the dark undertone is."
Those who have watched the short After Hours video will know that it is, in essence, meant to discourage viewers from driving drunk. The bandages and facial injuries are meant to showcase what can potentially happen to someone who gets into a car accident when someone is driving while intoxicated.
While his look at the AMAs was slightly different from the VMAs, the message remained the same. When the singer switches up the appearance of the wounds, it appears as if he's trying to demonstrate the wide range of potential traumas that can occur following a car catastrophe.
Will The Weeknd keep up the bandages and bruises up when he performs at Super Bowl LV Halftime Show in February of 2021? It remains to be seen.