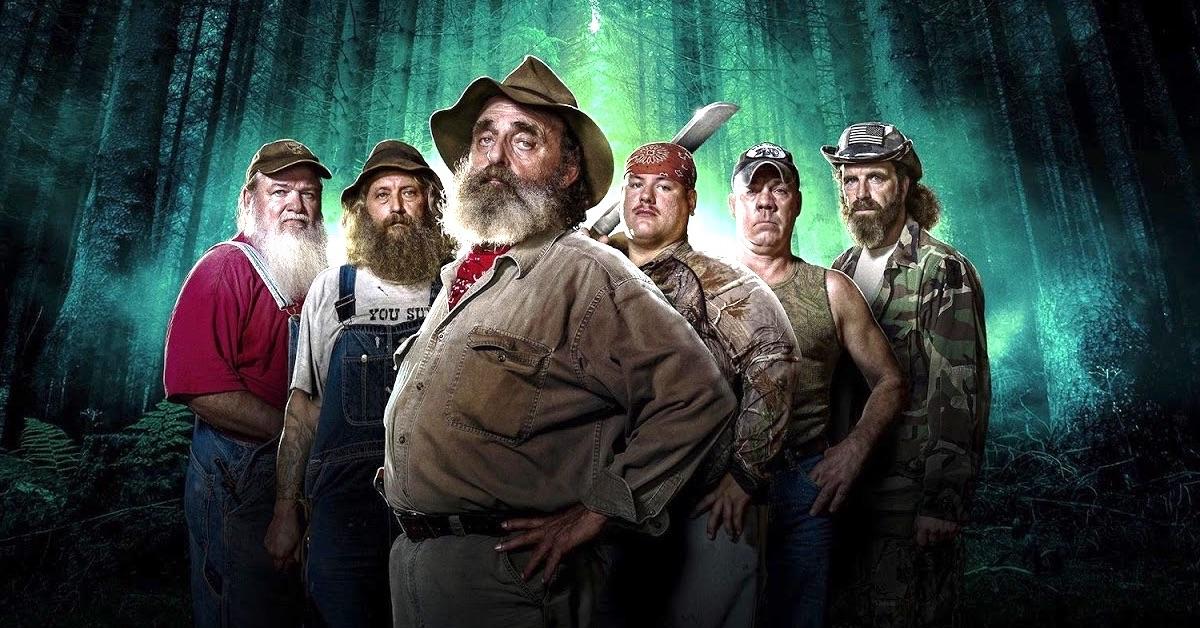 'Mountain Monsters' Star John "Trapper" Tice Has Unfortunately Passed Away
It's always heartbreaking when you learn that a person you've grown to love watching on TV falls seriously ill. When Mountain Monsters fans received some startling news from AIMS (Appalachian Investigators of Mysterious Sightings) team leader John "Trapper" Tice, they feared for the worst. Longtime viewers have noticed he was missing from the program and many are wondering what happened to him.
Article continues below advertisement
What happened to Trapper on 'Mountain Monsters'?
In 2015, the U.S. veteran suffered a blood clot in his leg, leading to a series of problems that kept him off the show. When Huckleberry asked if doctors were able to fix any of his issues, Trapper admitted that the future looked pretty grim.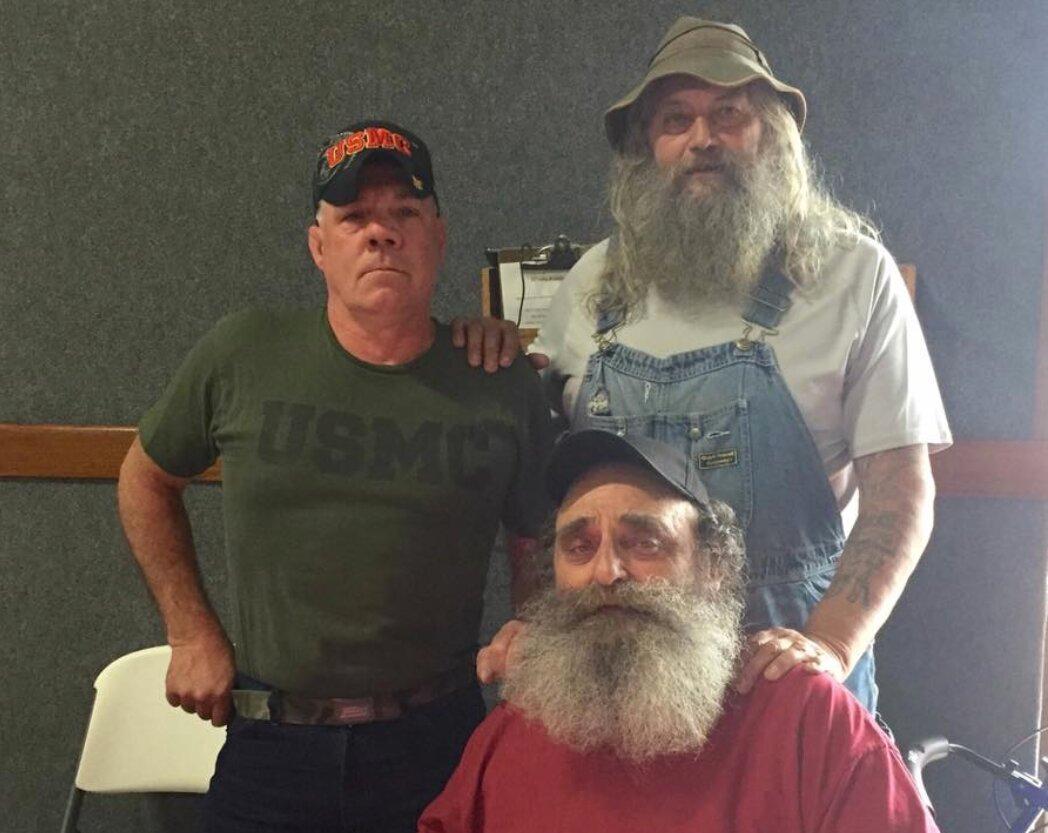 Article continues below advertisement
"I think it's a downhill ride from here," he shared. "The last blood work I got, my kidneys were about 25 percent. I about croaked the last time I was in the hospital. It's just one thing after another."
Despite his heartbreaking diagnosis, Trapper did his best to remain positive. "I'm one of those people that never worried about dying too much," he said. "It's one of those things in life that you gotta face up to. … Going through this has taught me you're only here so long."
The hunter added at the time, "Even if I have to go on dialysis, I'll still be around. I just have to go for an oil change two or three times a week." Huckleberry was confident that his friend has more life left in him. "Trapper's been through a lot the last couple years, but I'm telling you what, he's one tough, old son-of-a-b---h, and he'll make it through," the former Marine stated.
Article continues below advertisement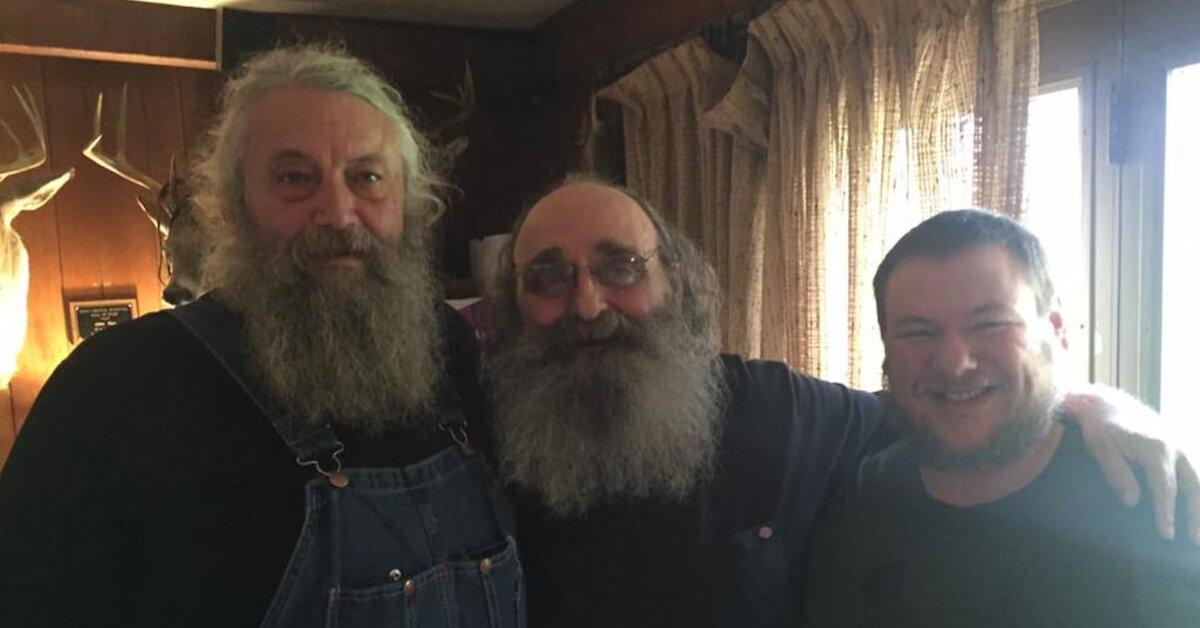 Following the show's premiere, fans flocked to Trapper's Facebook page to leave encouraging notes for the seasoned outdoorsman. "Thank you so much, Trapper, for coming back on," one follower wrote. "I am so sorry for your health. God bless you, Trapper, for everything you have done and [an] awesome show."
Article continues below advertisement
Another viewer commented, "I just lost my dad a month ago to basically the same things. Right around the time you had surgery, he was having it too."
She continued, "I really hope that this message finds you in good health because I may not know you personally but I've enjoyed every minute my family and I have been able to watch you and the AIMS team. Thank you for letting all of us in on not just the hunt for Bigfoot but into your life as well."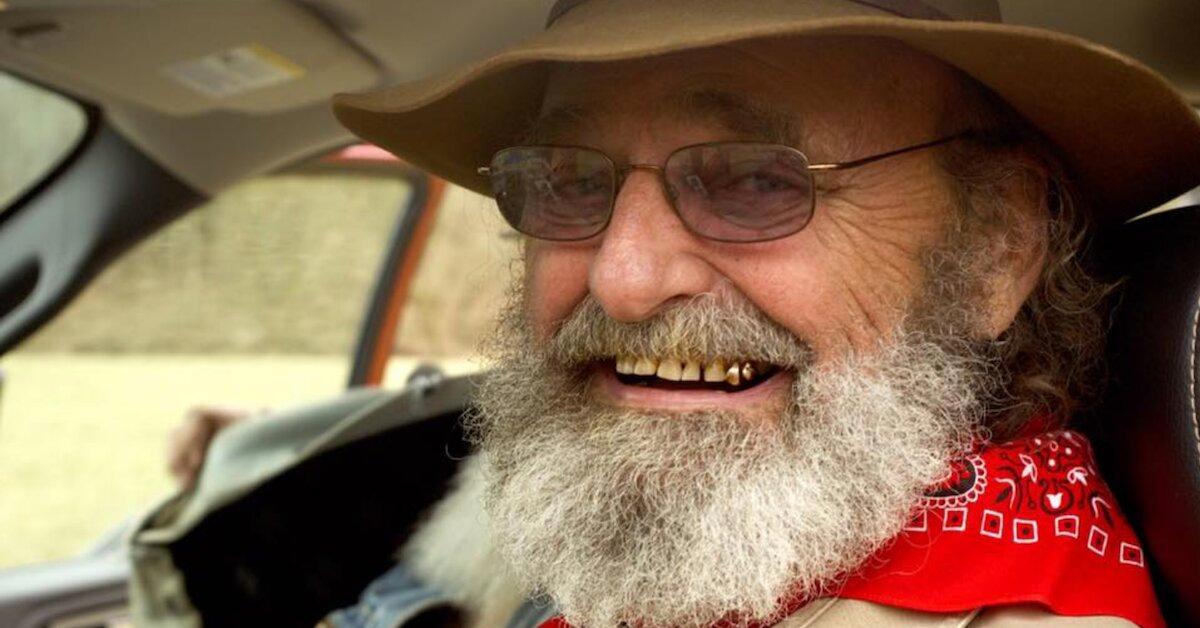 Article continues below advertisement
Unfortunately for Trapper and his close family and friends, he passed away due to his health complications in December of 2019, not long after Season 6 of Mountain Monsters concluded. Travel Channel penned a social media post in his honor. He was 72 years old.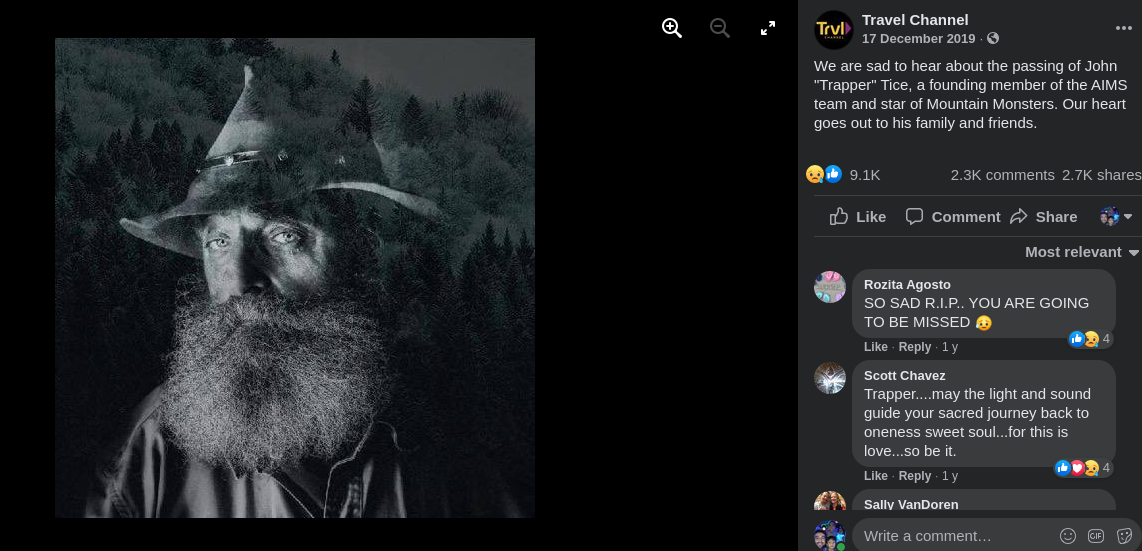 Article continues below advertisement
Trapper's son, John, also shared his thanks to everyone expressing their love for his father. "This is Trapper's son, John. My brother, sister and I greatly appreciate the outpouring of love and stories from friends and fans. The person on the tv screen pales in comparison to the actual legend of man, father, and grandfather he was. The silence of his absence in our lives is deafening. Love you, Dad."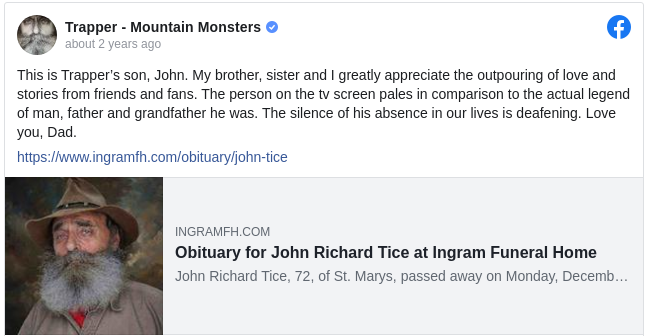 Article continues below advertisement
Trapper once got into a Twitter feud with 'Finding Bigfoot's' Matt Moneymaker.
In 2015, Matt attacked Mountain Monsters in a tweet. "I actually need to explain this to some people: Mountain Monsters is a scripted fictional show. Those guys are all actors. It's all faked," the former Animal Planet star wrote.
Trapper responded to the claim a few weeks later, tweeting, "I'm not an actor. Sometimes I feel your show should be called Losing Bigfoot. Keep up the good work, bud."