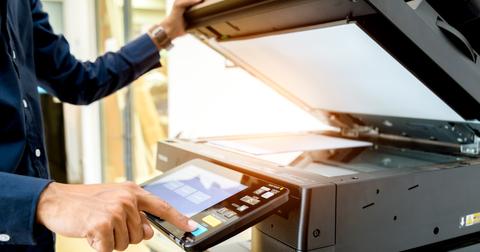 This Is What Happens When You Photocopy Water
By Sara Belcher

Updated
We get it, you're bored. You've run out of things to do, so instead you start searching random questions on the internet, and then you're down a YouTube rabbit hole of things you never thought you needed to know, but you have to know the answer to right now.
One of those questions is probably "what happens when you photocopy water?"
You've seen people photocopy their butts, animals, and other weird things. But what about water?
Luckily, you're not the first person to wonder this — and someone else has already tested it.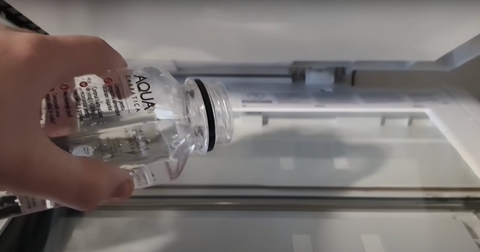 The question started after this video started circulating around the internet.
A video posted by YouTuber Ceapa Cool seemed to promise to answer the question, and from the looks of his uploaded videos, it seems photocopying things is a huge part of his content for his 149,000 subscribers. Some of his other popular videos include "What happens if you photocopy fire," "What happens if you photocopy money," and "What happens if you photocopy a mirror" — so clearly, this guy is a pro.
In the 37-second video, he starts by pouring water onto the copier tray, and while you're trying not to cringe at the potential water damage to the machine, he pushes the start button.
He chooses not to close the lid — likely to retain the shape of the water puddle on the screen, and the copier makes the scan.
But instead of rewarding viewers with the answer to what water looks like when you photocopy it, the machine begins spraying water.
Clearly, it's meant to be a joke. The video has since been viewed over four million times, but most viewers still want to know what actually happens when you photocopy water.
What actually happens when you photocopy water?
To appease his viewers who were still asking, Ceapa Cool did explain in the comments what actually happens when you photocopy water.
"For people who are curious: Nothing interesting actually happens if you photocopy water. It only prints the outline of the puddle," he wrote in the comments.
But just because he explained what happens doesn't mean we don't want to see it. Luckily YouTuber Modi Adams gives us a real answer.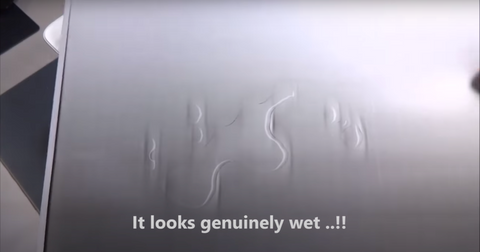 In the video, Modi takes two caps worth of water and gingerly places it on the copy screen. Instead of leaving it open, he props the cover up on a highlighter so it's mostly closed but not touching the water.
The end result is exactly as Ceapa Cool predicted: the photocopy displays the outline of the water puddle and not much else. In Modi's video, he points out that the photocopy does make the paper look wet, giving it an interesting effect.
Coincidentally, both videos were uploaded around the same time. Modi's video was uploaded on Dec. 7, while Creapa Cool's was added on Dec. 8.
So there you have it — photocopying water is just as exciting as it sounds like it would be.