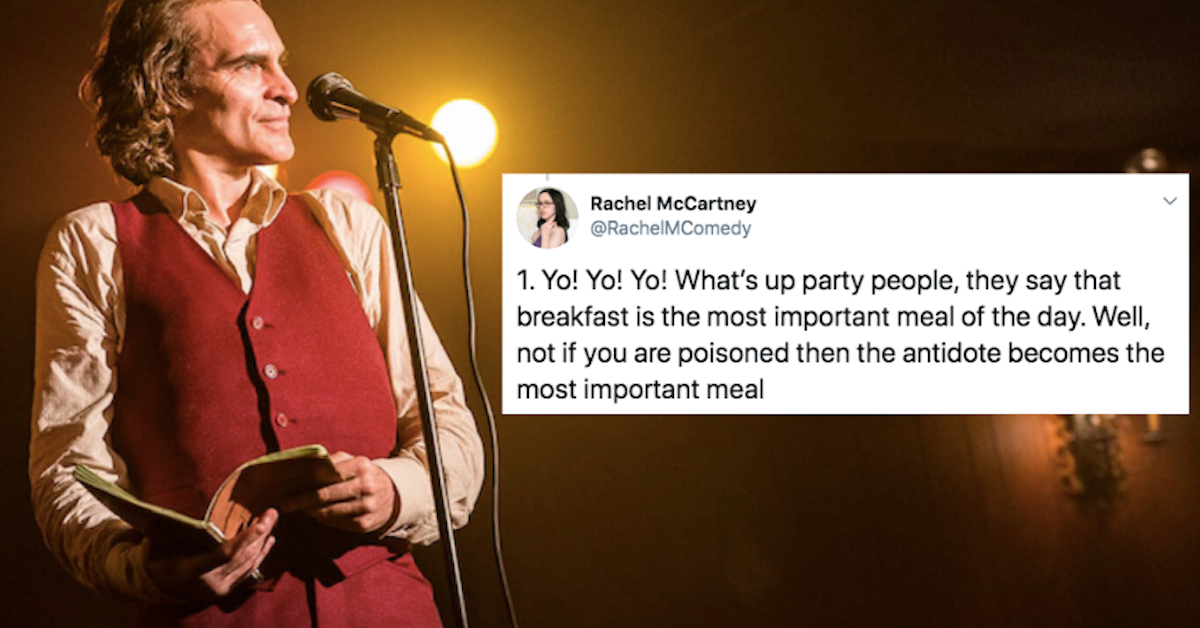 Standup Comedian Paid an Essay-Writing Service to Write Her New Material and It's Priceless
It can be hard to keep coming up with fresh bits to open your sets when you're a standup comic. You don't want to get stuck doing the same jokes over and over, and so sometimes, you have to reach out to unexpected places for inspiration. New York-based standup comedian Rachel McCartney needed a new opener, so she turned to one of those services that you can pay to write essays for you.
On Twitter, she started her thread by writing, "I paid one of those sites that sells college essays to watch a minute of my standup and then write a list of new openers. This is what they came back with..."
Article continues below advertisement
I can already tell that is going to be the best, worst, most hilarious, most confusing list of jokes you will ever read in your life. What is this? It's almost a joke, but it's mostly nonsense. Keep in mind, these are the jokes they suggest she open her entire set with.
I can tell they really did their research when they were like "I am Rachel McCartney from New York." Very perceptive. It's in her Twitter bio. No word on whether or not she is actually adopted. Either way, this joke is just kind of mean? And the second part makes no sense.
Article continues below advertisement
Wow. Is this just a real thing that happened to the person who wrote this joke while they were on the train to work that day? Because it certainly isn't what Rachel was looking for, which is a well-written joke, probably one that doesn't call Laura or any woman a "fat cow."
Article continues below advertisement
I sort of see what they're going for with this one, but it's just so out of left field and... not funny. Plus, they're using words like "mate" and "mum." Are they in the UK? If there's one thing we know about Rachel, it's that she lives in New York, and the lingo is different there than it is in the UK.
Article continues below advertisement
OK, not going to lie, this one made me laugh. It's slightly funny, but it's just such a stereotype of New York that's also kind of true, so I love it. I do have to tell you at this point that this one is probably the most solid actual joke on the list, so don't raise your expectations up any higher.
Article continues below advertisement
I'm very concerned that the person who wrote this joke is an adult who just learned of the existence of shower curtain rings. How were they living before this? This gap in your knowledge is definitely not something you should admit to anyone, let alone on stage.
Article continues below advertisement
I have read this one multiple times, out loud, to myself, and I still don't understand what's going on. I think they're trying to make a joke about being asked about your ethnicity? Like, this is what you should respond when someone asks, "What are you?" But honestly, that's just guesswork.
Article continues below advertisement
This one is all over the place. I am disturbed by the image of a young-looking person with hideous old woman feet, and the black lives matter bit...well maybe that would work a bit better if Rachel wasn't a very white woman.
Article continues below advertisement
Last but not least, we've got this extremely generic sexist joke about Jesus' disciples. I don't know much about Rachel's standup, but I can almost guarantee that this is not up her alley.
In fact, she followed up the thread by writing that she, too, was disappointed with the service: "I wrote back, 'You did not follow instructions, these were supposed to be based on my look and vibe' and to my surprise they offered a revision. Stay tuned."
I can't wait for the next update in this hilarious saga.