"All Good Here" — Garrett Hilbert Puts Rumors of His Death to Rest
What happened to Garrett from Dude Perfect? Online reports that the YouTube star died had social media users concerned, but it seems to be a hoax.
What happened to Garrett from Dude Perfect? We've seen sketchy reports that Garrett Hilbert died, and some fans are concerned. "Did he pass?" one person tweeted on Sunday, Sept. 12.
"Why am I seeing videos of people asking if Garrett from Dude Perfect died? This better not be true," somebody else tweeted.
Others are skeptical, however, especially because there's been no official word. "Yeah, I'm fairly certain this Garrett Hilbert death thing is a hoax," another Twitter user wrote on Sunday.
Article continues below advertisement
Even after the rumor started gaining steam on social media, none of the other guys from Dude Perfect posted any kind of update on Garrett, which led more fans to worry. For his part, Garrett hasn't tweeted since January or posted an Instagram upload since April, but he did "like" a tweet on Saturday, Sept. 11, 2021. Still, fans were concerned.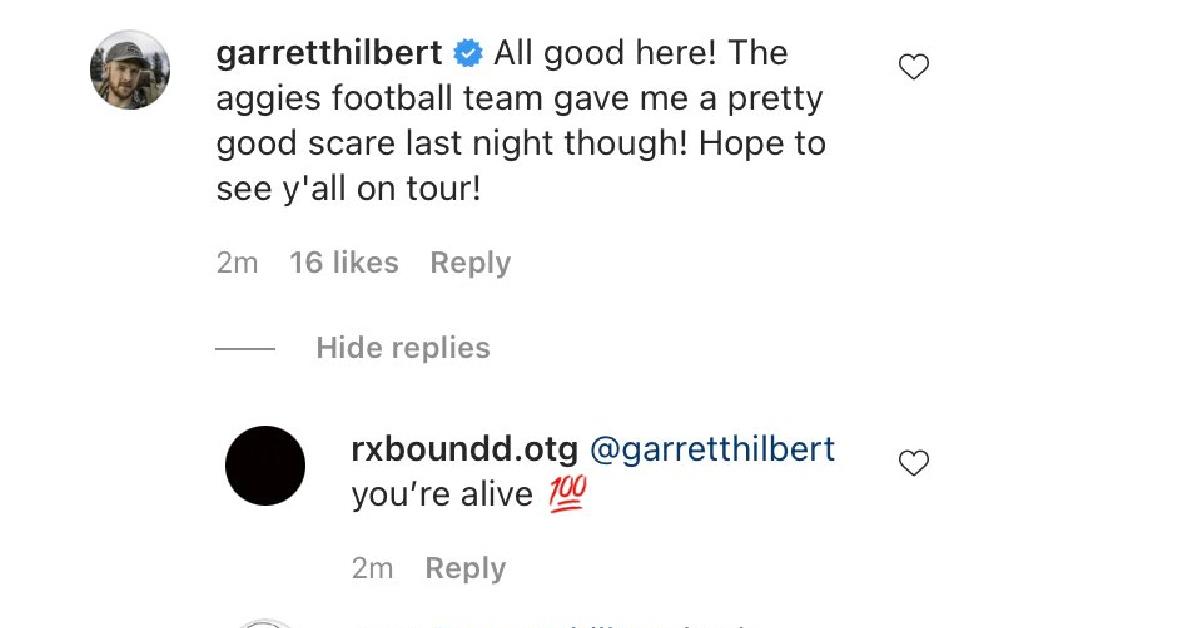 Article continues below advertisement
Finally, Garrett himself commented on his own latest Instagram post (which he had originally shared back in April). "All good here!" He wrote. "The Aggies football team gave me a pretty good scare last night though! Hope to see y'all on tour!"
We're going to say it's safe to assume that Garrett is alive and well. Here's some background on his work with Dude Perfect.
Garrett and his pals launched Dude Perfect in 2009.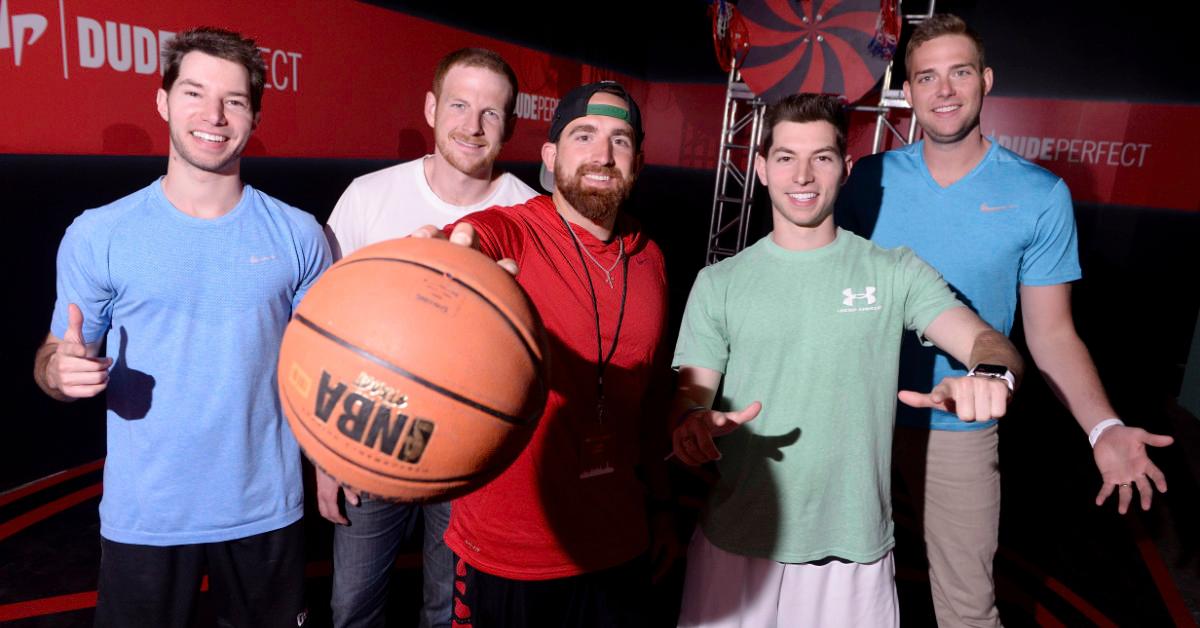 In 2009, Garrett linked up with five other Texas A&M students — Coby and Cory Cotton, Cody Jones, Tyler Toney, and Sean Townsend — and started the Dude Perfect YouTube channel. The group went viral with their basketball trick shots, with coverage on the ESPN shows Around the Horn, SportsCenter, Sports Nation, First Take, and Pardon the Interruption that same year, according to The Battalion, Texas A&M's student newspaper.
Article continues below advertisement
"A free sandwich, a simple camera, and 20 'I can do better than you' shots later, Dude Perfect was born," the group explains on their website. "Obviously, when that first ball swished, we had no idea what we were getting ourselves into, but we believe that nothing happens by accident, that God's given us this platform for a reason, and that we have an opportunity to make an impact on the lives of countless others all around the globe."
The group also donated money from their YouTube channel to Compassion International, a Christian-based child advocacy organization. "Above all else, our ultimate goal is to glorify Jesus Christ in everything that we do," they say on their site. "We want to use this platform for something much bigger than us."
Article continues below advertisement
Dude Perfect's YouTube videos have been streamed billions of times.
Within their first six months on YouTube, they racked up 3.3 million views, and Garrett was looking to the future. "Even though all of us are pretty much graduating this year, we still want it to last after college for a little bit," he told the newspaper. "We don't really know how that is going to happen but with the direction we are wanting to take it, supporting kids and continuing this ministry in our lives, it's definitely going to stick with me forever."
To say it lasted "a bit" after college is an understatement. Twelve years later, the group is down to five guys — Sean has left the group — but their YouTube channel has racked up 56.7 million subscribers and 13.4 billion views.
"We don't take the platform we've been given for granted, and we're very humbled by the fact we have millions and millions of people who want to follow us as we have fun for a living," Garrett told Modern Huntsman in 2019. "We don't go a day without being grateful for that. As long as that continues, the future plan is to just continue to provide entertainment and fun for this world that has a lot of dark stuff and a lot of hate going around. Just to be that glimmer of hope and light."