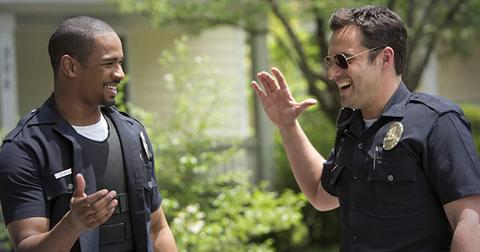 "Blue Flu" Is a Way for Police to Technically Go on Strike and Keep Their Jobs
By Mustafa Gatollari

Jun. 19 2020, Published 11:21 a.m. ET
If you're a police officer and want to go on strike for any reason, then you can go and do so, but don't expect to have a job waiting for your in your department, or any for that matter, if you do. That's because due to the nature of how serious their jobs are, they can't just up and go and strike and protest if they want to.
So what is a cop to do? That's where the "Blue Flu" comes in.
Article continues below advertisement
What is "Blue Flu"?
No, it isn't when you and your friends have been on a dry spell spanning several months. It's when a large group of police officers utilize their sick leave simultaneously to strike against or protest a specific action, specifically in areas that prohibit cops from participating in any large-scale group protest.
There was a time in U.S. history when police strikes were, by and large, legal. In 1919 Calvin Coolidge put a stop to all of that protesting business by engaging the services of the state's militia.
The first grand, collective plot from police officers to engage in "Blue Flu" was orchestrated in 1971 by New York Police unions. Officers collectively settled on six consecutive days, in advance, to use their sick time.
Article continues below advertisement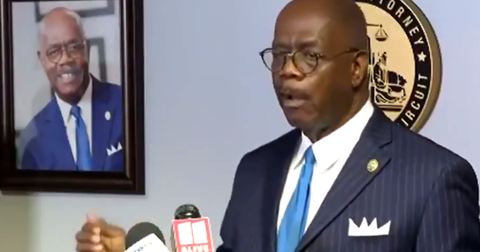 Some famous politicians have taken notoriously strong stances against not just police strikes, but the practice of mass sick call-outs. Ronald Reagan fired an entire workforce of air traffic controllers in 1981 when it was de-certified after the then-president's administration found it guilty of engaging in illegal strike activity.
Article continues below advertisement
New York City Mayor John Lindsay, who was a bit of a celebrity in his day, making regular appearances on Good Morning America, was also known to take a notoriously strong stance against law enforcement that threatened to take strike action. Lindsay "vowed he would fire the entire police department if it came to that" when referring to a potential Blue Flu strike.
When America decides to place a police officer on death row for trying to do his job, America has gone wrong.

Huge support for every police officer in Atlanta refusing to come on shift

Police are being sacrificed to the mob.

#RayshardBrooks #BlueFlu pic.twitter.com/EmCaBYjmbx

— Katie Hopkins (@KTHopkins) June 18, 2020
Article continues below advertisement
Will there be a "Blue Flu" in 2020?
Atlanta PD has assured the city that it was still perfectly capable of protecting people even though a ton of officers in the department are calling out to protest the prosecution of a fellow police officer.
Some officers are staying home en masse and are using their sick days to do it in order to protest the allegations against two white police officers who were charged with the fatal shooting of Rayshard Brooks.
Prosecutors are charging Officer Garrett Rolfe with felony murder and 10 other death counts. He could face the death penalty or life in prison without parole if fully convicted. Devan Brosnan was placed on administrative leave after the incident and is currently facing aggravated assault and other charges that includes "violating his oath as an officer," according to Deseret News.
Article continues below advertisement
Earlier suggestions that multiple officers from each zone had walked off the job were inaccurate. The department is experiencing a higher than usual number of call outs with the incoming shift. We have enough resources to maintain operations & remain able to respond to incidents.

— Atlanta Police Department (@Atlanta_Police) June 18, 2020
There are also rumors that NYPD officers are also thinking of staging a "Blue Flu" strike of their own on July 4, a day when mass celebrations and gatherings usually necessitate the implementation of law enforcement the most.
Some say that mass text chains are being pushed to police officers encouraging them to either take the day off or request an ambulance when they show up to work.
Article continues below advertisement
The bodycam footage of Officers Rolfe and Brosnan shows that Brooks was intoxicated and asleep behind the wheel of his car before. The breathalyzer test confirmed he was above the legal limit and Brooks had a perfectly calm conversation with Rolfe and Brosnan, until the officers attempted to handcuff him.
Brooks grabbed a taser in his car and attempted to flee, and then fired the taser at the officers.
George W. Bush has a DUI
Dick Cheney has a DUI
Matt Gaetz has a DUI
Mike Crapo has a DUI
Beto O'Rourke has a DUI

But Rayshard Brooks had a DUI, couldn't get a job and was killed. This country's criminal justice system was built to incarcerate and kill black and brown Americans.

— De'Narde English🌹✊🏾🏳️‍🌈 (@DeNarde4MDDel) June 19, 2020
Rolfe fired at Brooks as he was escaping. He died as a result of his wounds. Prosecutors argue that the officers knew the taser wasn't a threat after Brooks fired it twice, while the attorneys representing Rolfe and Brosnan said the flash from the taser could've easily been misconstrued as a firearm and the discharging of their weapons was purely out of self defense.