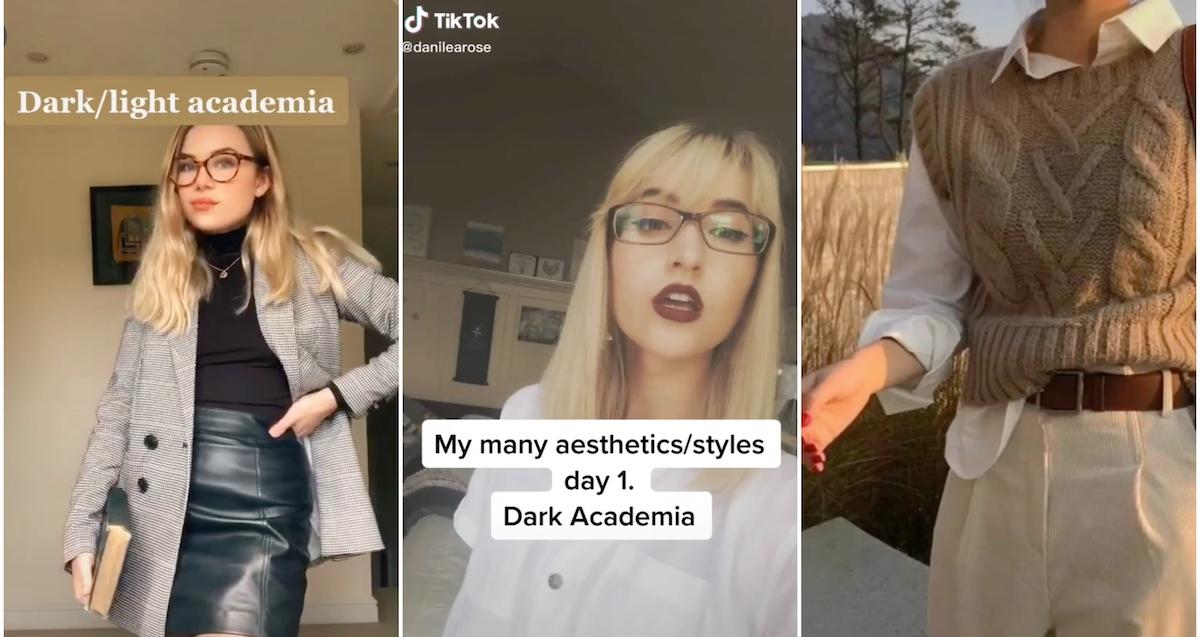 Is Your Aesthetic in Line With Dark Academia on TikTok?
While some people think that TikTok is only good for dances, lip syncs, and pranks, many are using the app to identify with subcultures. One recent trend that users have been engaging with is finding out what their aesthetic is when it comes to clothing.
People have been sharing the contents of their wardrobes and linking them to various films, novels, and photos of scenery.
Article continues below advertisement
If you've ever wondered why you've been seeing videos asking whether your fashion tastes lean more toward Dark Academia, Cottagecore, or E-Girl / E-Boy, it's because these are just a few of the subcultures that people on TikTok, Instagram, and Twitter are identifying with.
What is Dark Academia on TikTok? Read on to find out what qualities this aesthetic entails.
Article continues below advertisement
What is Dark Academia on TikTok?
If you've ever found yourself modeling an outfit off of the Hogwarts uniforms featured in the Harry Potter series or you've desperately wanted the overcoat Robin Williams wore in the 1989 film Dead Poets Society, then your fashion vibe might be in line with Dark Academia.
The subculture, which has a presence on TikTok (with more than 22.5 million views), emphasizes dressing like a gothic scholar and wearing vintage clothes that could be found in a classic novel.
Tweed suits, plaid skirts, neutral-colored blazers, turtlenecks, and leather belts / bags are some of the items that are quintessential for Dark Academia people, who tend to be in their teens or early to mid twenties.
Inspiration for the vibe can be found from in various films and novels. One that is incredibly popular among the young adults in the subculture is the 1992 novel The Secret History by Donna Tartt, which centers around students at a private New England college.
Article continues below advertisement
The film adaptations of Black Swan, Bright Young Things, and Kill Your Darlings are inspirations for the look as well.
Being in accordance with Dark Academia is about more than just fashion. Many who fancy themselves to be part of this group have made lists about what hobbies, personality traits, and locations go along with the look as well.
Article continues below advertisement
Boarding school, leather books, poetry, letter writing, black-and-white photography, ivy-wrapped buildings, and the English countryside are a few of the images that are often shared in TikTok videos about Dark Academia. Theatre, poetry, and literature are subjects that are of particular interest to the group members.
Unlike some of the other TikTok aesthetic groups, the appeal of Dark Academia is that it's incredibly inclusive. Purchasing the clothing items secondhand or creating looks by hand is valued.
Article continues below advertisement
What is Cottagecore on TikTok? It's much more elaborate than Dark Academia.
Another subculture on TikTok that has millions of views (more than 531.7 million) is Cottagecore, which has also been referred to as Countrycore or Farmcore).
Unlike Dark Academia, Cottagecore relies more on a complete aesthetic that centers around the whimsical nature of farm life and living in harmony with nature.
Article continues below advertisement
Article continues below advertisement
Barns, cottages, tea parties, flowers, elves, gnomes, fairies, mason jars, crafting, and harvesting fresh plants and vegetables are part of this trend.
As for clothing, aprons, peasant skirts and dresses, big sleeves, pastel colors, and loose-fitting sundresses, are popular choices to fit in with the group. Handmade accessories are a bonus.
The Sound of Music, Little Women, Midsommar, and Anne of Green Gables are movies that are commonly associated with Cottagecore.
If you don't have access to a quaint home in the countryside, or you're lacking tweed options in your closet, then you might want to simply look up the subcultures on TikTok. There's quite a lot out there.