Almost two years after A Quiet Place knocked our socks off, a teaser has finally been released for the sequel — A Quiet Place 2 — which is set to come out early next year. And although the official trailer isn't coming for another few weeks, until the beginning of 2020, the teaser was an undeniably satisfying snippet, luring viewers into the cinema for yet another terrifying (yet seriously entertaining) time.
After watching the 30-second teaser, however, you most likely have a few questions. What is A Quiet Place 2 about? Who will be starring in the new movie? We've compiled our thoughts and predictions based on what we've seen thus far, so get excited for another wild (and almost entirely silent) adventure.
What is A Quiet Place 2 about? First, let's watch the trailer below:
The film follows the Abbots in the same post-apocalyptic world.
The teaser features Evelyn Abbott (played by Emily Blunt), walking in the woods with her two kids: Marcus (played by Noah Jupe) and Regan (played by Millicent Simmons). They're looking at a map while walking as quietly and carefully as they possibly can, avoiding the monsters who are attracted to sound.
A close-up of the actors' feet shows that Evelyn still has a bandage wrapped around her foot because of what happened to her at the end of the last film (she stepped on a nail while walking down the stairs into the basement). This implies the sequel picks up not too long after the first film left off.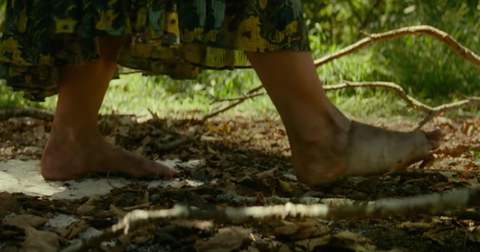 You may have noticed Evelyn's new baby is nowhere to be seen.
Strange, right? Remember when Evelyn gave birth while her husband, Lee, was out? She was forced to silently go into labor, as any noise would attract monsters. And from what we saw, the baby came out alive and healthy. So is the baby in the teaser?
Maybe the baby didn't survive, as silence is of the essence — it's inevitable that a newborn baby will cry, and it may have been killed by the post-apocalyptic monsters that are attracted to sound. There's also a chance the baby was left at home while the family goes out looking for food, people, or other necessities.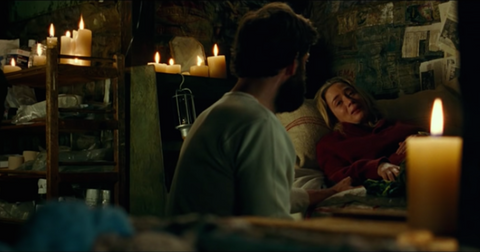 And after getting attacked by the monsters, Lee is still dead.
You may remember at the end of the last movie when Lee sacrificed himself for his wife and kids. When the monsters were closing in on Evelyn, Marcus, and Regan, he yelled, in order to distract the monsters. They attacked him, which appeared to kill him instantaneously. 
Since Lee did not appear in the teaser for the second movie, it's clear that the monsters attacking Lee did —  in fact — kill him. TBH, I'm still mourning the death of his character.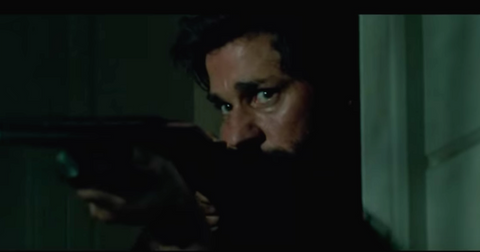 While the teaser didn't reveal much, it's getting me seriously psyched for the second film.