Meet JUDY: The Emergency Kits Kim Kardashian and More Are Talking About
Disasters and emergency situations can happen at any given moment, and many people are not prepared for when those situations arise. On Tuesday, Jan. 28, a new emergency kit, JUDY, was launched to help citizens be "ready for anything."
Article continues below advertisement
"Over the last decade, I've witnessed close friends and family deal with emergencies across the country, from floods to fires to storm surges," co-founder and CEO of JUDY, Simon Huck, explained to People. "One common factor in all of their experiences was a fundamental lack of preparedness, a shared issue for more than 60 percent of Americans who don't have a disaster plan in place."
So, what are these emergency kits that hit the market, and how can you get your hands on one?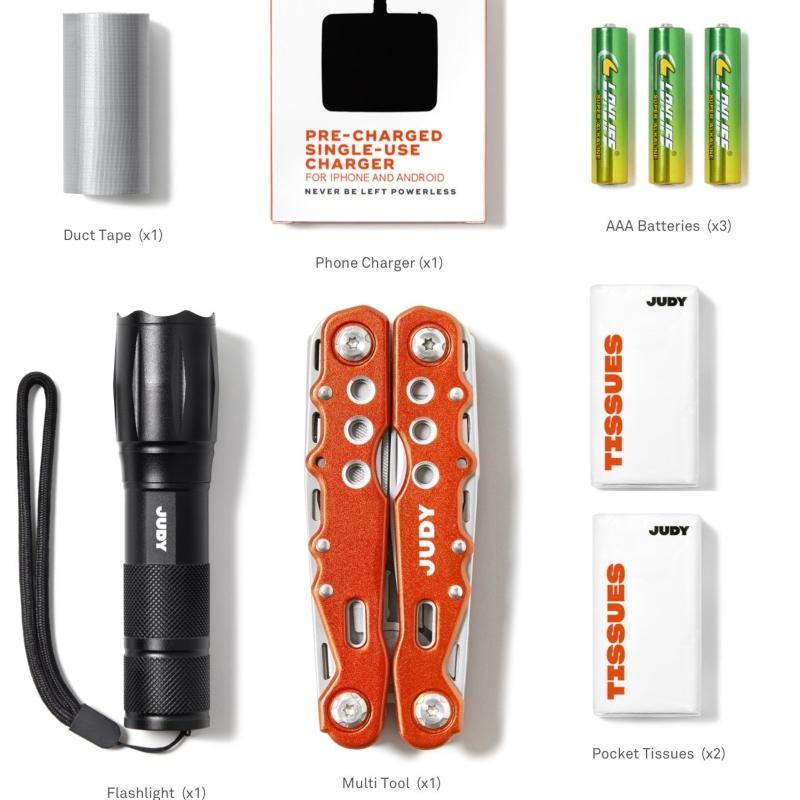 Article continues below advertisement
What is the JUDY emergency kit?
These curated boxes come in four sizes: The Starter ($60), The Mover ($150), The Mover Max ($180), and The Safe ($250), which are each stocked with different survival essentials, such as, first aid, blankets, food, batteries/tools, and more.
"I was inspired to help people proactively plan for emergencies by empowering them with tools and knowledge," Huck said. "JUDY is designed to help everyone prepare for the unexpected and make it as seamless as possible."
After witnessing the devastation caused by fires, floods, and more natural disasters in recent years, Huck wanted to find a way to help people across the country.
Article continues below advertisement
"We talked to hundreds of people all across the country, including leading experts in emergency preparedness, survivalists, first responders and firefighters. They all came back with the same powerful message — purchasing an emergency kit is not enough. Without the education and resources, you're not prepared," he explained (via Forbes).
Article continues below advertisement
JUDY separates itself from the competition by also providing people with the resources and information on how to be prepared for an emergency situation. Customers can receive information and safety tips that are curated to their specific location.
The educational resources of JUDY also give customers the ability to text with experts and have their questions answered in real-time.
"Judy is the first digitally-connected emergency kit, supported by the tools and resources to use the supplies effectively," the CEO said. "We also have a text-based program to get your questions answered by emergency experts and a series of animated videos on over 100 topics of high consequence events and domestic emergencies."
Celebrity friends of Huck, including his bestie Kim Kardashian have posted in support of the new product. Most recently, Kourtney Kardashian shared multiple videos on her Instagram Story.
"Wow, this is genius," the Keeping Up With the Kardashians star wrote while showing off "The Safe" kit.
Mindy Cohn also posted on her Instagram story a picture of her kits, writing, "I'm @readysetjudy with the starter Judy for my car & my mobile "home" Judy readiness kits."