Is the "Orbeez Challenge" Really a Big Deal on TikTok? Or Is It Just Fake News?
There have been reports of the "Orbeez" challenge on TikTok. But what is it? Surprise, surprise: It's dangerous and kids are getting in trouble for it.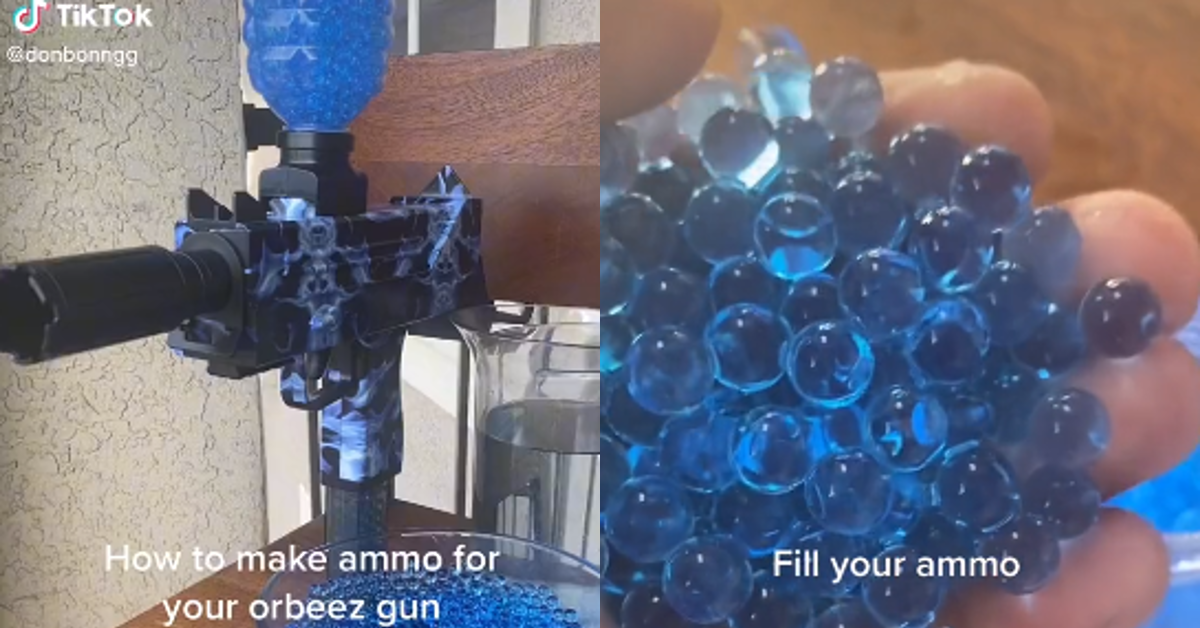 It's no secret that there's a lot of annoying content on TikTok. When you factor in that there are tons of folks who are trying to become famous on the platform so they can launch their own personal brand, you're left with a lot of folks trying to go viral or start viral trends. But what is the deal with the Orbeez "challenge" that supposedly went viral on the platform?
Article continues below advertisement
What is the Orbeez challenge and did it start on TikTok?
Here's the skinny: There are tons of reports of young folks putting Orbeez, which are little hard balls of goo, into Gel Blaster guns. These toys are a lot like airsoft guns, but instead of shooting tiny hard plastic pellets, they fire gel balls.
Article continues below advertisement
Think of them as "lite" paintball guns. The little gels that are meant to go in these toys won't hurt if you're hit by them. Instead, they are supposed to make a little splotch that's easily cleaned off, so you can do your own, toned-down version of a paintball match.
However, if you put Orbeez beads inside of them, which are much harder, well, that's a different story.
Getting hit by one of those things would definitely hurt a lot more, and if you hit someone in the eye, it's not hard to imagine that would cause some serious damage.
This is why so many local law enforcement agencies are warning folks about the fact that some people are going around with these toy guns packed with Orbeez and opening fire on unsuspecting victims.
Article continues below advertisement
Some departments have attributed these crimes to a "TikTok Challenge," however, if one were to search TikTok for #orbeez or #orbeezchallenge, they'll find several innocuous videos that don't have anything to do with run-and-gunning on victims with Gel Blasters.
Article continues below advertisement
Newsweek reported as much as well. The reported that a representative of TikTok indicated there is no data to suggest that the "challenge" is specific to TikTok. However, the top result for the search is a singular video that does show how to create a gun that shoots Orbeez, and it's dated Jan. 26, 2022.
Article continues below advertisement
How many people have been victims of the Orbeez challenge?
In Volusia County, Fla., an Amazon driver was reportedly struck by someone strapped with a Gel Blaster that was filled with Orbeez. The same culprit apparently opened fire on a 10-year-old as well.
Ultimately, cops found the trigger happy Orbeez blaster. A 19-year-old was arrested and charged with "child abuse ... two counts of battery [and] shooting into an occupied vehicle."
Article continues below advertisement
In Yuma, Ariz. four teens were also arrested under suspicion of a similar charge. They targeted multiple pedestrians in a series of Gel Blaster drive-by shootings with the jerry-rigged contraptions.
When cops apprehended the teens, they found "several thousands rounds of gel ammunition inside the car."
Yuma PD said, "While Orbeez are soft to the touch, they can lead to injury and even break the skin when shot from an air-powered gun."
It's believed that the trend originated on social media, however, it's difficult to find much evidence that the challenge is prevalent on TikTok. There are clips on how to load Orbeez into a gun but not many clips where people are challenged to attack folks with the customized gel shooters.