A Viral TikTok Shows "Baby Karen" Telling a Woman Where to Sit at a Public Park
In a TikTok video shared by @the_real_her21, a small child, deemed "Baby Karen," tries to dictate where a woman can sit at a public park.
Let's face it: Children can be the worst sometimes. Sure, they can act all cute, but most of the time, they are incredibly infuriating; many don't know how to mind their own business and are just plain rude to other humans, especially adults.
Article continues below advertisement
The latest example of this disrespectful behavior comes from TikTok, in which @the_real_her21 shares her aggravating experience with a small child, deemed "Baby Karen," who tries to get her to sit somewhere else. Keep scrolling to see what went down!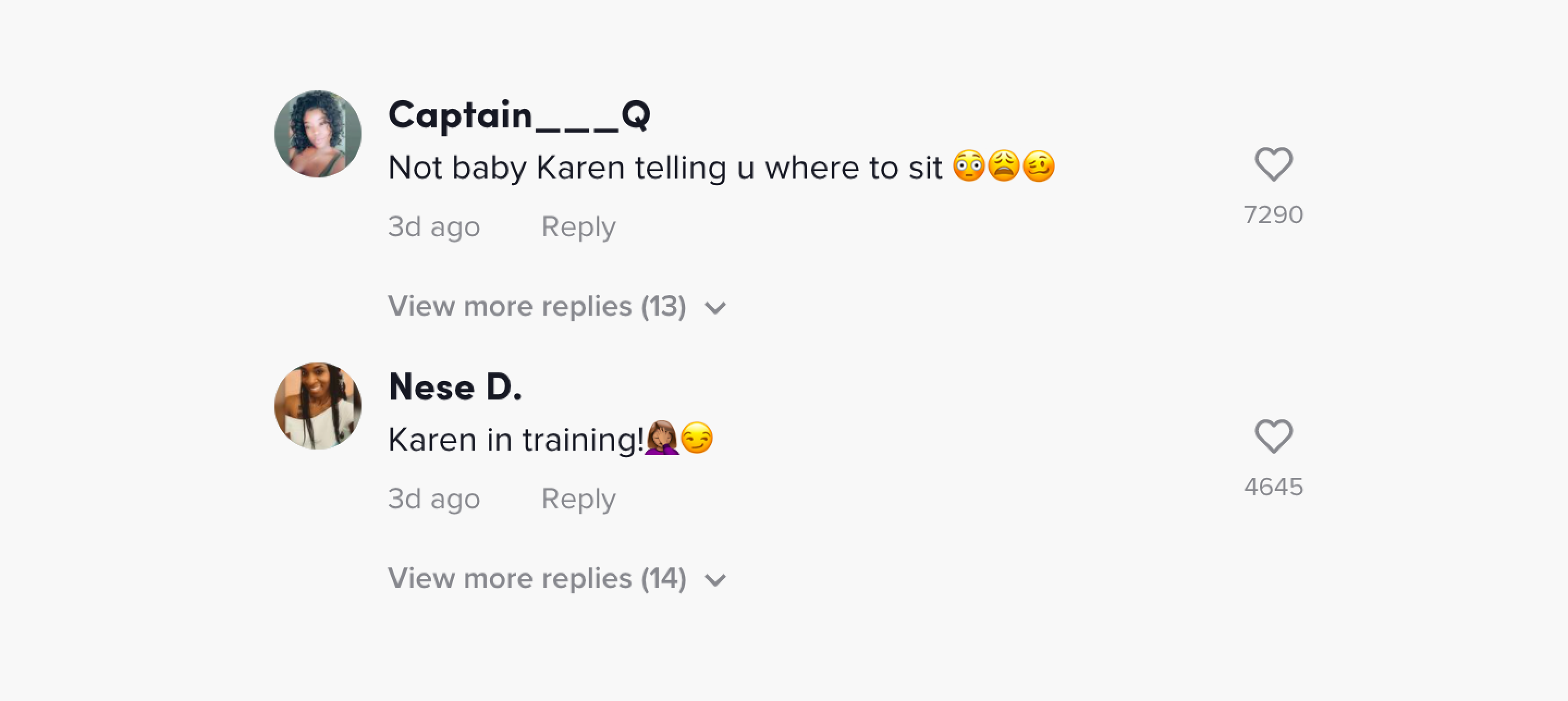 Article continues below advertisement
"Baby Karen" attempts to tell a grown woman where she can sit at a public park.
In the viral clip, a young girl attempts to get a woman to sit somewhere else, claiming that the table at the public park belongs to her and her family. The child insists that the woman can't sit there and that she was sitting there first.
However, it's later revealed in a follow-up video that when the woman first sat down, the table was empty except for a bag full of water bottles.
"I don't have to sit nowhere else [sic]. I'll sit right here, thank you," the woman said. "Baby Karen" responded, "There's still more tables over there. You can only sit over there." Clearly, this little girl isn't taking no for an answer and continues to bicker with the woman until the video cuts off.
Article continues below advertisement
The clip, which has amassed 1.6 million views, has gone viral because of the child's mean nature and the lack of interference from her parents; as of late, commenters criticize "Baby Karen" for speaking so discourteously to an adult and that her parents didn't make an effort to pull her away from the situation.
Article continues below advertisement
"Where is her mother while she is having a whole conversation with a stranger?" one user wrote. Another added, "Wow! How sad for her to be a product of what type [of] parenting is happening at home." A third commented, "Audacity. My Dad would've sprinted across the park to whoop my a-- right when that first syllable escaped my mouth."
Article continues below advertisement
Regarding the situation, the TikToker updated her followers with a three-minute video to explain the story more in-depth. Before disturbing the poster, "Baby Karen" decided to bother a grown woman and her children at the next table over by hopping onto their bike.
Although the lady informed "Baby Karen" that she should not get on the bike because "it's too big for [her]" and she didn't want her to hurt herself, "Baby Karen" disregarded the comments and kept attempting to get on the bike.

"Baby Karen" then approached the original TikTok poster and dangled a pink scrunchie keychain in front of her face, only to rudely ask why she was looking at it. The little girl then proceeded to walk around the woman, ultimately pestering her about her seating choice and trying to dictate where the grown woman could sit. Hopefully, "Baby Karen" learns to not engage with strangers!