The Truth Behind the Viral Zepotha TikTok Trend: Is It Just a Fake Movie?
All anyone on TikTok is talking about is an '80s horror movie called 'Zepotha.' What is it? And is it even a real movie? Read on for more details.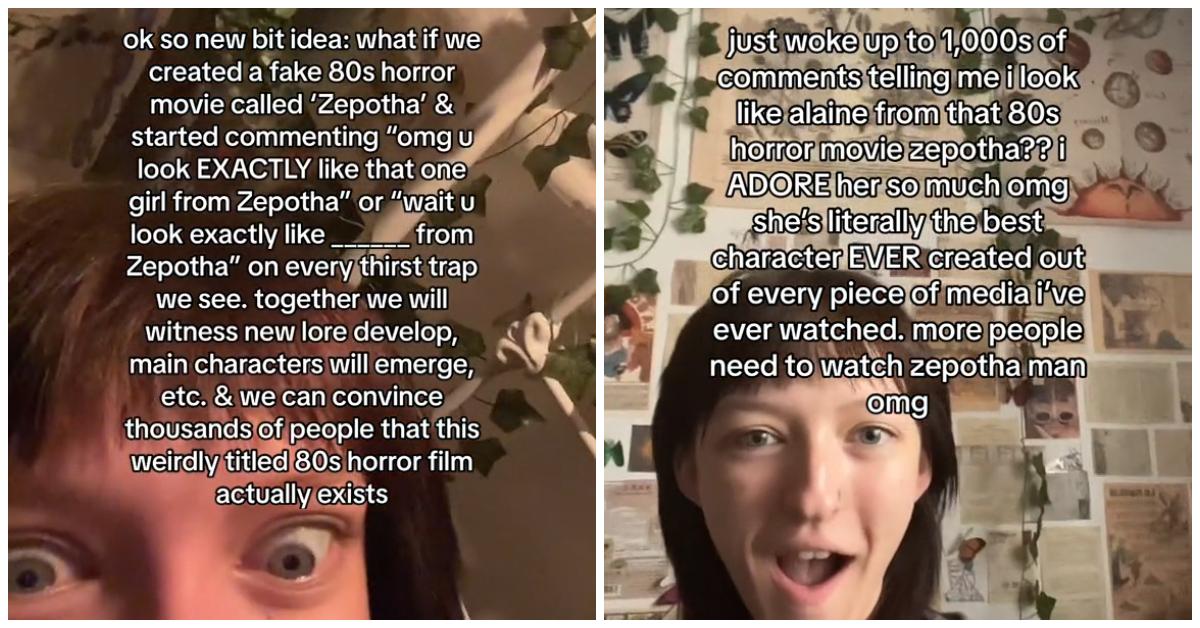 If you've been on TikTok recently, there's a good chance you've come across several videos and comments about an '80s horror movie that no one, not even die-hard cinephiles, seems to remember: Zepotha.
Article continues below advertisement
The film has garnered plenty of renewed interest on the social media platform, with many TikTokers racing to various comment sections to tell creators how much they look like a specific character from the horror flick. Now, some TikTok users think nothing of this, but others are confused: What is Zepotha? Is it even real?
Here's everything we know!
Article continues below advertisement
What is TikTok's newest obsession, Zepotha?
As it turns out, Zepotha is not a real film; it's simply the creation of TikToker and musician Emily Jeffri. On Aug. 12, the content creator shared a video and suggested creating a fake horror movie to try and convince people it's real.
"Ok, so new bit idea: What if we created a fake 80s horror movie called Zepotha & started commenting, 'omg u look EXACTLY like that one girl from Zepotha' or 'wait u look exactly like [insert character's name] from Zepotha' on every thirst trap we see," Emily wrote. "Together, we will witness new lore develop, main characters will emerge, etc. & we can convince thousands of people that this weirdly title '80s horror film actually exists."
Article continues below advertisement
The 10-second video quickly went viral, accumulating over 5.2 million views and 19,000 comments from those willing to trick other people into believing that Zepotha is real. We even searched "Zepotha" on TikTok, and numerous other viral videos popped up of people explaining the trend or joining in on the fun — some even created fan art dedicated to two made-up characters, Danny and Cole.
Article continues below advertisement
Maria Canals-Barrera, who's best known for starring as Theresa Russo in Wizards of Waverly Place and Connie Torres in the Camp Rock films, is even hopping on the trend! On Aug. 13, she posted a video and said Zepotha is scary AF.
"It scared the hell out of me, but it was so good," the actress gushed. "Everybody was into Pretty in Pink and Back to the Future, but I love Zepotha. You wanna know what's weird? My daughter looks like Alaine!"
Article continues below advertisement
Maria then flipped the camera to show her daughter: "Doesn't she look like Alaine? Oh my gosh, stop it! Stop it!" she yelled as her mini-me did the cutthroat gesture and laughed. Ugh — this is so iconic.
Article continues below advertisement
So, is Zepotha even a real movie?
As stated before, no, Zepotha is not a real movie (but at this point, we wish it was!) It's just another TikTok prank that millions have fallen for. Soon enough, Zepotha will be forgotten, and another trend will take over!
However, the original creator (Emily Jeffri) also created this trend to promote her music. The original video featured her song "DO YOU REMEMBER ME" from her upcoming album, "SOUNDTRACK FOR AN 80'S HORROR MOVIE."
Wow, talk about being a marketing genius!
Article continues below advertisement
A fellow TikToker even pointed out how much attention the Zepotha trend has given to Emily's music: "TikTok did gaslight me, but did this person just causally make the best song ever and create a fake movie just to get people to hear her music? That's the best marketing tactic I think I've ever seen. I love you random person on TikTok, and this song is amazing, I can't wait for the release!!!"