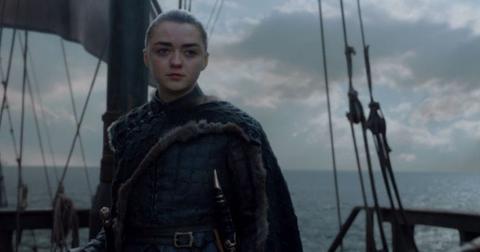 Arya Stark Told Us Where She Was Going in Season 6 of 'Game of Thrones'
By Anna Quintana

Dec. 4 2019, Updated 12:31 a.m. ET
Warning: Major spoilers ahead for the final episode (ever!) of Game of Thrones.
You know what they say. All good things must come to an end — but is Game of Thrones one of them? 
Article continues below advertisement
Following the series finale of the HBO series, many fans are convinced that the show will go on, and that Arya Stark will be getting her own spinoff show. 
We mean, she did kill the Night King, so it's the least David Benioff and D.B. Weiss can do. The last we see of the girl with no name, she is onboard a ship, with Needle at her hip and ready to explore the unknown west of Westeros. 
Article continues below advertisement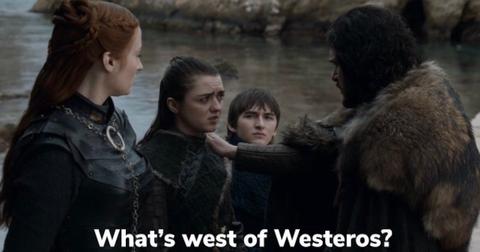 But where is Arya Stark actually going? 
As expected, the showrunners left her destination a mystery because it really is a unknown what is west of Westeros. Arya said as much when her brother Jon Snow — who is seen going on an "adventure" of his own in the final scene — asked where she was headed if not back to the North with her sister, Sansa. 
Article continues below advertisement
But leave it to GOT fans to come up with their own theories on where Arya will end up — and some predictions on who will join her. 
"Arya is finally going to see what is west of Westeros, she deserves it," one fan tweeted. And we couldn't agree more. 
Another jokingly added, "So Arya going to America huh?" While we may to wait until a spinoff to tell us Arya's fate, there is one person people are sure will be following this lady... 
Article continues below advertisement
Gendry is heading west, too. 
Sure, Arya turned down Gendry's proposal, but that is not stopping fans from shipping this couple. 
"I still think Gendry would have given up his titles and gone with Arya, his family. but I mean, alright I guess," one fan tweeted before another added, "Gendry is a master rower! Watch out Arya Stark! Our boy is cumming for you." We see what you did there.... 
Article continues below advertisement
Article continues below advertisement
Why did Gendry show up in the final episode if he and Arya weren't going to get together in the end? He could have gone with her on that ship! #wtf D&D?

I'm going to pretend he's on the ship with her because they are supposed to end up together. pic.twitter.com/TwrxZobYoF

— Jennifer N. Tremblay (@missjennifernt) May 20, 2019
However, this wasn't the first time Arya talked about going west... 
In Season 6, Episode 8, Arya mentioned her plans when asked by Lady Crane — the leading actress in the Braavosi theater Arya was sent to kill — where she would go if she had the chance. 
Article continues below advertisement
Esos is east, Westeros is west," Arya responded, "but what's west of Westeros? When Lady Crane answers, "I don't know, Arya says, "Nobody does. That's where all the maps stop." So, Arya knew she was headed to the west of the world, way before killing the Night King and returning to King's Landing. 
If that's not a full circle moment, we don't know what is.