Where Do the Budweiser Clydesdales Live When They Aren't Making Beer Commercials?
Clydesdales are draught horses originally bred for farm labor. Budweiser Clydesdales just haul beer, but where do they live when they aren't working?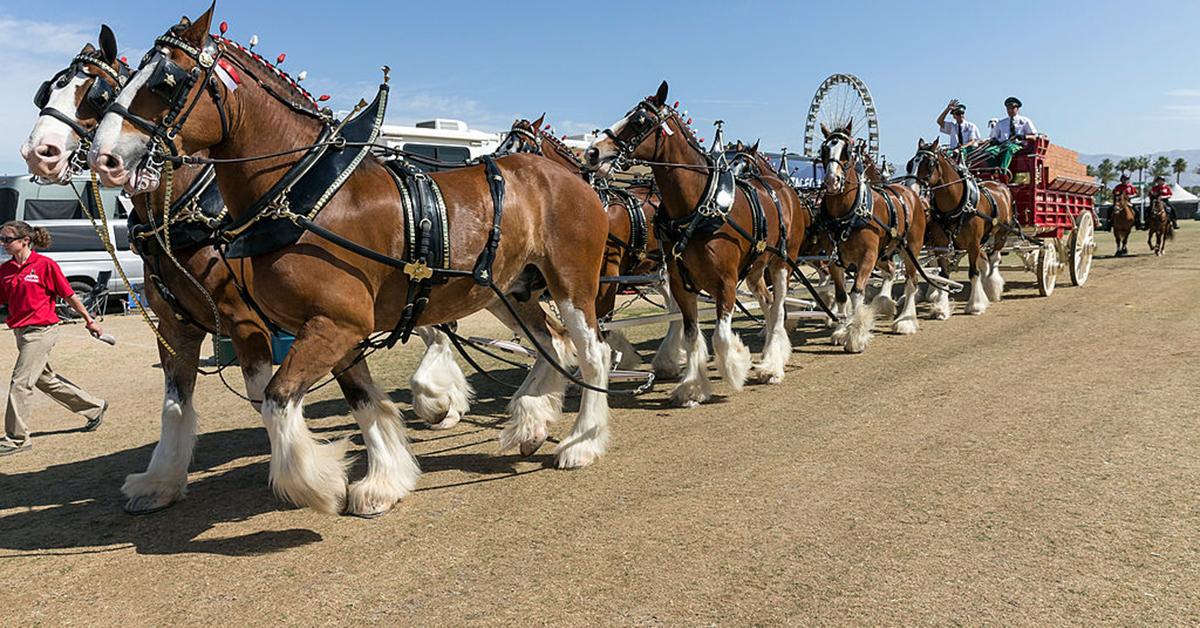 Anheuser-Busch owns one of the largest herds of Clydesdales in the world, known as the Budweiser Clydesdales.
The beer company has been using the horses, in some capacity, since 1933, when the Busch family presented six Clydesdales to their father, August Busch Sr. to celebrate the end of prohibition.
Article continues below advertisement
Today, the Budweiser Clydesdales are best known for appearing in commercials, especially during the Super Bowl.
So, where do the Budweiser Clydesdales live when they are not promoting beer? Keep reading to find out!
Where do the Budweiser Clydesdales live?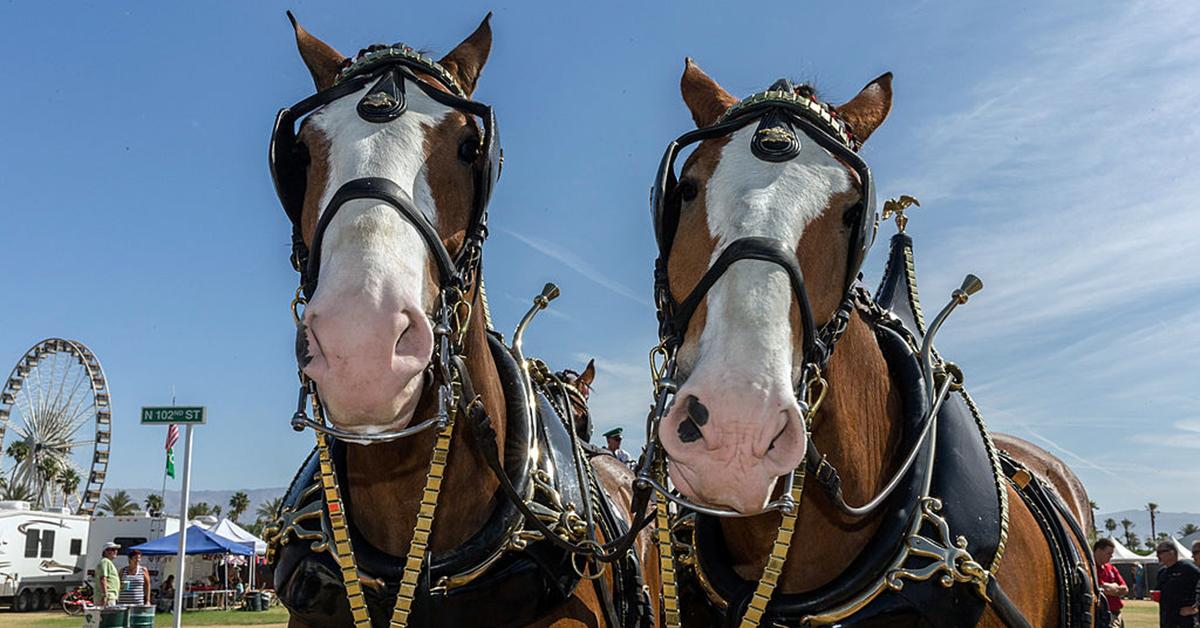 There are currently around 250 Clydesdales owned by the Anheuser-Busch company, with a few breeding facilities across the country.
The main facilities are Warm Springs Ranch in Missouri and the Busch family's own Grant's Farm near St. Louis. Warm Springs Ranch is located on 300 hundred acres and is home to more than 70 Clydesdales from foals to stallions.
Article continues below advertisement
Grant's Farm has been in the Busch family since 1903 and has around 35 Clydesdales at any given time. Both Warm Springs and Grant's Farm are open to the public and provide tours.
Clydesdales live an average of 25 years — and cost thousands to care for.
According to Horses Only, the average lifespan of a Clydesdale horse is 25 to 30 years. The cost of purchasing one of these majestic animals can range from $1,000 to $25,000, with the most expensive Clydesdales to date costing $212,500.
Owners of the horses can expect to spend between $1,770 and $12,930 each year.
Article continues below advertisement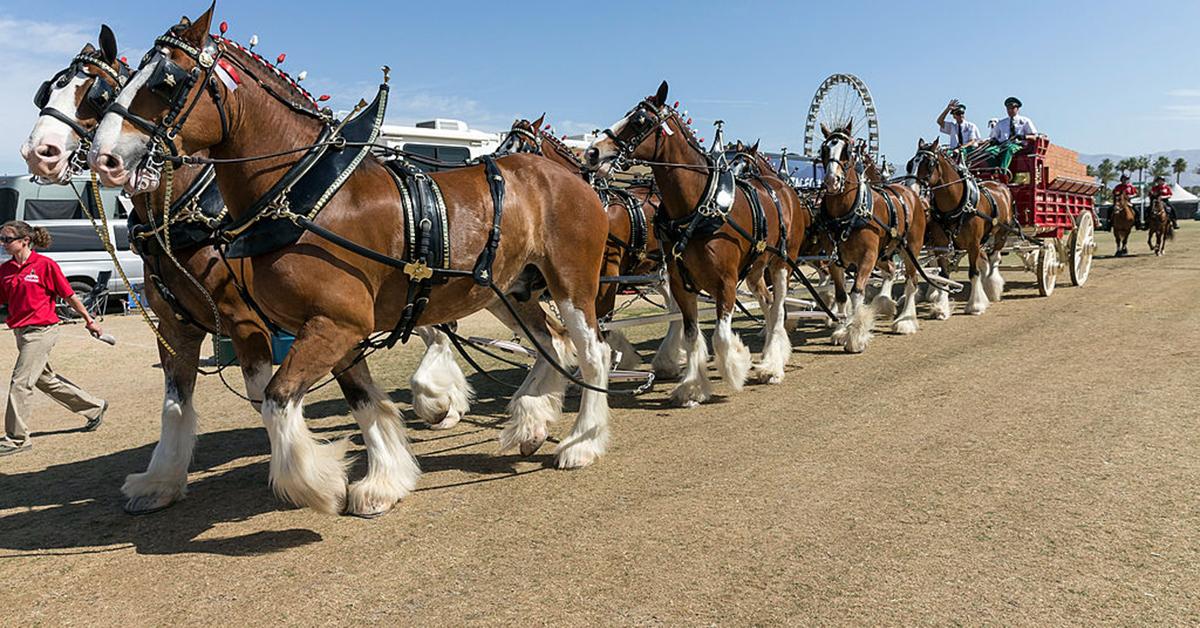 Anheuser-Busch will is known to purchase more high-quality Clydesdales as their process for finding new touring horses is selective.
To qualify, a Budweiser Clydesdale must be a gelding at least six feet from hoof to shoulder with white stocking feet and a stripe of white on the face, per a press release. Ten horses travel on each team, with eight in the reins and two used as alternates as well as a trained dalmatian historically used as a guard dog but now used more for ornamentation.
Article continues below advertisement
Jeff Knapper, the general manager of Clydesdale Operations for Anheuser-Busch, revealed that the Budweiser Clydesdales are on the road 40 to 45 weeks a year.
"For the traveling horses, each team has seven handlers. They all drive the trucks, clean the stalls, feed the horses, and groom them. A normal day starts at 7 a.m. The horses are all fed, they're taken out in groups, the stalls are cleaned, and then they come back in and get groomed," he told Equitrekking in 2012.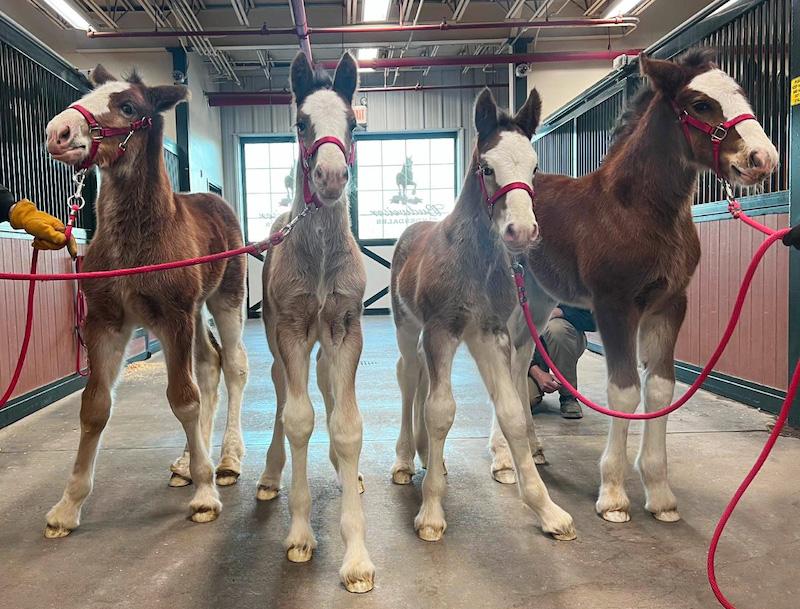 Article continues below advertisement
"They get the best care, and it's the job of the handlers to stay focused on the horses. There are people around them almost all day."
In January 2023, Anheuser-Busch welcomed four baby Clydesdales — Razor, Stinger, Baron, and Sergeant — at Warm Springs Ranch.
"In five years, these guys are going to be joining the ranks and literally are going to become a part of history, and they'll take their place on the hitch," Amy Trout, manager of Warm Springs Ranch told KTLA. "All boys, all perfect color, the future looks bright for the Budweiser Clydesdales."