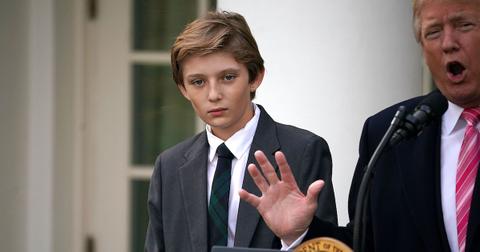 Barron Trump Is Truly an Expert at Avoiding Public Appearances
By Allison Cacich

Updated
When Donald Trump attended a state banquet hosted by the Queen of England on June 3, the president was joined by First Lady Melania Trump and his four adult children: Donald Jr., Ivanka, Eric, and Tiffany.
While their presence — apart from Ivanka's, who currently serves as an advisor to her father in the White House — caused some controversy, the noticeable absence of Barron Trump, the commander-in-chief's 13-year-old son, may have raised the most eyebrows.
Article continues below advertisement
The teen rarely makes public appearances alongside his parents, so it shouldn't come as much of a surprise that he didn't join them on this visit to Buckingham Palace. Here's what we know about Barron's whereabouts during his family's overseas trip.
Where is Barron Trump?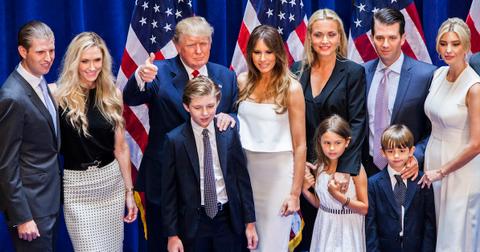 Article continues below advertisement
It remains unclear whether Barron traveled with his family to the U.K. or if he stayed behind in Washington D.C., but the sports enthusiast does not appear to have traveled on Air Force One if he did secretly tag along.
Following the Trump children's unexpected arrival at the Queen's state banquet, a White House official confirmed that Donald Jr., Eric, and Tiffany had to pay their own way since they are not members of the president's administration.
The most likely scenario, however, is that Barron remained at home to finish up his school year, which is believed to have ended this week. 
In a letter on the school's official website, the headmaster states that the senior class commencement ceremony will take place on June 7, which in many cases signals the beginning of summer for lowerclassmen.
Where does Barron Trump go to school?
Article continues below advertisement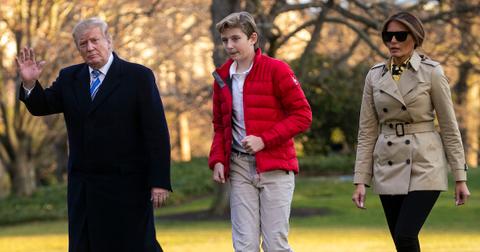 The seventh grader is the first presidential child to attend St. Andrew's Episcopal School in Potomac, Md. In recent administrations, including Barack Obama's, school-aged "first kids" have studied at Sidwell Friends School in D.C.
In a September 2017 statement, Melania revealed why she and the president chose to send their son to St. Andrew's. "It is known for its diverse community and commitment to academic excellence," she said at the time.
"The mission of St. Andrew's is 'to know and inspire each child in an inclusive community dedicated to exceptional teaching, learning, and service,' all of which appealed to our family."
Article continues below advertisement
Up until his move to D.C., Barron attended Columbia Grammar & Preparatory School in Manhattan's Upper West Side.
Rosie O'Donnell and other public figures have suggested that Barron Trump has a learning disability.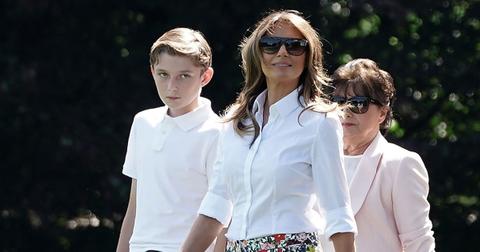 Article continues below advertisement
Shortly after Donald won the election, his long-time nemesis, Rosie, sparked major backlash when she suggested that Barron might be autistic. "Barron Trump Autistic?" she wrote on Twitter. "[If] so, what an amazing opportunity to bring attention to the AUTISM epidemic."
The polarizing entertainer later defended her comment with another tweet, writing, "Lots of us — who raise autistic children notice things many would miss... [some things] felt familiar #NOshameAUTISM." She later apologized on social media for her posts.
Barron has been the subject of many inappropriate and, at times, horrifying comments on the internet. After an article on The Daily Caller criticized the then 11-year-old's clothing, former presidential kid, Chelsea Clinton, came to his defense. 
"It's high time the media and everyone leave Barron Trump alone and let him have the private childhood he deserves," she remarked on Twitter. Melania thanked the global health advocate for her words, writing, "So important to support all of our children in being themselves! #StopChildhoodBullying."
That's a good lesson for adults to keep in mind, too…