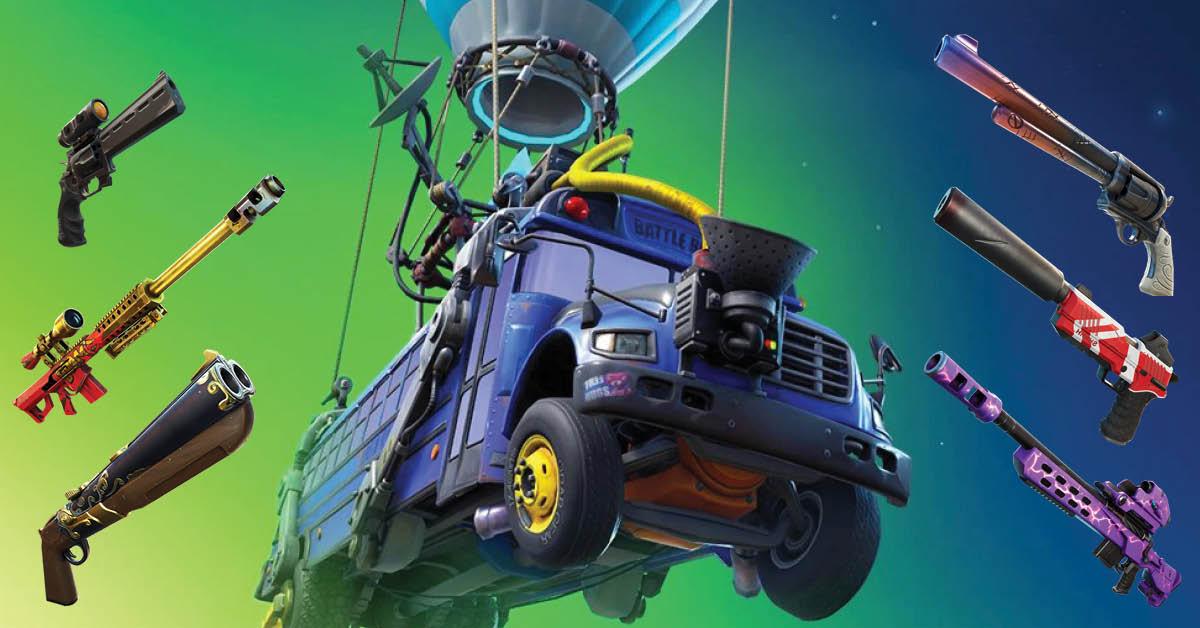 Where to Purchase All of the Exotic Weapons Available This Season in 'Fortnite'
Epic Games continuously cycles through its roster of weapons in Fortnite, locking some away in the vault each season to keep players who want to collect them all coming back for more.
For this season, there are a few Exotic weapons players can obtain in the game — but you have to know where to find them and how to obtain them before you can add them to your collection. Here's how to find the Exotic weapons in Chapter 3, Season 2 of Fortnite.
Article continues below advertisement
How to get Exotic weapons in 'Fortnite.'
Exotic weapons are not easily obtained in Fortnite, and if you're looking to equip your character with one, then you'll have to grind some missions to save up. Unlike V-Bucks, the other in-game currency, you can't spend real money to get more of these at once.
Gold bars are only obtained by completing various quests and bounties throughout the game. Sometimes there are hidden stashes of gold bars around the map that you can find, or other players may drop them in a match once they're eliminated.
Article continues below advertisement
You can buy whatever Exotic weapons are available this season from various NPCs around the map, though they'll only accept gold bars in return for the weapons. This differs from the game's Mythic weapons, which are only obtained by defeating certain enemies in the game. While Mythics are arguably better than the Exotics, they aren't found as easily.
All of the Exotic weapons available right now will cost you 400 gold bars — and since this currency can also be spent in other ways, you'll have to be strategic about how you allocate your stash of them, especially if you want to collect the weapons before they're vaulted again. These prices are cheaper than the Exotic weapons have been in other seasons, though, so if you haven't had the chance to test one out yet, this may be your season.
Article continues below advertisement
What Exotic weapons are available in 'Fortnite' Chapter 3, Season 2?
This season, there are six different Exotic weapons that can be obtained. This doesn't necessarily mean that others won't be available at a later time, but for now, these are the ones that you can secure reliably. This season's Exotic weapons are:
Boom Sniper Rifle
Shadow Tracker Pistol
The Dub
Marksman Six Shooter
Storm Scout Sniper Rifle
Night Hawk Revolver
There are a variety of different NPCs around the map who will sell you these weapons — you just have to know which NPC to visit.
The Boom Sniper Rifle can be bought from the Visitor, Agent Jones, and Peely, while the Shadow Tracker Pistol will be sold by the Metal Team Leader and Cuddlepool. The Dub is sold by Bunker Jonesy, Ludwig, Mullet Marauder, and Jonesy the First. The Marksman Six Shooter can be bought from the Cuddle Team Leader and Quackling, while the Storm Scout Sniper Rifle is sold by the Imagined, the Scientist, and the Foundation. Lastly, the Night Hawk Revolver can only be bought from the Origin and the Brainiac.