Sandra Oh Is a Huge Fan of Sharon Choi and So Are We
Who is Sharon Choi? Here's everything you need to know about the translator and emerging filmmaker, plus why Sandra Oh is obsessed with her.
Over the past awards season, the Korean film Parasite racked up multiple wins for its terrific ensemble cast and its very talented director, Bong Joon-ho. But one of the unexpected stars that emerged out of the whole Parasite awards circuit was Joon-ho's translator: Sharon Choi aka Choi Sung-jae.
Article continues below advertisement
Sharon started working with the director back when he won the Palme d'Or at the Cannes Film Festival. She gained a name for herself as his charming and talented interpreter, praised for her witty interpretations of Joon-ho's playful jokes and speeches. As the awards season went on, Sharon became a staple at the director's side and slowly won the hearts of audiences and Hollywood alike.
Sharon now has quite the fandom behind her, which includes Killing Eve's Sandra Oh (more about that later), but if you aren't sure who this talented young woman is and how she found herself in the spotlight despite not directly being involved in Parasite, keep scrolling to learn more about Sharon.
Article continues below advertisement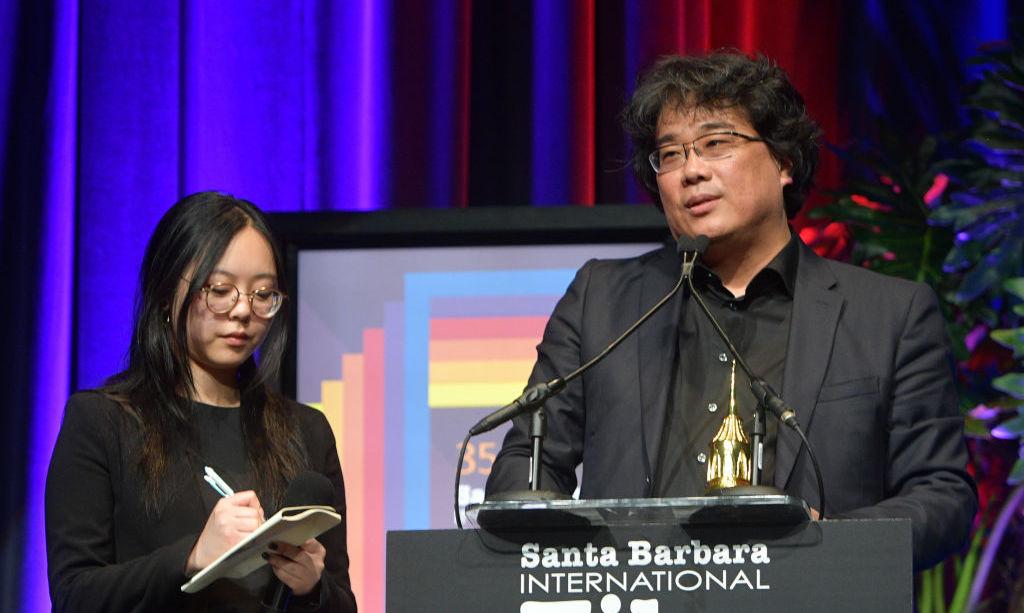 Who is Sharon Choi?
Sharon Choi was a 25-year-old aspiring filmmaker living in Seoul when she was first approached to work as a translator for Bong Joon-ho and his team for the awards season. Although Joon-ho is comfortable speaking English, he opted to have Sharon translate for him over countless award shows and other promotional events for the film.
Article continues below advertisement
While Sharon isn't a professionally trained translator, her work quickly started to gain a fan following. Her ability to smoothly communicate the nuances of what Joon-ho was saying, along with translating back to him the questions he was being asked, did not go unnoticed and soon people were jokingly calling for her to receive an Oscar for her translating abilities.
Thankfully, the talented young woman is getting the official recognition she deserves. In early July, South Korea's Foreign Ministry announced that Sharon received the YoungSan Diplomat Award from the non-profit Seoul Forum for International Affairs. The organization annually bestows recognition on civilians as recognition for their contribution to improving the country's image and diplomatic interests.
Article continues below advertisement
Sharon Choi interviews Sandra Oh in honor of 'Killing Eve's Season 3 being released in Korea.
Recently, Sharon had another viral moment when she and actress Sandra Oh sat down for what was supposed to be a 15-minute interview on the video streaming service Watchaplay. Early on in the talk, Sharon told Sandra that she immediately agreed to the interview because she's a huge fan of Killing Eve and that Sandra and the show had a massive fan following in Korea, which seemed to mean a lot to Sandra.
Article continues below advertisement
The talk continued delightfully, with the two women fawning over each other, discussing Korean culture and Asian representation. In fact, it went so well that the streaming platform extended their discussion from 15 to 40 minutes, and in the end, Sandra pledged to meet Sharon for a glass of wine in Korea soon.
What else can we expect from Sharon Choi?
During one of the press conferences at the Oscars, Joon-ho told reporters that Sharon had been working on a script of her own. "I'm so curious about it," the award-winning director said about her work.
We hope to see Sharon Choi back on the Oscar red carpet soon and maybe next time, as the director of her own movie!