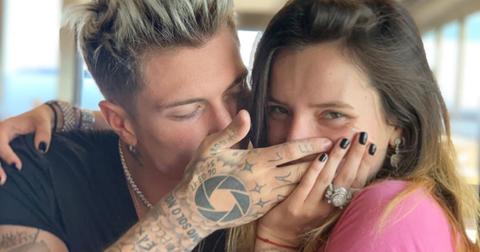 Is Bella Thorne Engaged to Benjamin Mascolo? Fans Think So
By Nakeisha Campbell

May. 20 2020, Published 1:09 p.m. ET
Actress Bella Thorne is a force to be reckoned with. The multi-talented 22-year-old not only has years of acting experience and director credits under her belt, but she's also a successful cannabis entrepreneur, having launched her own brand in 2019. It's no secret that she's thriving when it comes to her professional career, and fortunately, it looks like the same can be said about the star's love life.
Article continues below advertisement
For the past year, Bella has been dating Italian singer Benjamin Mascolo. And judging by their Instagram timelines, they've gotten quite close and are very public about their open relationship. However, one of Bella's posts has left fans questioning whether they're engaged. Could it be true that Benjamin popped the question? Here's what we know.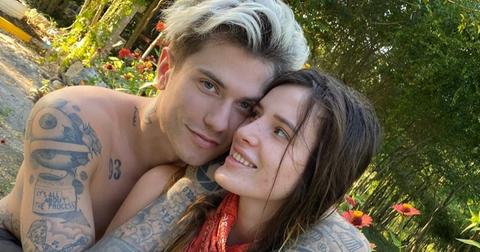 Article continues below advertisement
Bella Thorne started engagement rumors after sharing a post about her "big announcement."
In January of 2020, Bella shared a sweet photo of Benjamin looking into the camera and captioned the pic: "Big announcement coming soon. I'm so happy, Boats in Venice." The caption was accompanied by ring emojis and hearts, which fans quickly took to mean an engagement.
Several people sounded off in the comments, asking Bella if she was secretly engaged. Although Bella never clarified what she meant, others still offered their congratulations, adding responses like, "So happy for both of you" and "Congrats on your secret engagement. Well played."
Article continues below advertisement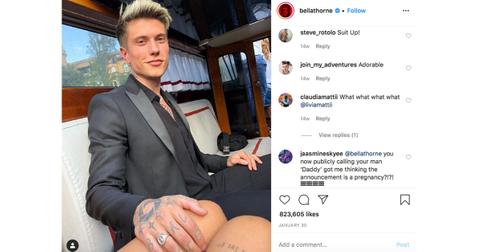 Some fans think that Bella Thorne was announcing her pregnancy.
While most fans started to celebrate what sounded like an engagement announcement, others suspected that she was hinting at a secret pregnancy. One fan asked: "Preggers...?" and another commented: "I think she's pregnant."
Article continues below advertisement
This wouldn't be the first time that pregnancy rumors have surfaced about the actress. In 2018, after she shared a photo of her ex-boyfriend, Mod Sun, kissing her stomach, fans got suspicious and asked if she was expecting. It definitely didn't help matters when Mod Sun responded with "Love u mamma" in the comments, but in the end, those pregnancy rumors turned out to be false.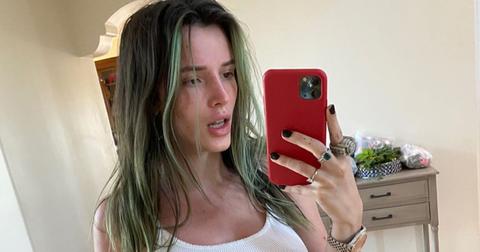 Article continues below advertisement
Fans are now wondering: Who is Bella Thorne engaged to?
Bella has not confirmed that she's engaged to her boyfriend, and after she shared her Instagram post about her mysterious announcement, she hasn't been seen with a ring on her finger. It's possible that the vague caption was meant to get fans excited for one of her newer projects, because just a few days later, she shared an article that announced her upcoming film, The Uncanny.
She said: "So excited to work with the producers from 1917 and rocket man, not to mention our lovely director @mitzipeirone who graced Tribeca with her first movie. Even more honored to say I locked down mitiz to direct a project I wrote...and she will make sure it's a screen stealer. GROUP OF BADASS LADIES."
Article continues below advertisement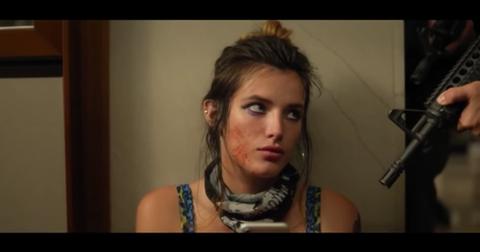 It seems like Bella is way too busy working to even think about marriage because The Uncanny is just one of several projects that she's been working on. Aside from directing her own horror short, No Service In The Hills, and partnering with FOX to produce new content, Bella is also starring in the highly anticipated crime-thriller, Infamous.
Article continues below advertisement
When does 'Infamous' come out?
Bella and Jake Manley will be playing the modern-day Bonnie and Clyde in the film Infamous. According to director Joshua Caldwell, it "explores the lengths people will go to achieve relevance in the wild world of social media."
He also explained why Bella was perfect for the lead, saying that "she's a boundary-pushing, driving force online and off, and her performance elevates this film into a neon candy adrenaline thrill ride."
Infamous, which also stars Amber Riley and Marisa Coughlan, is set to release on June 12, 2020 by Vertical Entertainment.