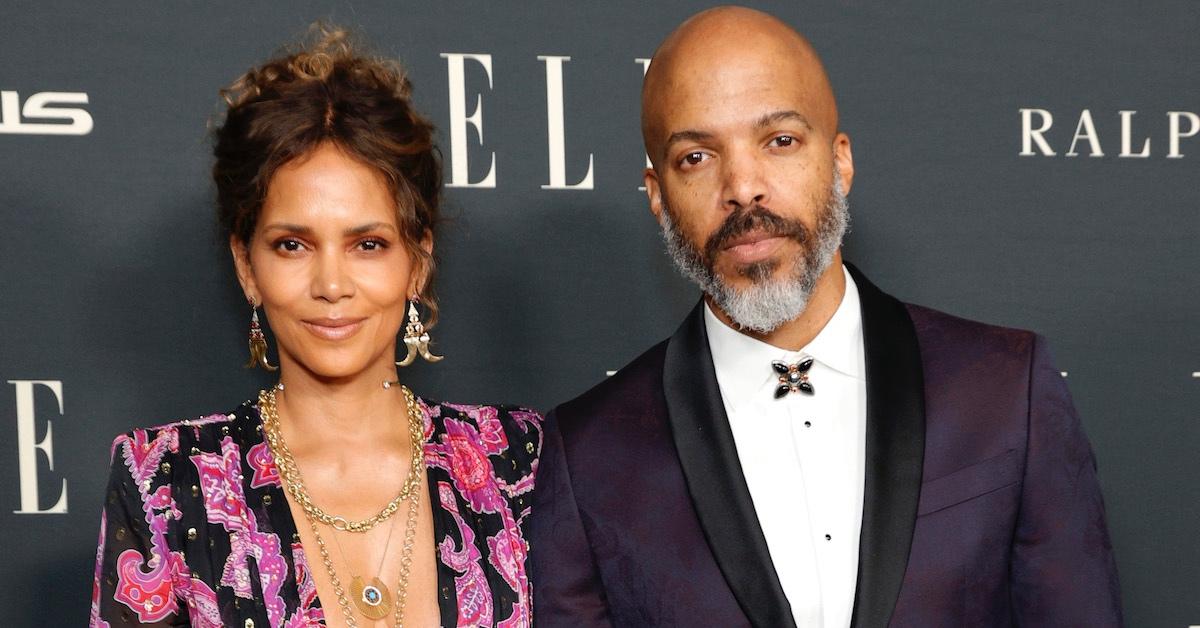 Halle Berry Confirms That Her Boyfriend, Singer Van Hunt, Is "the Right One"
By Joseph Allen

Oct. 21 2021, Updated 4:57 p.m. ET
In the past, Halle Berry has been open about the fact that she doesn't necessarily need a romantic partner. Even though she wasn't looking for one, though, it appears she may have found her life partner.
After months of teasing her Instagram followers about a new romance, Halle finally clarified that she's dating Van Hunt on social media. And with her recent statements about her new beau, it appears that he may be sticking around for the long haul. Here's the 4-1-1.
Article continues below advertisement
It appears that Halle Berry is all in with boyfriend Van Hunt.
Per Entertainment Tonight, Halle is completely smitten with Van. In an interview with the outlet, the actress gushed about her main squeeze and called him "the right one."
"It was finally my time and the right one finally showed up," Halle said. So cute!
Article continues below advertisement
In case you've been out of the loop, Halle first confirmed her romance with Van in a September 2020 Instagram post of herself wearing a black T-shirt with the logo of singer Van Hunt. In the caption, Halle wrote, "Now ya know," along with heart and foot emojis.
The foot emoji was a reference to several previous photos that Halle has posted on her Instagram. The first came in July when she posted a photo of two pairs of feet cuddling up with one another. A month later, the actress posted another photo along the same lines.
At the time, it was unclear to whom the other pair of feet belonged. Halle later posted a cryptic image of them together that seems to clarify that the other feet belong to Van.
The singer also teased the relationship on his Instagram at first. In August 2020, Van posted several photos of himself looking into the camera as a woman who appeared to be Halle kissed his cheek. Since then, the couple has been posting adorable photos of one another on their respective Instagram pages.
Article continues below advertisement
Who is Van Hunt?
Now that Halle and Van are apparently dating, many fans of the actress want to know more about her new partner. Van has been active in the music world since his self-titled debut in 2004, and he's also won a Grammy. Although he's not an A-list act, Van has carved out a successful career for himself as an R&B musician who draws from a wide array of influences. 
Article continues below advertisement
Van has also been pretty vocal about his feelings for Halle. In a March 2021 interview with Entertainment Tonight, Van explained how much Halle inspires him and has been such a positive influence in his life as a muse.
"The inspiration for our relationship goes across everything, even in my parenting," Van said. "I'm a completely different person, I can say it like that, and I think that it's improved every aspect of my life."
Article continues below advertisement
Halle Berry recently said she wasn't looking for a relationship.
Although Halle is in a happy relationship, she once said that she wasn't actively looking for love. The actress is the mother to two children who are 12 and 6, and she had those children with two different partners. In an April 2020 conversation with Lena Waithe, Halle revealed that her priority through the early part of quarantine had been focusing on her relationship with them.
"I've learned a lot being with my children. They are the best company for me right now, and when I divorced Maceo's dad I've been pretty alone by myself going on three years now," she said at the time. "Decidedly so, for sure." Halle said that in the past she'd always been looking for a relationship, but now, she felt like she wanted to take time to focus on other things.
Article continues below advertisement
"I have decided to take time," she continued. "I'm very much a relationship-oriented person, I always want to be with someone. But I decided, no I'm going to slow my roll, I'm going to take a minute and I'm going to spend time with me."
Now, Halle is in a good space with a great man who adores her.