Who Is Via Getty? Twitter Users Are Getting Roasted for Being "That Dense"
After viral photographs of protesters who stormed the Capitol Building began circulating the internet, people had one question: who is Via Getty?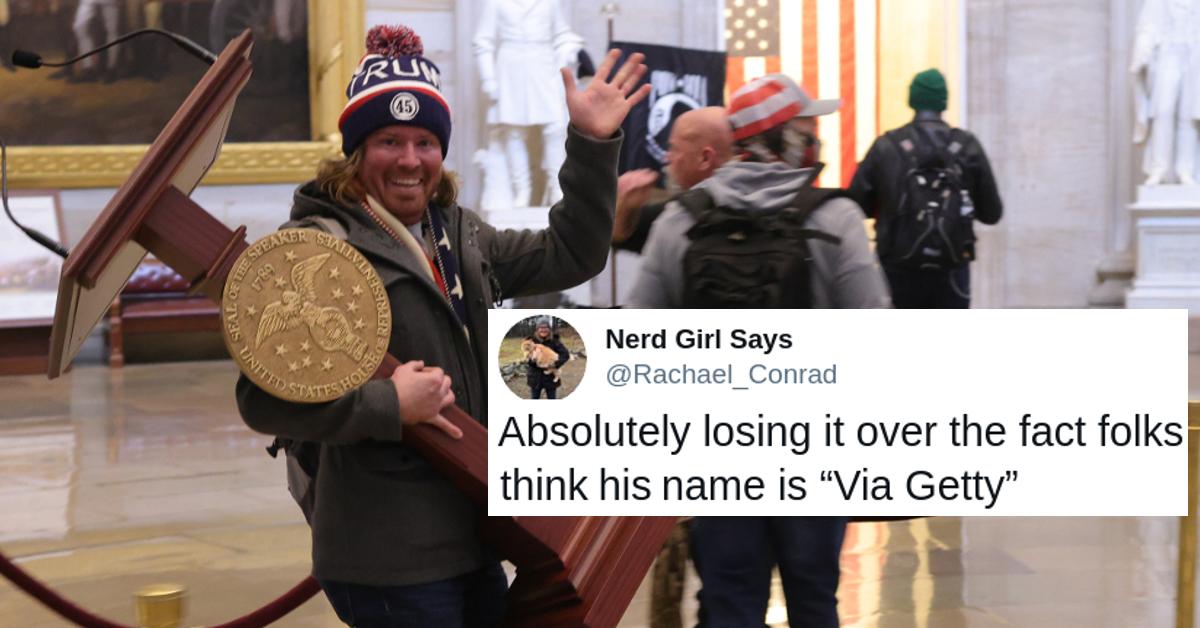 With all of the talk of 2020 being a dumpster fire of a year, 2021 seems like it's off to an equally bad start: with Dr. Dre suffering an aneurysm and a podcaster getting canceled on Twitter for depriving his daughter of beans, things were looking like they were already taking a turn for the strange. But few people were prepared for the riots that occurred at the Capitol Building and even fewer people were prepared for a recurring question that came as a result of these riots: "Who is Via Getty?"
Article continues below advertisement
Yes, people are actually asking who "Via Getty" is.
In case you think Via Getty is a name, it's not. "Via" is defined as "by way of; through." Like the junk food I eat that contributes to my love handles. And if you've spent any time on the internet or know anyone who works in media, then they'll let you know exactly what Getty is: a ridiculously overpriced photo purchasing racket tons of websites do business with in order to legally license images.
Article continues below advertisement
There were a lot of photographs from the Capitol Building riot that went viral, but one that's been meme'd endlessly and has been used as the "face" of what the protests were about is one of a man grinning at the camera while walking off with a podium emblazoned with a golden seal of the Speaker of the House of Representatives.
The photograph is available on Getty and screencapped tweets of the story show under the picture, "Via Getty."
And people thought that the man's name in the photo was actually "Via Getty." It was a misunderstanding that cracked Twitter up to no end in the midst of all the chaos surrounding the riots and its coverage.
Article continues below advertisement
Who is the real "Via Getty," aka the guy stealing the podium from Congress? Adam Christian Johnson.
Because the man in the photo's name isn't Via Getty, people wanted to know who the smiling man with the Trump hat and New Balance sneakers really was, and he has been identified. He's a 36-year-old Florida man (Florida Man strikes again!) who grabbed the podium, as per the Miami Herald's reports.
Article continues below advertisement
Others were also quick to point out though that technically the fixture the man is carrying actually isn't a podium, it's a lectern. And if you're wondering the reason why he decided to grab it and parade around the Capitol Building with the item while smiling at the camera, that's because it belongs to Nancy Pelosi.
Article continues below advertisement
Trump and Pelosi have had wars of words for several years now, and "Nervous Nancy" has become a subject of ire for many Trump supporters and a general target of scorn from conservatives for several years now.
Article continues below advertisement
And as is turns out, the "man who stole the podium" was soon arrested following his viral moment.
Florida authorities rained down swift justice on the man. CNN reports, "Adam Johnson, the man seen on video carrying House Speaker Nancy Pelosi's lectern during the invasion of the US Capitol, has been arrested in Pinellas County, Florida, at the request of the US Department of Justice, a law enforcement official told CNN.
He will face charges related his role in the ransacking of the Capitol.
Johnson, 36, was booked into the Pinellas County jail on Friday night."
Article continues below advertisement
Article continues below advertisement
What's more is that Adam Johnson's arrest was issued on a Federal Warrant, which is more than likely going to be issued for everyone else identified in the Capitol Building's raid. So whoever ends up getting embroiled in this affair will more than likely find themselves in a lot of hot water.
Still, that hasn't stopped people from cracking "Via Getty" jokes.
Article continues below advertisement
And although the riots in the Capitol Building have been a hot topic of conversation and have further divided some Americans, it seems that for a brief moment, people were able to bond and laugh over the fact that there are people out there who actually thought Johnson's full name was "Via Getty."
There's even a Via Getty troll account that's putting out some pretty hilarious tweets.
Article continues below advertisement
Article continues below advertisement
Article continues below advertisement
Article continues below advertisement