A Reporter May Have Unmasked Deuxmoi's Founders — Here Are the Names He Gave
This reporter may have just unveiled the identities of the two women who founded celebrity gossip social media account DeuxMoi. Here's what we know.
Even the best-kept secrets in Hollywood find a way of getting out — including, apparently, the identity of the person behind Instagram's Gossip Girl, Deuxmoi.
Article continues below advertisement
Previously, some public figures have even claimed to piece together who is behind the gossip account, including Hailey Bieber, though she didn't spill the beans.
Now, one writer is claiming to have potentially found out who runs Deuxmoi.
So, who is it? Unfortunately, it is not Dan Humphrey (or Penn Badgley), but here's what to know.
Article continues below advertisement
In his May 2022 newsletter, writer Brian Feldman name-dropped who he thinks runs Deuxmoi.
Ex–New York magazine reporter Brian Feldman did a deep dive into Deumoix's identity in his newsletter, BNet. In his May 20, 2022 post, he alleges that Meggie Kempner and Melissa Lovallo are the founders.
So, who are these ladies, exactly? It's hard to tell as they've barely left a digital trail for us to follow. However, if the last name Kempner rings a bell, it's because Meggie is the granddaughter of the late famed New York socialite Nan Kempner. Brian believes that Meggie works in fashion today.
And as for Melissa, who is believed to still run the account today, Brian claims she has a modeling background.
So is there any truth to this? Points have definitely been made, but the Deumoix account has yet to comment on these allegations.
Article continues below advertisement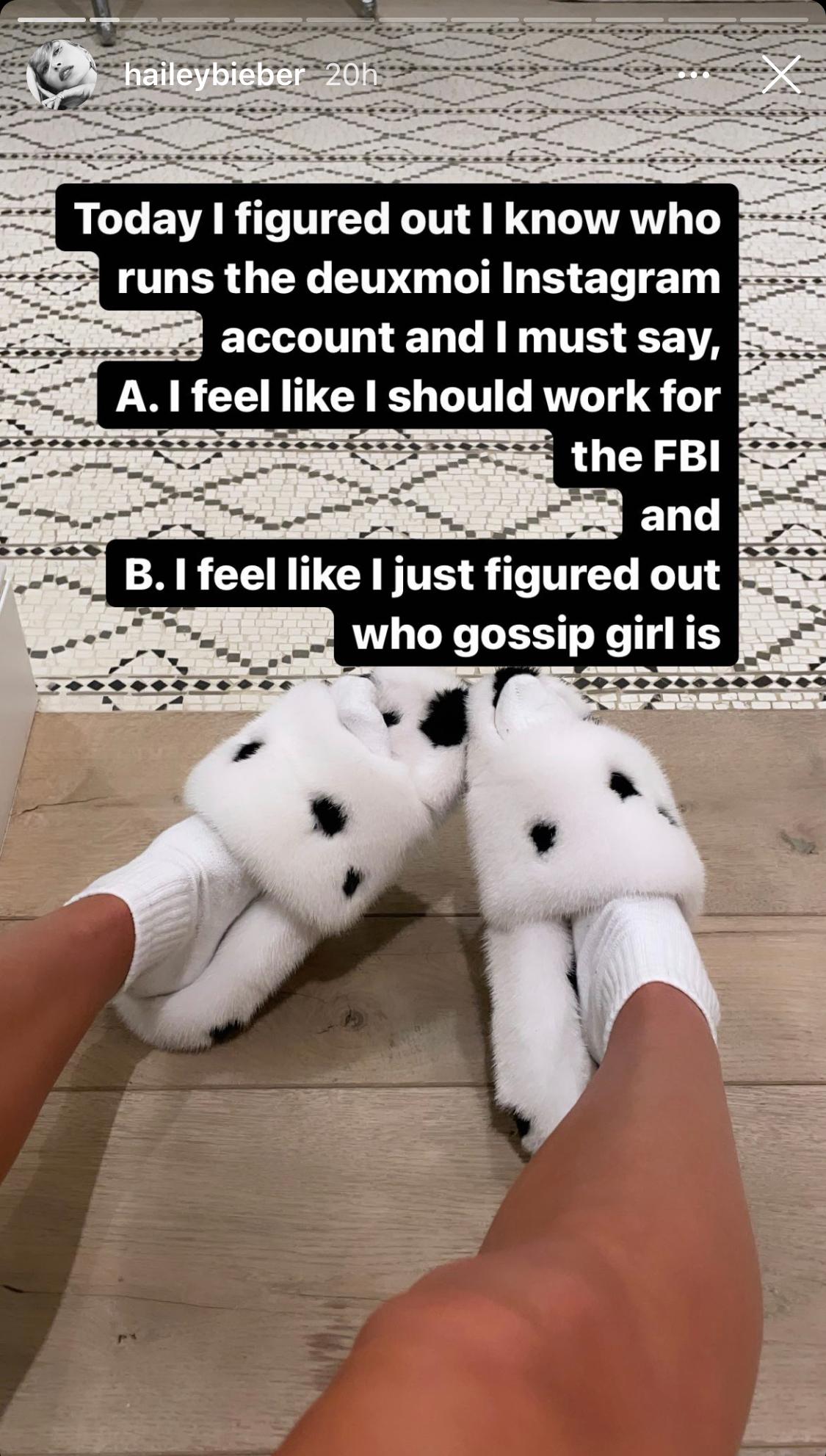 Hailey Bieber also believes she knows who runs Deuxmoi.
In December 2020, Hailey wrote in her Instagram stories: "Today I figured out I know who runs the Deuxmoi Instagram account and I must say, A. I feel like I should work for the FBI, and B. I feel like I just figured out who Gossip Girl is," she said in a December 2020 Instagram story.
Sadly, Hailey Bieber didn't didn't give the 4-1-1 on who she thinks Deuxmoi is, but it seems like she may know who runs the account because she's worked with them before. Plot twist!
Article continues below advertisement
Someone on Twitter shared screengrabs of the Deuxmoi account back in 2014, when they apparently collaborated with Hailey. Hailey promoted Deuxmoi merch and helped the brand with giveaways. Someone else on Reddit shared a photo of a group of women who possibly used to worked at Deuxmoi, claiming one of them is the ringleader.
Article continues below advertisement
It has previously been confirmed that the account, which now has 1.5 million followers, is run by one woman, and that Deuxmoi was originally meant to be a lifestyle site she started in 2013 with a friend.
Per a November 2020 report in the New York Times, the Deuxmoi founder and her friend stopped using the account to promote the site in 2015, at which point she had 45,000 followers. The "curator of pop culture" started accepting tips and anonymous submissions about celebrities sometime during the COVID-19 quarantine, and they post the emails to their Instagram Stories, where the juicy gossip lives for 24 hours.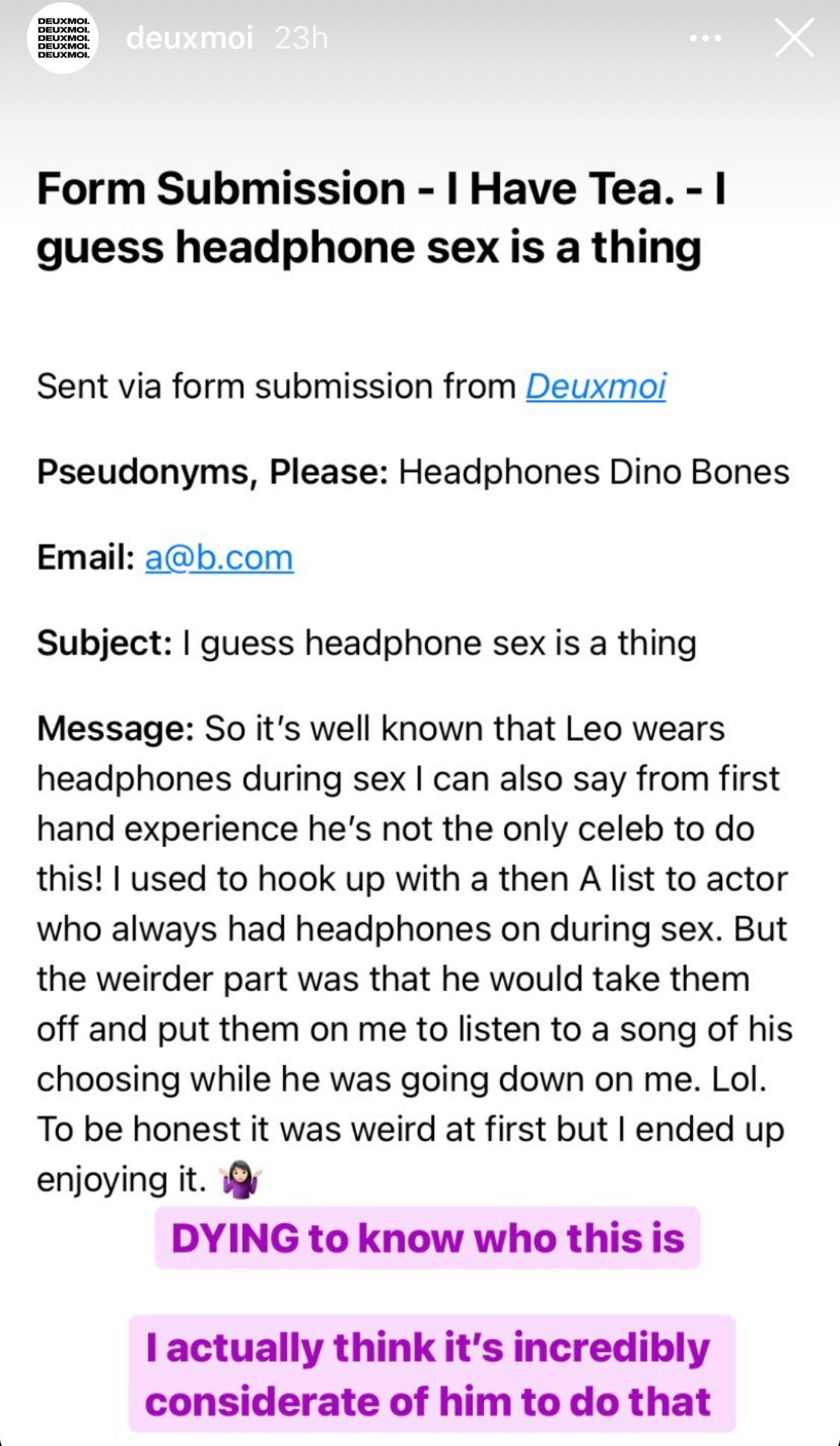 Article continues below advertisement
In fact, according to the Times, the person who runs Deuxmoi is adamant that she doesn't fact-check. She told the publication: "I've always stayed true to what I said from day one, which is that this information is not proven to be based in fact. I don't do any additional research. I'm not a reporter."
She added, "I feel like my content is as truthful as the person who's sending it in. Like, I don't edit. I will censor, but I don't edit. So you're seeing exactly what somebody is writing to me."
The Times also reported that the person who runs Deuxmoi currently has a full-time job and runs the celeb gossip page as a side hustle. She signs on at 6 p.m. and posts a new batch of submissions.