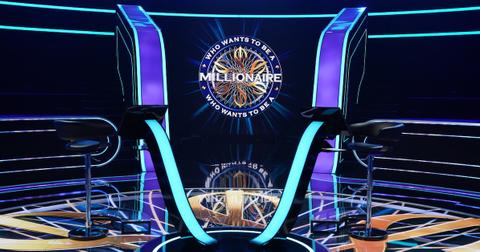 'Who Wants to Be a Millionaire' Sure Is Weird Without a Live Audience
By Pippa Raga

Updated
When fans of the legendary Who Wants to Be a Millionaire learned that a 20th anniversary special was in the works, they were absolutely elated.
But when the celebrity special aired on ABC on the evening of April 8, viewers found themselves scratching their heads.
While the format itself remained mostly unchanged, audiences found themselves in a completely empty "spaceship" set with no live audience. Instead, reactions were delivered via applause recordings and laugh tracks.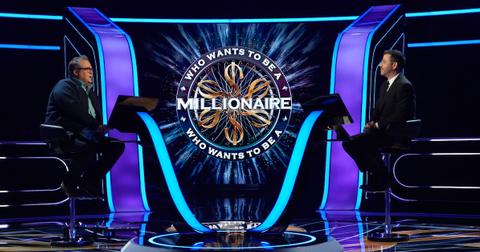 When was 'Who Wants to Be a Millionaire' 2020 filmed?
2020's Who Wants to Be a Millionaire reboot was highly anticipated. Once it flopped in 2002 after ABC made the greedy decision to air the game show on a nightly basis, Millionaire returned for a daytime syndicated version, which was canceled last year in 2019.
Original executive producer Michael Davies decided that the 20th anniversary was the perfect milestone for a comeback, and ABC was excited to agree.
"He said Survivor is still on,'" ABC alternative series senior VP Rob Mills said of his conversation with Michael. "The Bachelor is still on, Idol is still on — all the shows from that first unscripted wave are still there. Millionaire should be on, and I agreed with him."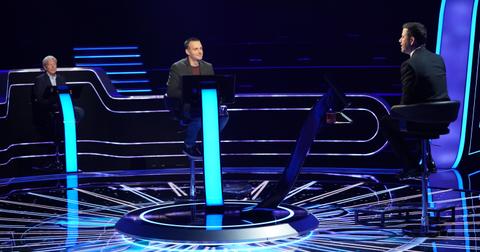 For the revival, showrunners decided to add an "ask the host" lifeline, borrowed from the U.K. version, and play with celebrity contestants raising money and awareness for charity, who are allowed to bring "the smartest person they know" to help with the first 10 questions.
Jimmy Kimmel was an easy choice for host, having appeared on OG Regis Philbin's celebrity edition of Millionaire back in 2001.
And because ABC wanted to tie in the premiere of Millionaire with April 8's series finale of Modern Family, they tapped Eric Stonestreet to be the first contestant. Production on the game show was also somewhat rushed due to the coronavirus.
Why is there no audience on 'Who Wants to Be a Millionaire'?
While the eight episodes of Who Wants to Be a Millionaire arguably couldn't have come at a better time for viewers who are stuck at home trying to flatten the curve, the novel pandemic also affected the behind-the-scenes making of the game show.
"We moved really fast," Michael told Deadline of the Millionaire shoot, which happened on the weekend of March 14, right before stay-at-home directives were issued. "We accelerated the schedule and delivered more than eight episodes worth of material by the end of our second shooting day, so we were able to cancel our third shooting day."
"That was to allow some of our crew and staff, who had traveled from the East Coast, and some of them from the U.K., to get on planes and get home to their families."
As Rob put it later, "If it had been a day later, I don't know that we would have gotten it done." Indeed, it might be the last production to be made before social distancing directives were officially put in place, and the show is ripe with elbow bumps and air hugs that will surely mark the moment in time, should reruns air in the future.
Wednesday night's Millionaire reboot will feature famous faces such as Dr. Phil, Jane Fonda, Anderson Cooper, Will Forte, Nikki Glaser and Anthony Anderson, among others.
Tune in to see their final answers at 10 p.m. EST on ABC.