Boruto Didn't Mean to Stab Sasuke in the Eye — Here's What Happened (SPOILERS)
Fans of the 'Naruto' sequel 'Boruto' have had lots of about the Naruto universe. Some still want to know: why did Boruto stab Sasuke in the eye?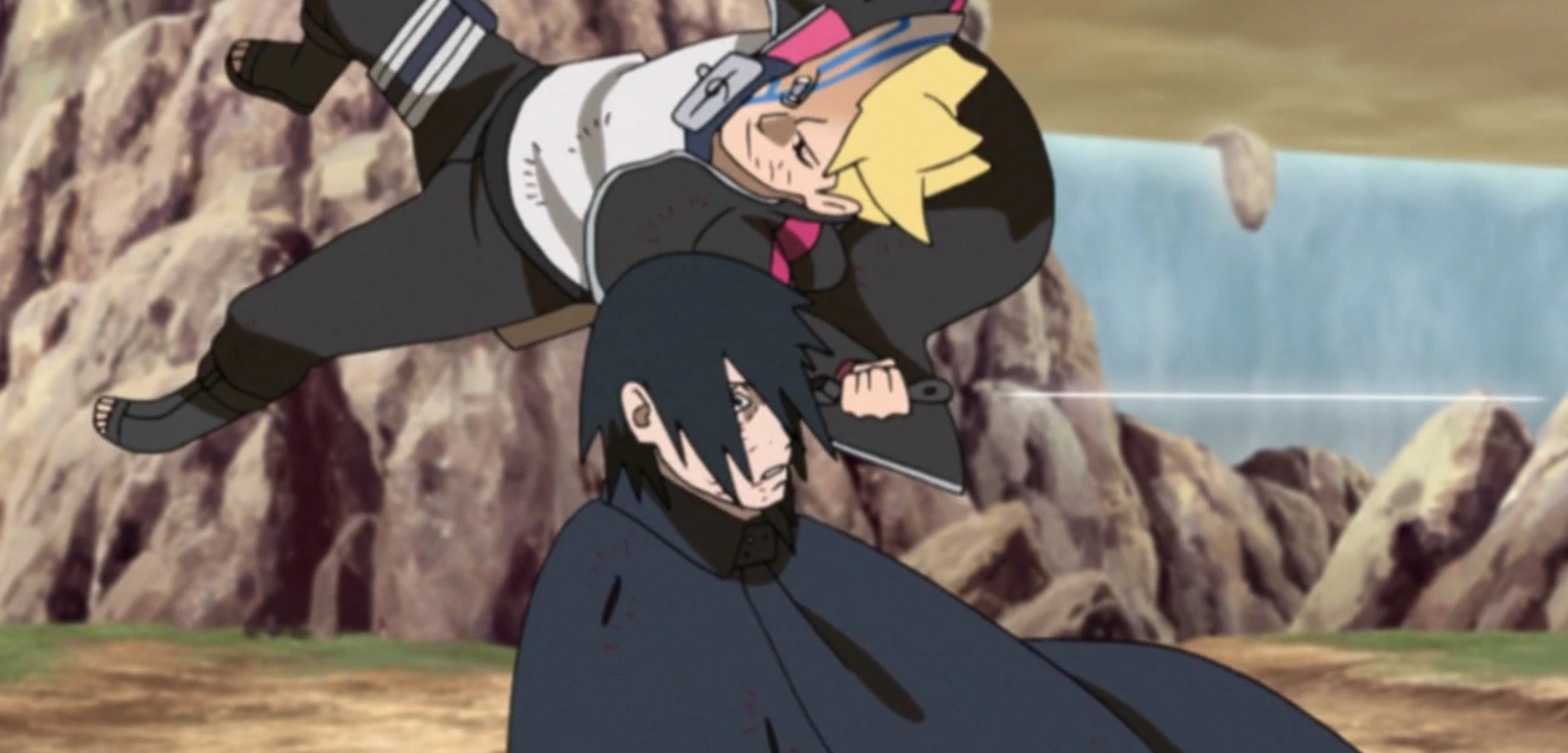 In the sequel to Naruto, Boruto, fans are now following the Seventh Hokage's son. Even though the manga has been out for years, we finally got an anime adaptation in 2017. While we haven't completely seen the last of the original crew, we now see father and son fighting side by side, although they don't always get along.
Article continues below advertisement
So far, there have been several conflicts in the anime and manga, and one of them is why Boruto stabbed Sasuke in the eye. Typically, the two are on the same team, so those who haven't kept up with the series may have no idea why this happened.
Why did Boruto stab Sasuke in the eye?
Boruto didn't stab Sasuke in the eye, he stabbed him in his Rinnegan in his left eye. A Rinnegan is a "kekkei genkai dojutsu," or ninja ability, that only certain people can have, according to the Boruto Fandom. This meant that Sasuke could switch places with objects, as long as they were within a certain distance of himself, and create portals to other dimensions.
Article continues below advertisement
On top of that, Sasuke's Rinnegan can recognize patterns as well. According to Comic Book, in chapter 54 of Boruto, Boruto stabs Sasuke in his left eye because he was being controlled by Momoshiki Ōtsutsuki. Momoshiki was a member of the Ōtsutsuki Clan's main family of otherworldly beings.
Article continues below advertisement
In a battle during the Kawaki Arc of Boruto, Momoshiki was able to manifest through Boruto after he was beaten down and knocked unconscious. Naruto and Isshiki had all in some way either been taken out of the fight or seriously weakened. This allowed Momoshiki to use Boruto's kunai and stab Sasuke in his left eye. With Sasuke and his Rinnegan out of the way, Momoshiki got rid of any chance Naruto, Sasuke, Boruto, and the rest of the team had of escaping.
Can Sasuke get his Rinnegan back?
After Momoshiki left Boruto's body, Boruto felt extremely guilty and blamed himself even though it wasn't his fault. Luckily for him, Sasuke didn't blame him for it and understood that Momoshiki was controlling his body.
Article continues below advertisement
Unfortunately, it looks like Sasuke may never get his Rinnegan back simply because of the plot. When he first got the Rinnegan, he was much more of a main character in the Naruto Universe. Now that he's more of a side character (while remaining a fan favorite), he's not as important to the overall plot of the series. Therefore, it does not make sense for him to ever get it back.
Other characters have also lost abilities throughout the series, and none of them usually come back. Fans have pointed out that so far, Naruto and Sasuke have both lost their Yang seals, and it hasn't been able to return for either of them. Plus, because of how deep the stab wound is, it's a safe bet that Sasuke will never be able to use the eye again at all, so we can forget about his Rinnegan.
You can watch Boruto now on Hulu.