TikTok and YouTube Stars Grace and Zeus Broke up, and Fans Don't Understand Why
Grace and Zeus have been called the most perfect couple on TikTok. They've decided to break up — and their fans are almost as sad as they are.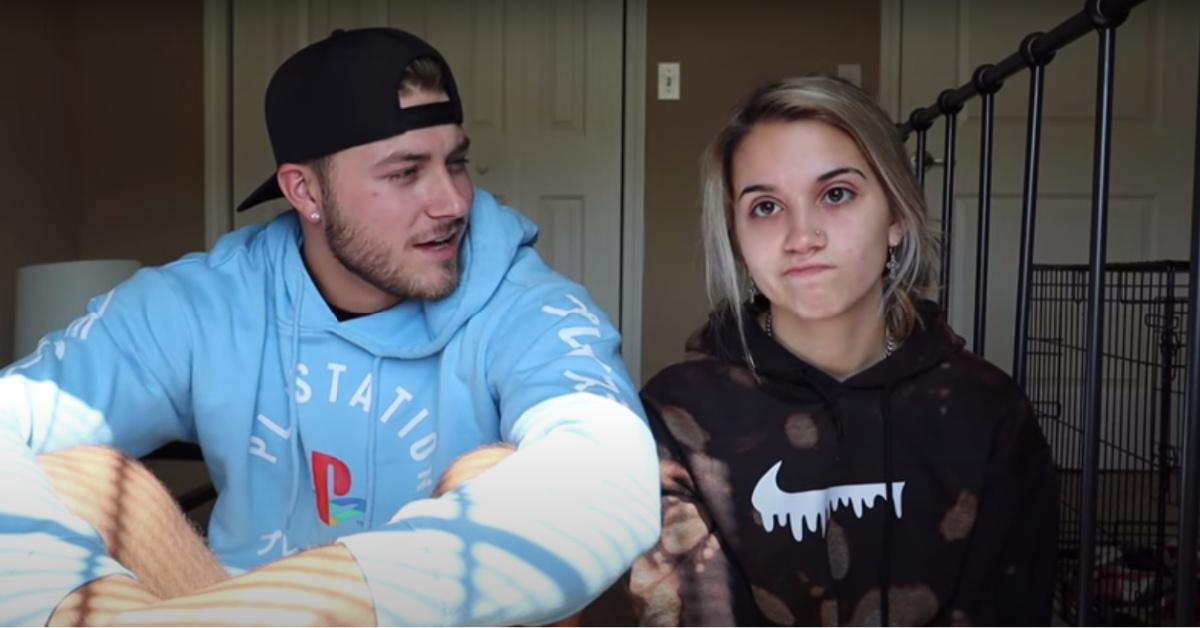 At this point, we've become quite familiar with the YouTube breakup video. The thumbnail shows both members of the couple sitting next to each other and looking forlorn, the title is usually "We broke up," or some variation of that, and there's usually a part in the video where someone says something like, "We never expected to make this video, but here we are."
Article continues below advertisement
The latest YouTube breakup video comes to us from Grace and Zeus. The couple has had a huge online presence for the past year, with nearly 500,000 subscribers on YouTube and more than 4 million followers on TikTok. Together, they filmed adorable couple dances and pulled too many pranks to count. However, Grace and Zeus have now officially decided to call it quits. Obviously, their many fans are wondering why they decided to break up.
Article continues below advertisement
Why did Grace and Zeus break up?
Fans had started to suspect that something may have happened between Grace and Zeus when they suddenly stopped uploading videos. Throughout their tenure as one of social media's it couples, Grace and Zeus had, for the most part, stuck to a regular upload schedule and regularly posted on other corners of the internet. When that appeared to slow down, it didn't take long for fans to begin speculating about whether Grace and Zeus were still together.
In a video entitled (what else?) "We Broke Up" (and another one entitled "We Broke Up Pt. 2") uploaded on Sept. 30, 2020, fans got their answer. A tearful Grace and solemn Zeus informed their audience that they had indeed made the difficult decision to go their separate ways. Grace has already moved out of the home the couple had been sharing and the videos were recorded in the bedroom of her new apartment.
Article continues below advertisement
As awful as breakups usually are, it doesn't seem as though Zeus and Grace have any ill will toward one another, and it doesn't seem as though there was one specific inciting incident that led to the split. "We've been dating a little over a year and a half and we've noticed change from both of us," Zeus explained in the video.
Article continues below advertisement
Grace hinted at the fact that the way their relationship had been portrayed online hadn't shown the whole story. "Most couples on YouTube present themselves as such, like, a picture-perfect couple, " she said. "And that's not the case."
"I know you guys are probably expecting like a definite reason on why [we broke up], but sometimes that's just now how it works and when a relationship ends, sometimes it's more to it than we can understand," Grace said. "Nothing specific happened that we did that made us want to leave each other. It just ... a lot of tension built up, I guess." Zeus agreed and said there had been some frustration on both parts.
Article continues below advertisement
That being said, both Zeus and Grace explained that they definitely don't hate one another, nor are they planning to completely stop all contact between them. They plan to share joint custody of their dog Sophie and at least for now, Grace will take over the couple's YouTube and TikTok channels. Apparently, Grace's new apartment is pretty close to Zeus' house, so they may be seeing each other with some frequency and even hinted that they'd be willing to make additional videos together eventually.
Breakups are definitely hard, and breakups shared online with an audience of millions are probably even harder. That being said, we hope Grace and Zeus are both able to find some peace and happiness as they move forward.