Why Did Annie and Asher Break Up? The Stars Dated for a Year Before Their Split
Annie LeBlanc and Asher Angel dated for a year before news of their split shocked fans. But why did they break up? Let's investigate what happened.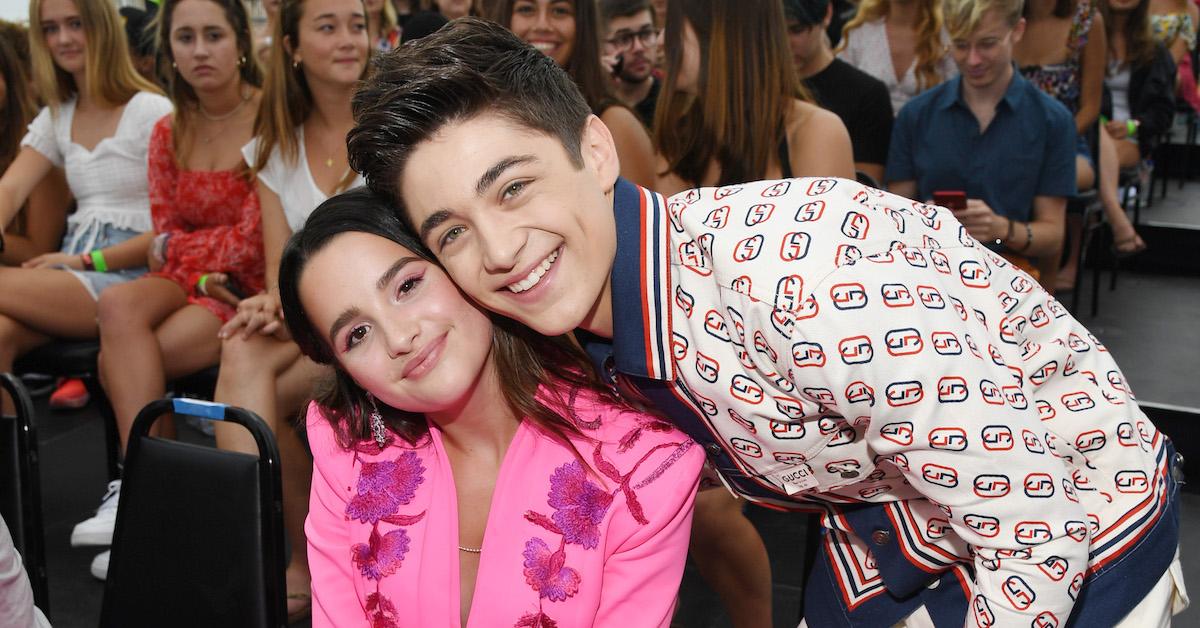 Fans of Asher Angel and Annie LeBlanc couldn't get enough of the seriously adorable — albeit young — couple. Unfortunately, though, news of their breakup has hit followers pretty hard.
Article continues below advertisement
Asher, 17, is known for his role as Jonah Beck on the Disney Channel series Andi Mack. In recent years, however, the child actor has evolved into a recording artist and social media influencer. Meanwhile, the 15-year-old internet personality/singer/former gymnast Julianna Grace "Annie" LeBlanc was referred to as "one of the most famous teens in the world" by Business Insider in 2018.
They were a perfect match — or so it seemed. Let's investigate their relationship to get a better idea of the answer to a question their fans are all asking: Why did Annie and Asher break up?
Article continues below advertisement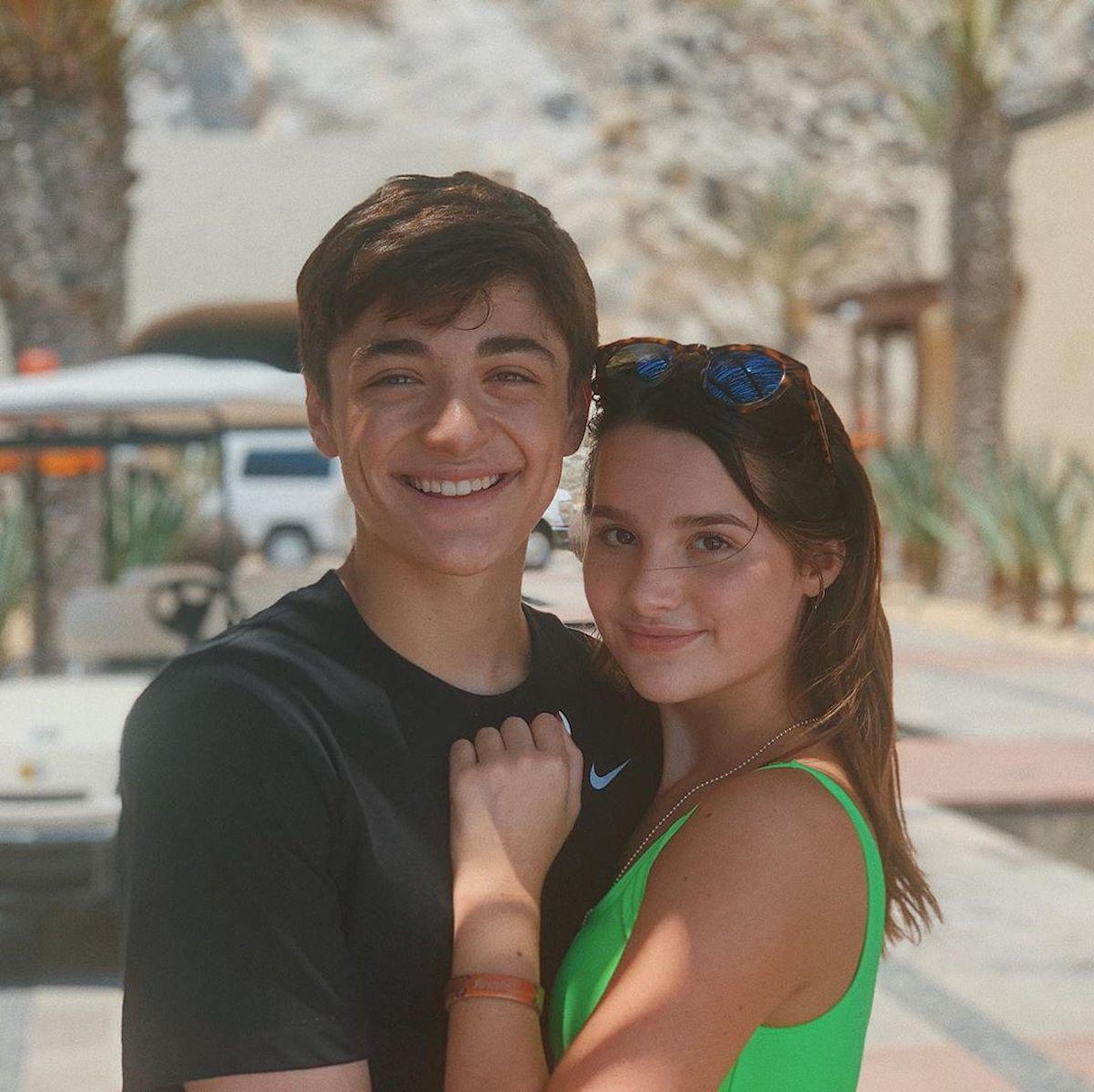 Asher and Annie broke up in May.
After more than a year together, Annie took to her Instagram Story on May 13 to reveal that she and Asher decided to end their relationship. "It breaks my heart to write this, but Asher and I have broken up," she wrote.
Article continues below advertisement
Annie continued, "It's no ones fault, especially not his. He treated me exactly the way a girl should be treated and deserves no hate. He will always hold a special place in my heart and I wish him nothing but the best. I hope you guys will understand and continue to support and love us both."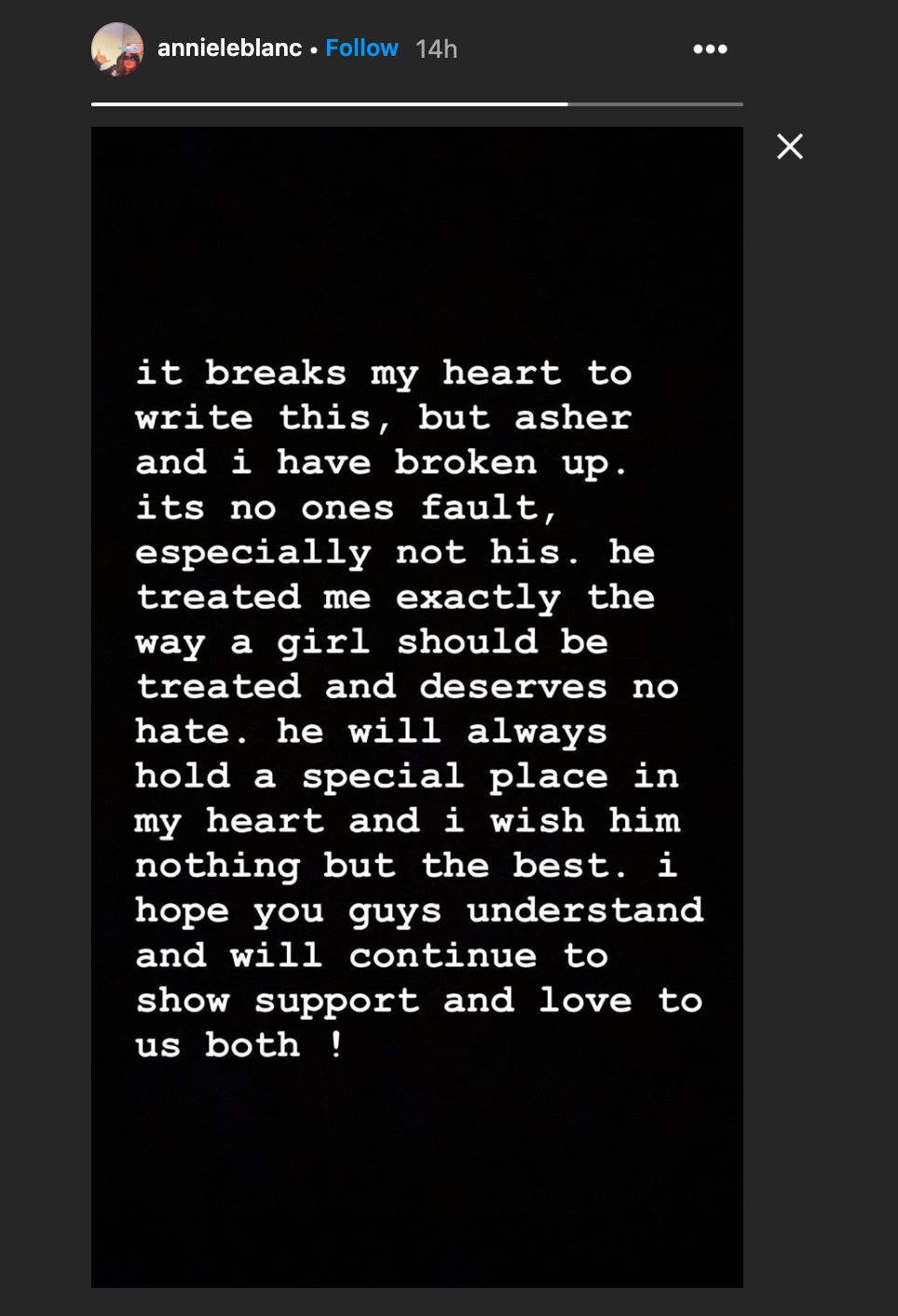 Article continues below advertisement
Annie and Asher met in 2018 on the set of his music video.
In June 2018, the young singers met on the set of Asher's music video for "Chemistry" — and as it turned out, there was plenty of instant chemistry between the two.
"Annie invited me to be in her music video, but I was unable to because I was shooting Shazam! in Toronto," Asher told J-14! that August. "Although we never hung out before the video, she was on my mind following the compliment of her invitation."
"We spent the entire day laughing and getting to know each other," he added.
Article continues below advertisement
Annie and Asher made it Instagram official in February 2019.
A February 2019 Valentine's Day post of Annie and Asher — which was captioned with two hearts — all but confirmed dating rumors. Asher eventually shared that he and Annie were more than friends in May 2019, and that "One Thought Away" was about her.
"She's super cool, super nice and she makes me happy," Asher told Zach Sang on his podcast. "I make her happy, I guess, somehow. I don't know how. It's crazy. But she's the best and she's very supportive."
Article continues below advertisement
Annie and Asher continued to share periodic Instagram posts and YouTube videos featuring them as a couple over the next year — and their fans simply adored seeing them together.
Article continues below advertisement
In celebration of Valentine's Day 2019 — along with their one-year anniversary — Annie took to Instagram to share a photo of her giving Asher a smooch. "Hi! i like u! i'm in love with u!" she captioned the shot. "Happy one year love."
Article continues below advertisement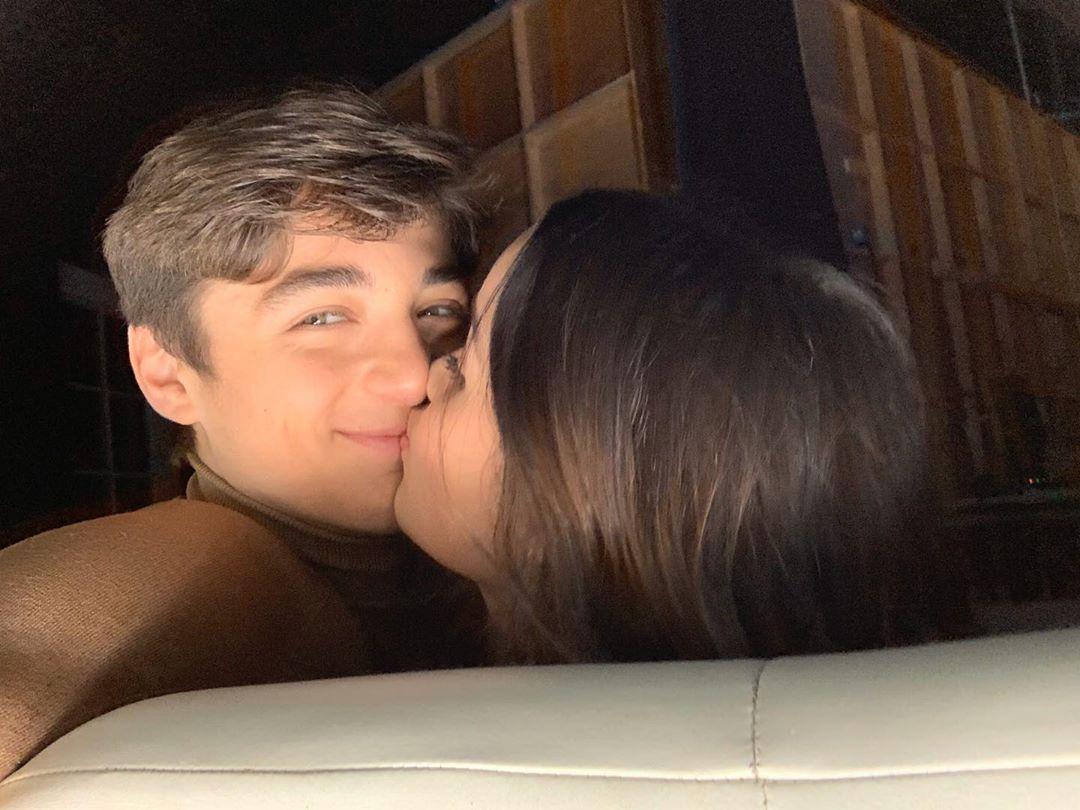 So why did Annie and Asher break up?
The details surround Annie and Asher's breakup aren't clear — and they might very well choose to keep it that way. It's worth noting they're young — only 15 and 17 — so it's probably safe to chalk it up to young love. *Sigh* It's just one of those things. We wish them both the best.