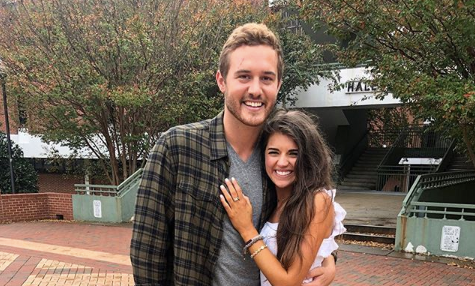 If Peter Is Still in Love With Madison, Why Did She Leave?
In the first part of the Season 24 finale of 'The Bachelor', Madison decided to walk away. But why did she leave when Peter still loved her?
We were told that Season 24's finale of The Bachelor would be a wild one and, so far, it hasn't disappointed. We watched as we finally got the answer to the question of who Barbara Weber was crying about. We saw her fall in love with Hannah Ann and beg her son to bring her home to them. We watched her fight with Madison, who had given her son an ultimatum: stay out of the Fantasy Suites or watch me walk away.
Article continues below advertisement
And then we watched Madison do exactly that. But why did she leave? Although Peter still hadn't made his decision, the 23-year-old made the choice to walk away on her own, saying that she didn't think that they could give each other what they needed. Spoilers for The Bachelor Season 24 finale.
Article continues below advertisement
Why did Madison leave 'The Bachelor' before Peter could make his decision?
Look, the only person who didn't know that Peter was going to pick Madison was Hannah Ann. But Madison certainly made it seem like she had no idea how much he loved her too.
After she met with Peter's parents, who weren't too impressed with her, Barbara Weber cried to her son about how much she wanted him to "bring [Hannah Ann] home" to them. But Peter didn't take that well. In a confessional after the confrontation with his family, he said that he wanted Madison more than anything else in the world.
Article continues below advertisement
But, in the end, even though she had only just told him that she would accept his proposal if he got on one knee, she decided she needed to walk away because she couldn't give him what he needs.
Article continues below advertisement
"I want this so badly, but I think when you want something so badly, I think a lot of times you can't see clearly. And as much as we want this, I don't know that we can give each other what we need," she told Peter. "I do think that love still wins and I do still think love still conquers all because I'm willing to walk away so that you can get what you came here to find."
Madison regretted her choice to leave Peter.
In the finale, Chris Harrison journeyed to Auburn, Ala. to talk to Madison about what went down. Although Peter proposed to Hannah Ann, they ended their engagement because he couldn't get over Madison. Chris asked her about how she was doing first.
Article continues below advertisement
"It's been really hard. That was a hard day and it's been honestly even harder coming back and processing everything...I'm just trying my best not to live in the past. Getting in that car and seeing him and driving away. That was so difficult," she said.
"So you regret what you did?" the host asked.
"Yeah, I do. If I was presented with the same situation, I would have done things differently," she said.
Article continues below advertisement
Chris then let her in on his secret. Peter and Hannah Ann were over because of Peter's love for her. When he then asked if she still loved the Bachelor, she said, "I know I fell in love with him and those feeling haven't gone away." She went on to say, "If I had a second chance with him, I'd take it in a heartbeat."
Although she left, she got that second chance she had been hoping for and got to return to the man she loved...who says that he loves her back.