Did Your Explore Page on Instagram Suddenly Reset Itself? Don't Panic!
Many Instagram users recently noticed that their painstakingly curated Explore Pages had suddenly been "reset" to show more generic content.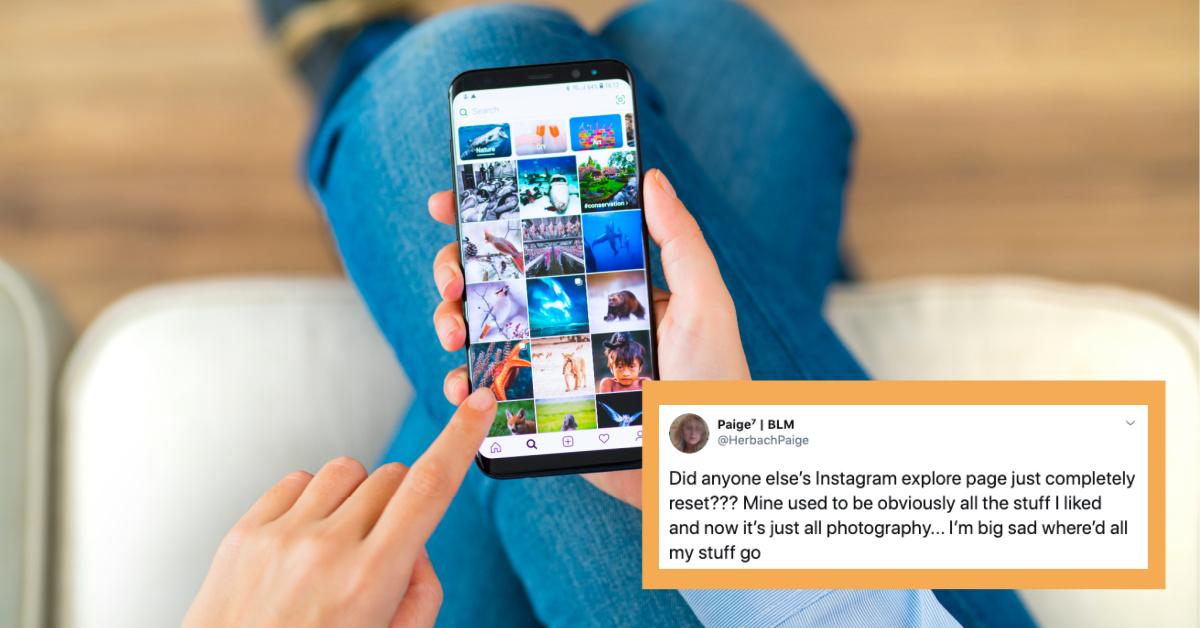 It's not as though any of us need reasons to spend more time scrolling through Instagram, but if we did, the Explore Page would certainly provide them. When it's working correctly, the Explore Page is a place where you can go to discover new content that is perfectly tailored to your specific interests. Have you been obsessed with watching people do creative manicures lately? Instagram knows that! And it'll provide hundreds of new manicure videos for you to watch on the Explore Page.
Article continues below advertisement
Of course, that's when the Explore Page is working correctly. Recently a bunch of people noticed that their Explore Page had somehow been reset. If this happened to you, don't panic. You're not alone, and the issue won't last forever!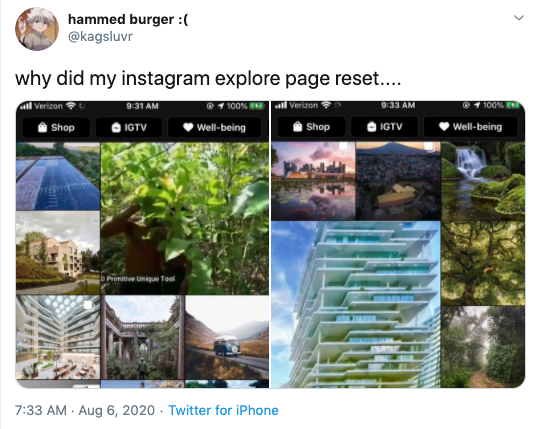 Article continues below advertisement
Why did my Instagram Explore Page reset?
Like we said, Instagram's Explore Page is usually populated with content that aligns with your specific interests and browsing patterns. When you engage with certain accounts and types of content, the Instagram algorithm makes note of that and offers similar content to you in the Explore Page. This is a great way to find new accounts to follow or find memes and other content to share on your own profile.
However, for some reason, people have been noticing that their Explore Pages appear to be completely reset. In other words, the types of content the page is serving up is super generic, with none of their personal tastes mixed in. It's almost as though the Instagram algorithm just forgot they existed and that they have personal preferences. Needless to say, people were not happy about it — which makes sense! Think of all the hours they spent building up the profile that influenced the page!
Article continues below advertisement
From what we can tell, it doesn't appear as though Instagram has said anything official about why some users are experiencing a reset of their Explore Page, but it's definitely happening. If your own Explore Page is suddenly filled with scenic landscapes, it probably happened to you, too. You can try poking around Instagram's Help Center for more information, but there doesn't appear to be any information there about this particular phenomenon.
Article continues below advertisement
Our best guess is that something may have gone slightly haywire as Instagram rolled out Reels, its new video-editing feature that functions a lot like TikTok. Reels now appear in the Explore Page, so there's a chance that making that big change somehow caused users' pages to reset.
Article continues below advertisement
The good news is that the issue seems to be temporary. Some people even noticed that if they just scrolled down a bit on the Explore Page, everything was back to normal. If you're experiencing the reset issue, we recommend trying to restart the app, and then just remain patient. Before long, your Explore Page will probably be back to normal.
Well, mostly normal, anyway. You will still see a bunch of Reels on your Explore Page now that Instagram has officially added that functionality. But if you don't mind scrolling through some videos that look a lot like TikTok videos, you should be all set.