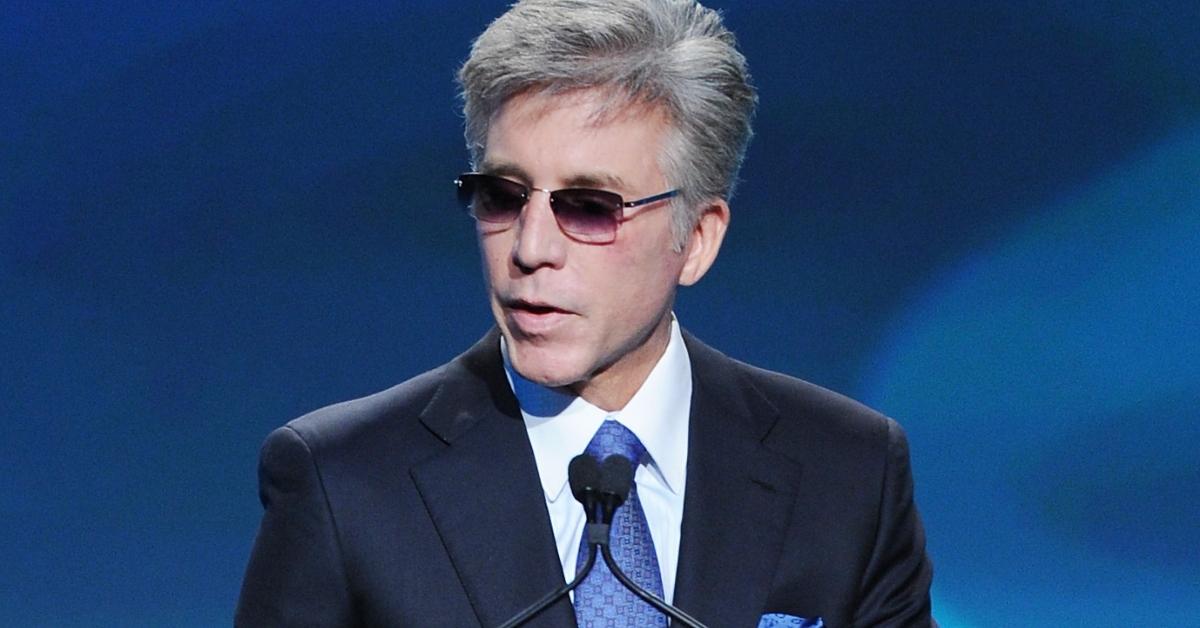 A Horrid Accident Cost Bill McDermott His Left Eye
Most will recognize Bill McDermott as a visionary businessman. As the CEO of ServiceNow, Bill has played a key role in the introduction of software that transforms the way people conduct work remotely.
Despite his incredible achievements, Bill has had to deal with some personal traumas. Take an accident that cost him his eye — and led to his signature sunglass look — that took place a few years ago.
Article continues below advertisement
So, why does Bill McDermott wear sunglasses?
As an award-winning businessman and the author of the 2014 memoir, Winners Dream: A Journey from Corner Store to Corner Office, Bill earned renown for his inspiring approach.
Unlike most people out there, he adopted a brightly optimistic attitude after suffering an accident that cost him his left eye in July 2015.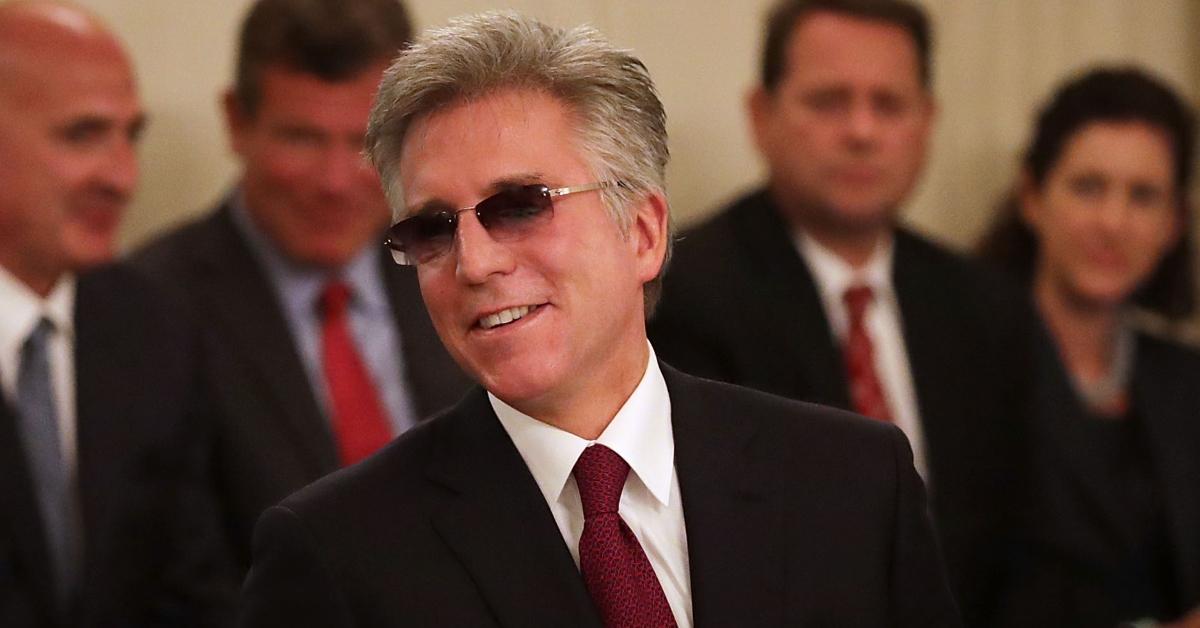 Article continues below advertisement
"I am living proof that vision is not just what you see. My accident has given me so much strength, so much resolve, so much passion," he previously told CNBC.
According to a now-deleted Facebook post cited by SiliconANGLE, Bill spent some time at his brother's house in July 2015 — which is where the horrific incident took place.
One night, as he was walking down the staircase with a glass of water in hand, he stumbled, falling face-first into it. He woke up in a pool of blood. He had to force himself to stay awake, dragging himself to the street to ask for help.
Article continues below advertisement
"Basically, I wake up from the fall down the stairs. I was knocked unconscious. And I just remember bein' alone. Nobody could hear me..." Bill told CNBC.
Article continues below advertisement
A shard of glass went through his left eye, and there were additional cuts around the left side of his face and neck.
"Unfortunately during my stay, I slipped and fell while holding a glass of water, and the injuries caused by falling on the broken glass were significant. I suffered facial fractures, severe lacerations, and extensive damage to my eye," Bill wrote in the now-deleted Facebook post cited by SiliconANGLE.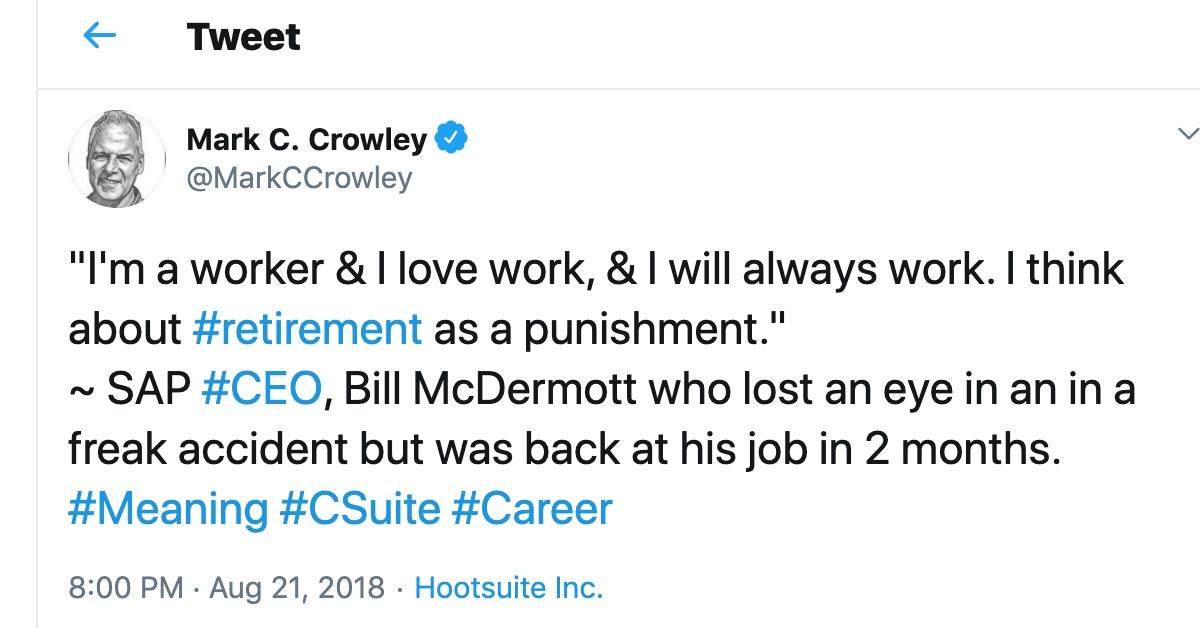 Article continues below advertisement
"I had numerous additional procedures to repair the facial injuries and multiple surgeries to attempt to regain sight in my eye. Unfortunately, despite doing everything possible, the eye could not be saved and was removed," Bill added.
According to CNBC, he spent nine hours in surgery on the night of the accident. He had more than 10 operations in total. However, his left eye couldn't be saved.
Article continues below advertisement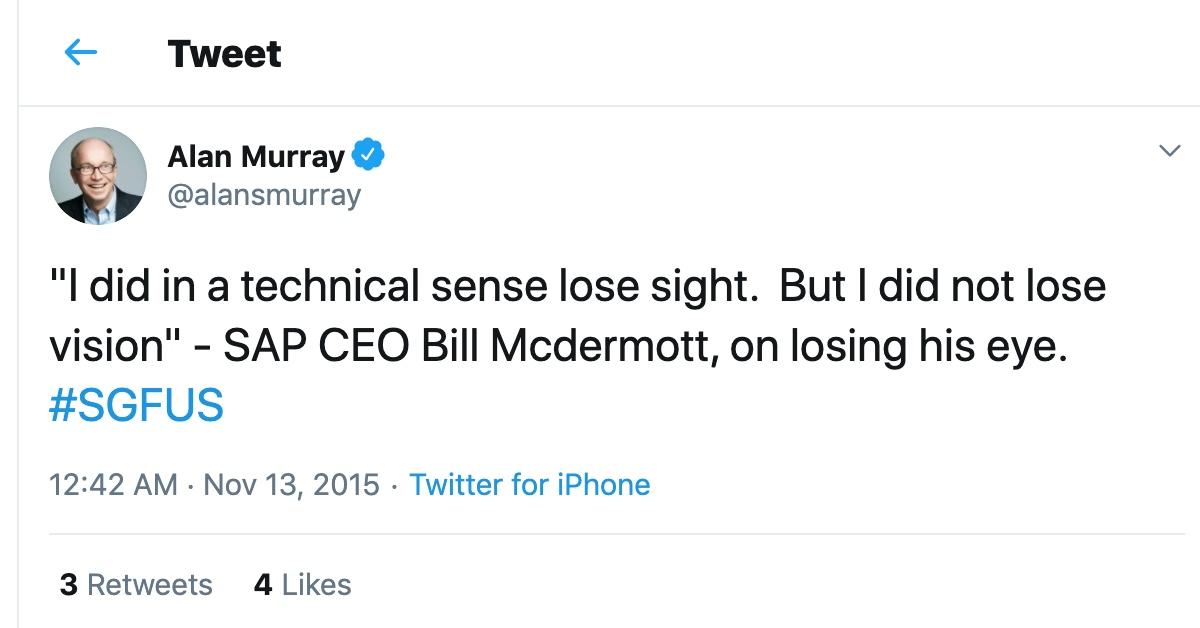 But he didn't let the accident deter him from achieving great things.
He returned to work in the fall of 2015, and he continued to serve as the CEO of SAP for another four years. He left the role in October 2019, and by November that year, he was appointed as the president and CEO of ServiceNow.
Known for his razor-sharp insights and unparalleled strategic nous, Bill has made remarkable business decisions that have had a lasting impact on the whole sector.
More importantly, however, he is recognized as the brave individual who took a tragic accident as an opportunity to improve his outlook on the world, using it as a source of motivation to aim even higher with his work.