Why Does Cam Newton Always Use That Wacky Font on His Social Media Posts?
American football player Cam Newton always uses a particular cryptic font when posting to social media. Now we know why he does it.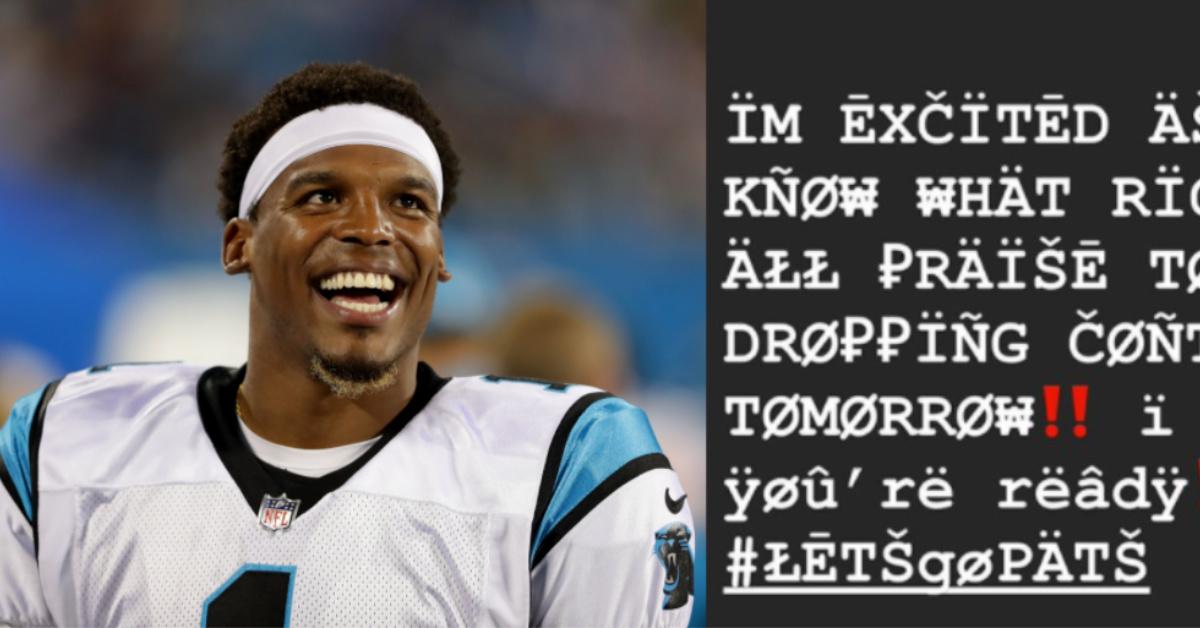 If you only follow Cam Newton via his televised games, then you probably just know him as an incredibly talented athlete — and you're (obviously) not wrong! In his rookie year, Cam broke several all-time NFL rookie records and established himself as one of the best of the best.
Article continues below advertisement
But if you follow Cam Newton on social media, then you've probably noticed something else about him. Namely, that he uses a very distinct font on all of his posts. Like, really distinct. What's up with that? Why does Cam Newton use that font? Here's what we know.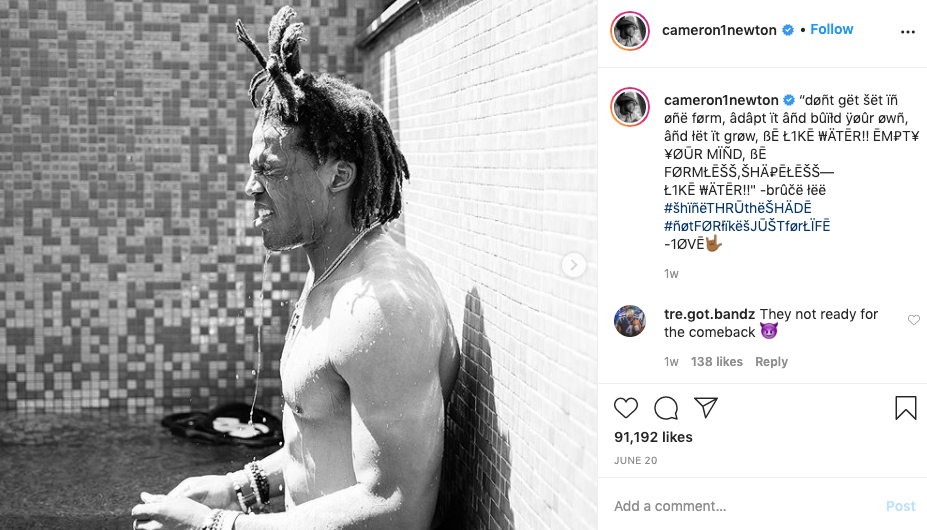 Article continues below advertisement
Why does Cam Newton use that font in all of his Instagram posts?
Cam has gotten plenty of pushback for his use of the cryptic font on social media. Some fans have called his font choice childish or just straight-up wacky. While we agree that it certainly looks a bit out of place while scrolling through a typical Instagram feed, we also think that it could actually be a good thing! Cam seems to think so, too.
In a 2017 interview, Cam Newton spoke briefly about why he uses the cryptic font on his social media posts. "One thing it makes you do is it makes you focus on what I'm saying," he said. He spoke again briefly about his characteristic font choice in 2019, saying, "For me, it's being able to express yourself and being uniquely you. For me, we all are different, and we all possess things that make us different than the next person, from spelling, typing, or even speaking." Fair enough!
Article continues below advertisement
Cam's former Pro Bowl teammate and buddy Greg Olsen spoke about Cam's font choice on an episode of the Pardon My Take sports podcast. "Sometimes you don't take the time to read the captions, especially if it's long," he said about typical Instagram posts. "There's something about those characters [that Cam uses] that you're actually so curious and caught off-guard, that you take the time to really decipher it, and in a weird way, you're actually reading it more in-depth."
Article continues below advertisement
There's no denying that it takes slightly longer to decipher Cam's posts. These days, when countless brands are vying for our attention on social media and elsewhere, any kind of trick that gets people's eyes to linger slightly longer than usual is actually pretty priceless — should we start publishing our articles using that font? (Don't worry, we won't.)
Article continues below advertisement
Want to post like Cam Newton? You can!
If you find yourself wishing you could write similarly enigmatic captions on social media, you should look into the I Post My Way app, which was "inspired and envisioned" by Cam's own posts. It's a special keyboard that allows users to either convert text or create custom keys to, well, post their own way.
That certainly seems like the best way to change up the way you write, at least if you don't want to spend 15 minutes writing each caption. We have to wonder how long it takes Cam to write his posts these days! Presumably, he's used to taking whatever extra steps it might require to create a caption in his preferred font. And according to his Instagram bio, he's not planning on changing things up anytime soon. It says (in his particular font, obvs) "I'm not changing the way I type, get over it."