Why Is Chelsea Suddenly Rocking a Number 3 on Their Jerseys?
Why does Chelsea have a 3 on their jerseys? For the first time, Chelsea will be sponsored by Hong Kong-based telecommunications company 3.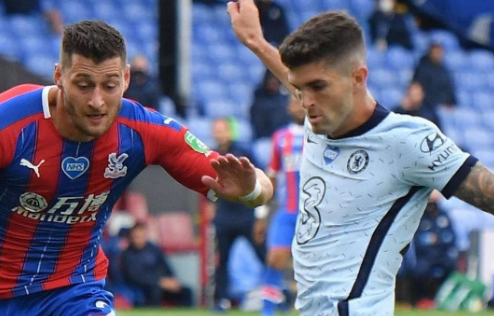 If you're a soccer hooligan with an inclination towards Chelsea, you might be wondering the same thing that a lot of die-hard fans of the club have been asking themselves recently: why do they have a 3 on their jerseys, and what does it mean?
Contrary to some unfounded theories on the internet, no, it has nothing to do with the Black Lives Matter movement, although there are several clubs who are making their voices heard on these protests from all over over the globe.
Article continues below advertisement
So, why does Chelsea have a 3 on their jerseys, then?
It's a sponsor. That's it. No profound, deeper meaning. No allusion to the holy trinity, or the number of eggs each player likes to have in the morning.
3 (Three) telecommunications is a Hong Kong based mobile phone and data provider that has a strong market presence in Sweden, the UK, Italy, Ireland, Indonesia, Denmark, Austria, Macau, and Hong Kong.
Irish soccer fans probably weren't too befuddled by the '3' logo on the Chelsea uniforms though. The nation's senior men's and women's clubs have been sponsored by the telecom provider for around ten years, but then 3's deal expired in December of 2019.
The thing is, there were quite a number of Irish fans who were very vocal about their displeasure with the company's logo and it seems like Chelsea Stans aren't too keen on it either, judging from some of the responses online.
Article continues below advertisement

The blue herringbone-knit pattern on Chelsea's Premier League jerseys is made by Nike and is supposed to be inspired by "the traditional craft of London tailoring."
How great would it be if Burberry just sponsored Chelsea, and the team began rocking the iconic striped pattern on the field? F.C. is an English soccer club anyway, and Burberry's an English brand; it just makes sense.
Article continues below advertisement

Christian Pulisic is becoming a leading scorer for the club.
The team's manager, Frank Lampard, has praised the ever-improving game of Christian after he drilled in another goal for Chelsea's 3-2 win against Crystal Palace.
Scoring three goals in five games is no easy task, but Frank believes that the 21-year-old's work ethic and tough mindset during game time is helping him become a dominant force on the field.
Article continues below advertisement
It wasn't always this way for Christian on Chelsea F.C., however. "He's hugely important because he's got great talent. We know that," Frank Lampard said. "Earlier on in the season, at the start, he came here, difficult conditions in terms of [he] hadn't really had a break early in the season, but he started to play really well for us, and now he's moved his game on another level, not just in how he's going by people but real end product."
Article continues below advertisement
The manager continued, "Look around at the top attacking players in the world, and they score goals regularly to win games, and at the moment, he's doing that, so I'm delighted with him."
Getting high praise from the all time leading goal scorer at Chelsea is certainly a big deal and it looks like Christian will continue to cement his legacy for the Blues.

Premier League is one of the first major team sports to return in a world that's slowly attempting to get back to "normal" in the wake of the COVID-19 pandemic. Chelsea plays Sheffield United on Saturday, July 11 at 12:30 p.m. ET. Will you be tuning in? Or is the 3 logo just too much of an eyesore?