Justin Turner's Jersey Stain Is a Sticky Situation for the Dodgers Star
Why does Justin Turner have a stain on his jersey? The Los Angeles Dodgers' third baseman explained the unsightly mark in 2018.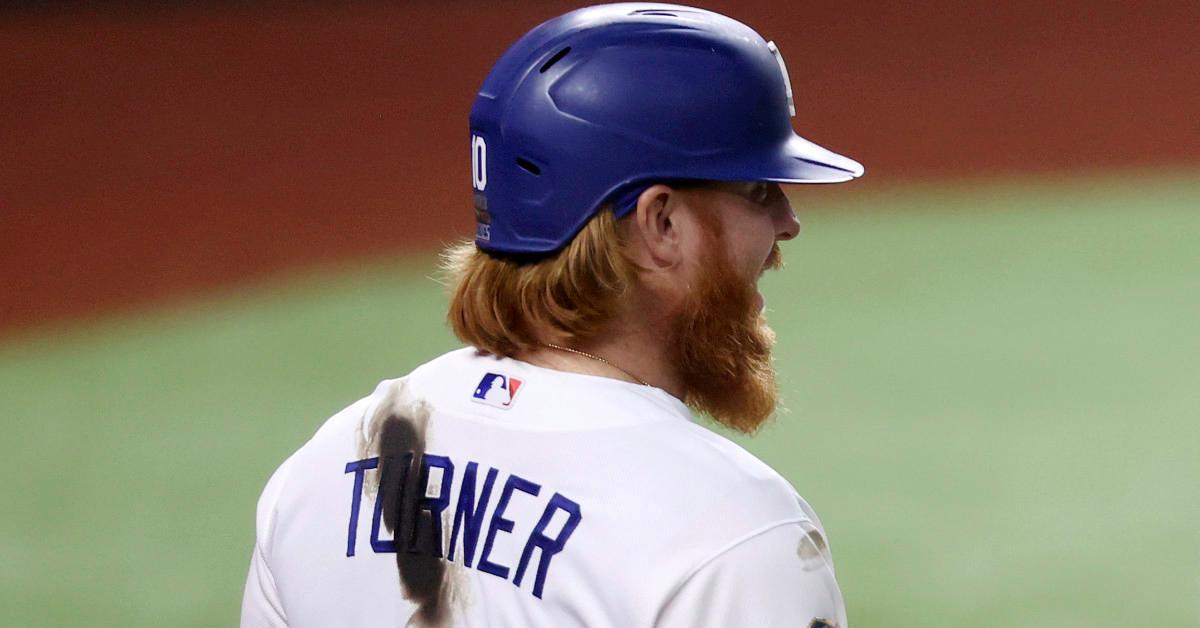 The 2020 World Series is in full swing — pardon the pun — with the Los Angeles Dodgers facing off against the Tampa Bay Rays in Arlington, Texas. Some fans, though, are distracted by Dodgers third baseman Justin Turner and the unsightly stain on his jersey. (Isn't there some sort of stain remover for that?!)
Article continues below advertisement
Why does Justin Turner have a stain on his jersey?
Los Angeles magazine solved the mystery in 2018, hearing from Justin himself that the stain comes from the pine tar on his bat. Pine tar — produced by the carbonization of pine wood under high temperatures — helps baseball players grip the bat, and Justin tends to hit his back with his bat during swings.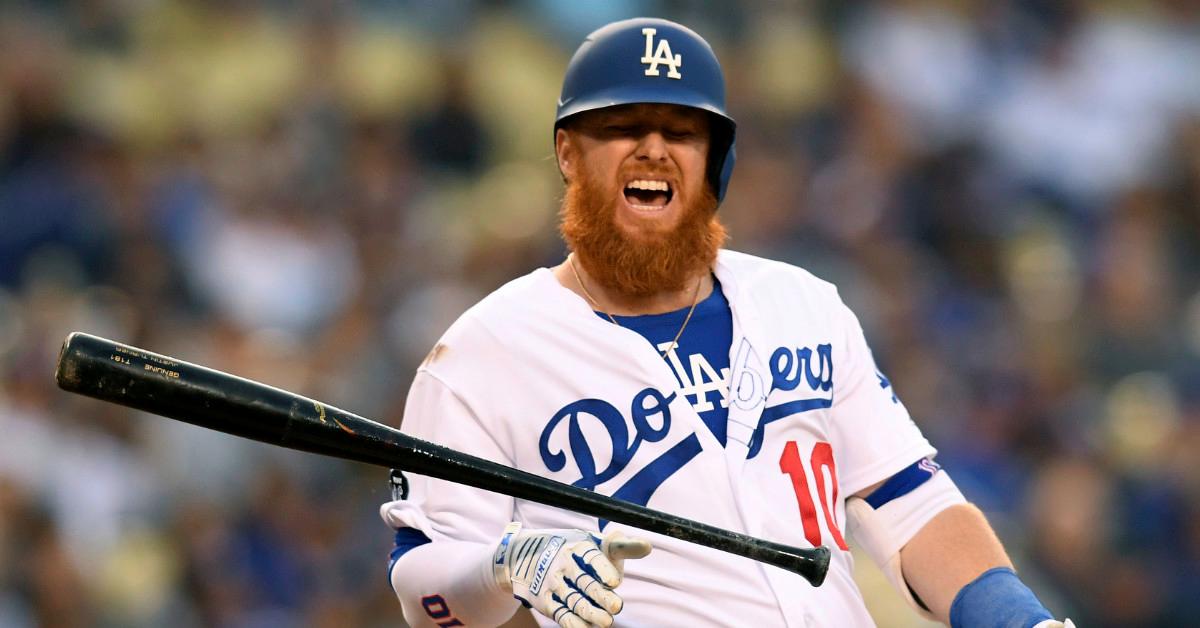 Article continues below advertisement
"When I take my practice swings, I try to exaggerate finishing, and my bat comes down over my left shoulder, leaving a pine tar stain," Justin told the magazine.
You might also see pine tar covering hitters' helmets, too, according to Sporting News, since a player's helmet is a convenient way to keep the sticky stuff.
Is pine tar legal in baseball?
MLB regulations stipulate that players are free to cover their bats with pine tar — up to a point. Observe Rule 3.02(c): "The bat handle, for not more than 18 inches from its end, may be covered or treated with any material or substance to improve the grip. Any such material or substance that extends past the 18-inch limitation shall cause the bat to be removed from the game."
Article continues below advertisement
Pitchers, however, are not allowed to use pine tar on the ball, even though pine tar improves their grip during cold weather. Rule 6.02(c) states: "The pitcher shall not … apply a foreign substance of any kind to the ball."
Article continues below advertisement
Over the years, various pitchers have come afoul of the rule. Former St. Louis Cardinals pitcher Julián Tavárez served a 10-day suspension after being spotted with a foreign substance on his cap in 2004. Former Anaheim Angels pitcher Brendan Donnelly was also found with tar on his glove in 2005 and was suspended for 10 games.
Meanwhile, former Tampa Bay Rays pitcher Joel Peralta was suspended for eight games after being caught using tar on his glove in 2012. And Michael Pineda was suspended for 10 games in 2014, while pitching for the Yankees, after being spotted with tar on this neck.
Article continues below advertisement
What was the Pine Tar Incident?
Ah, the infamous Pine Tar Incident. In a 1983 game between the Kansas City Royals and the New York Yankees, Royals third baseman George Brett hit a two-run home run and gave the Royals the lead. But Yankees manager Billy Martin complained about the amount of pine tar on George's bat, and umpires agreed with Billy and nullified George's home run.
The Yankees won the game that day, but the Royals protested the result, and then-American League president Lee MacPhail sided with the team, ordering that the game be restarted from the point of George's home run. The game restarted 25 days later, and this time, the Royals won — and the reversal has been a point of pride in Kansas City, Mo., ever since. Just check out the George Brett Pine Tar bobblehead.