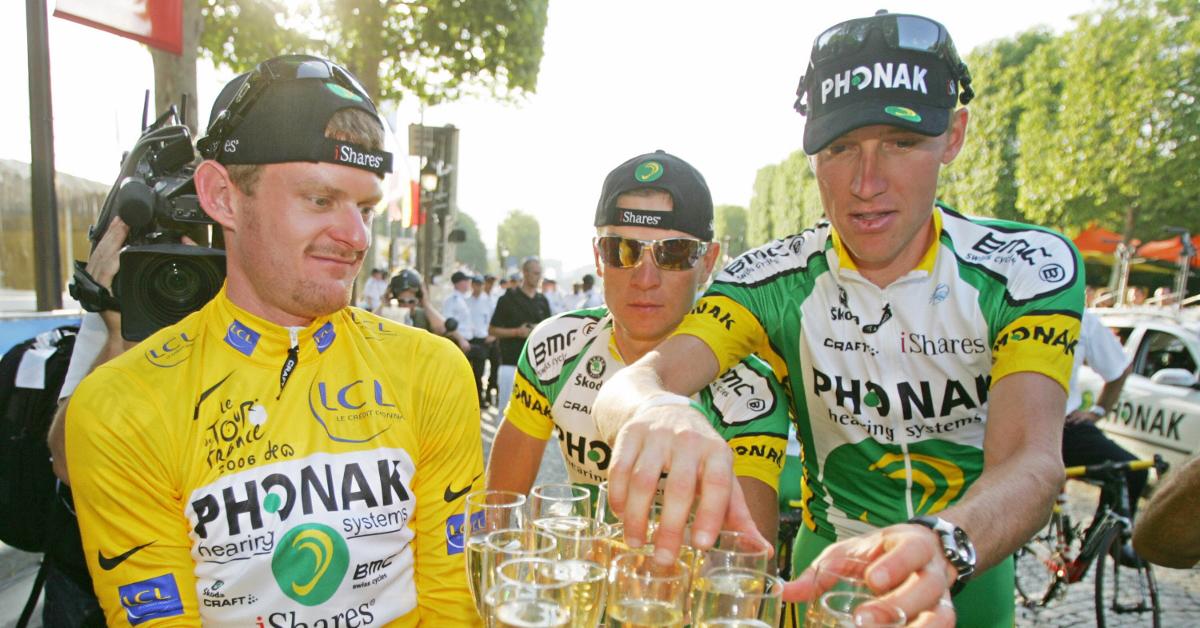 What Is Lance Armstrong's Deal With Former Teammate Floyd Landis?
We've all heard of Lance, the American uber-athlete who churned out Tour De France victories as consistently as I skip cardio, but fewer people have heard of Floyd — or the beef between the two. So, who exactly is Floyd Landis and why does Lance Armstrong hate him? Let's take a look.
Article continues below advertisement
Who is Floyd Landis?
In case you don't know who Mr. Landis is, he's a former teammate of Lance's on the American cycling team and a heck of an athlete. Born in Lancaster, Pa. in a Mennonite community, he loved cycling the second he bought a mountain bike.
Article continues below advertisement
He purchased one at 15 years of age, started riding, and never looked back. Floyd entered his first race right when he got the bike and won it. In '95, he moved to California and became a full time rider. He won the Tour of California in 2006, along with Paris-Nice and the Tour de Georgia in the same year. He even won the Tour de France in '06 as well, but the decision was overturned due to a drug scandal.
I know, cue the snarky remarks of "well, at least he and Lance have that in common." Scandal or not, Floyd was a heck of a climber and time trial specialist, so it's not like Lance could hate him because he didn't produce as a team member — the man certainly did. More and more people are hearing Floyd's name these days due to the release of ESPN's 30 for 30: Lance documentary that recently aired.
Article continues below advertisement
Why does Lance Armstrong hate Floyd Landis?
Lance went so far as to call Floyd "a piece of s--t" while being interviewed for the documentary, saying that while Floyd suffered a similar amount of public humiliation and disgrace, Lance doesn't wake up feeling nearly as bad as his former teammate.
Floyd, on the other hand, says that he bears no ill-will (we get it dude, you're a Mennonite) and actually has empathy for the Livestrong founder.
Article continues below advertisement
Lance's beef with Floyd may have to do with Floyd's lawsuit.
Floyd continued to talk about the one-sided animosity the seven-time Tour de France winner has toward him, stating that perhaps if a lawsuit wasn't filed, that Lance's own doping scandal with drugs could've remained a secret. Floyd says he had to come clean after getting "caught," and he believes that Lance's career suffered as well because he was outed for his use of PEDs.
Let's not forget that in 2010, Floyd straight-up accused Lance of doping and was labeled as a "whistleblower" against Lance, who ultimately admitted to 'roiding up in 2012.
So what it boils down to is that Lance is really ticked off that Floyd went and tattled on him for doing the same thing he was doing when he was a professional athlete. But things get even more complicated, and the root of the issue has to do with money.
Article continues below advertisement
After the Floyd Landis lawsuit was filed, Lance was forced to cough up $5 million to the U.S. Government, but Floyd had received some $1.1 million in the whole Lance Armstrong doping settlement because he filed the original claim.
So Lance is peeved that Floyd got a ton of money for basically being a snitch. In the world of pro sports, there are lots of sentiments athletes have against those who blow up the spots of fellow players.
Article continues below advertisement
No matter your stance on PED usage in sports, the fact remains that they're probably here to stay. Folks are always going to look for a competitive advantage and when you train as hard as pro athletes do, it's hard to blame them to want to train more intensely for longer periods of time with shortened recovery intervals.