'Wikipedia' Attracts Millions of Visitors Each Month ⁠— Why Do They Ask for Donations?
Why does 'Wikipedia' ask for money? The online encyclopedia attracts an estimated 1.5 billion visitors each month. So, why do they need your money?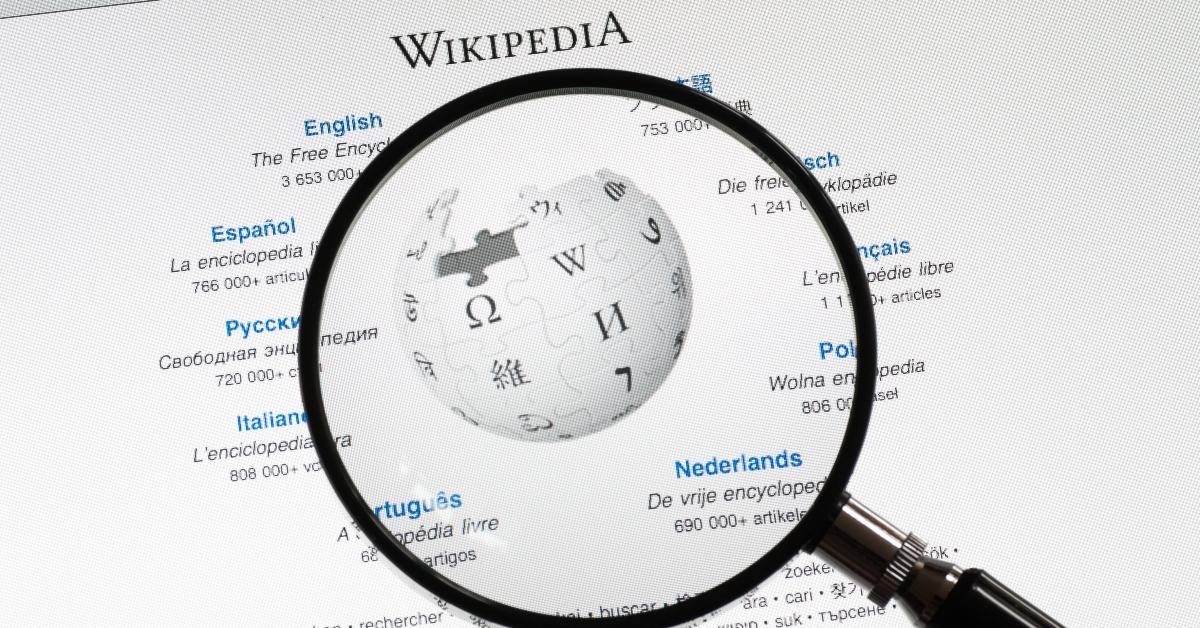 Founded in 2001 by Jimmy Wales and Larry Sanger, Wikipedia quickly became one of the largest online encyclopedias out there. The website offers a wealth of information on topics ranging from the Sedlec Ossuary all the way to 52-hertz whales. But despite its unceasing popularity, it does have one feature its loyal readers can't wrap their heads around. Why does Wikipedia have to ask for money?
Article continues below advertisement
So, why does 'Wikipedia' ask for money?
Wikipedia champions a radical approach toward content creation, entirely relying on a group of volunteer writers and editors to update its pages and ensure that the quality of the texts is up to par with the highest standards.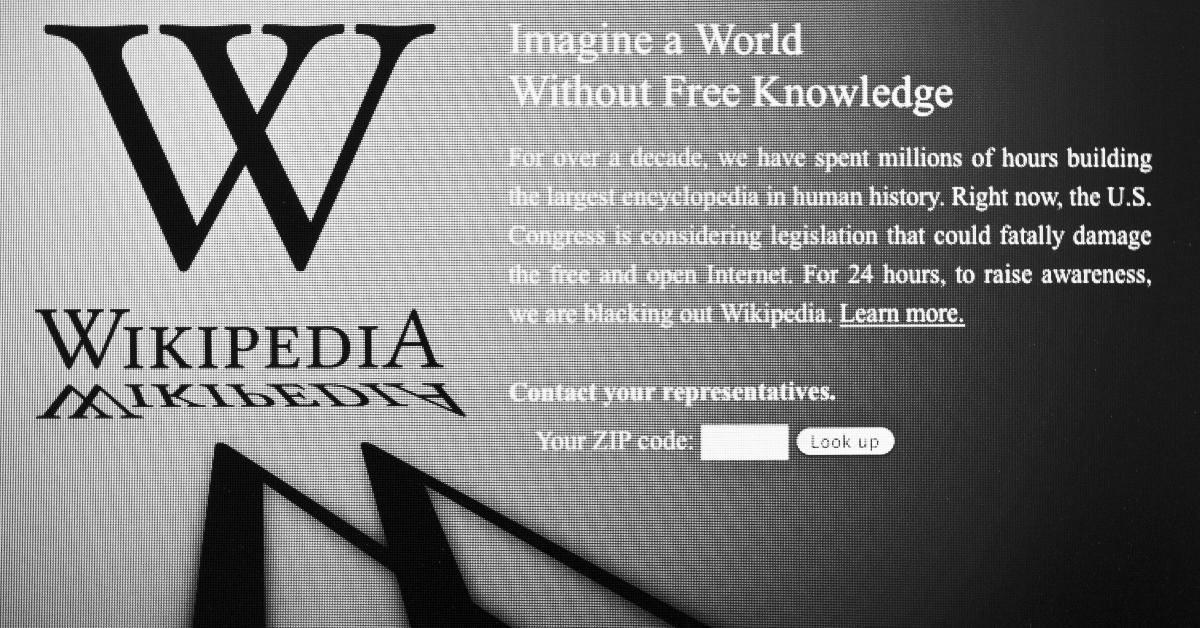 Article continues below advertisement
As the first online encyclopedia to cover just about every topic its writers might find fascinating, the platform became known as the place to gather essential information on anything from historical figures to music genres and beyond.
But despite the fact that it attracts about 1.5 billion unique visitors every month, Wikipedia doesn't rely on advertisers. Instead of working in close collaboration with private organizations that might sway the style, nature, or tone of the content, the organization insists on raising money exclusively through donations.
Article continues below advertisement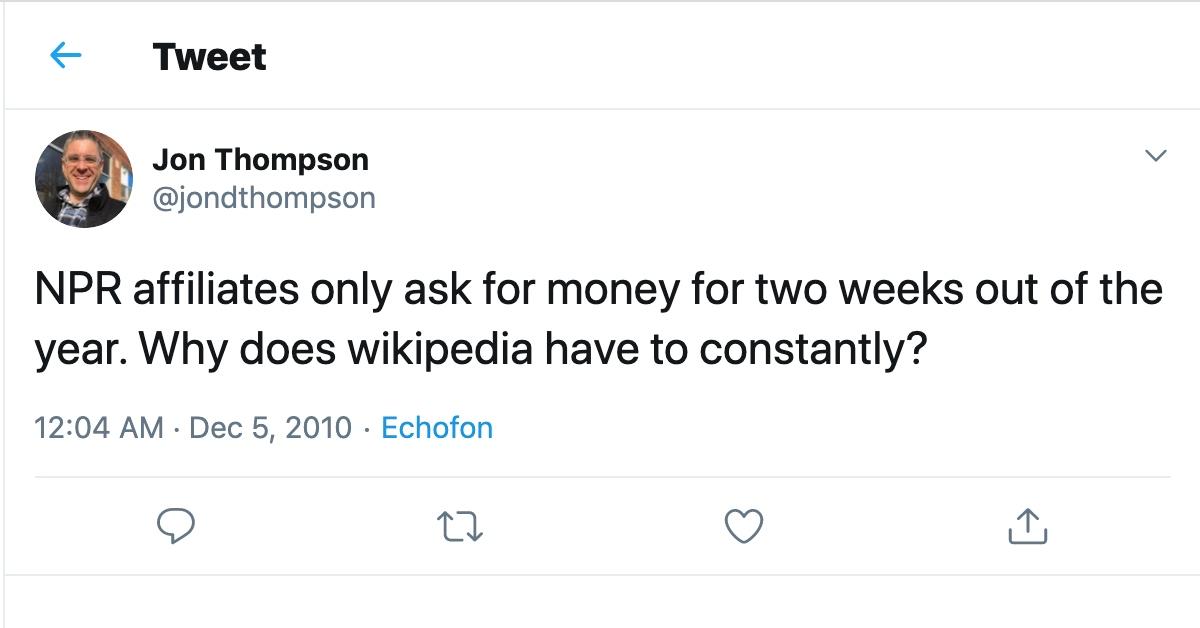 The radical business model doesn't sit well with everybody. Dozens have taken it to Twitter to voice detailed complaints about the bothersome donation banners over the past few years.
"Why does wikipedia ask people for money ? Give us the answers to our homework and we'll gtf on." wrote a person.
Article continues below advertisement
"Why does Facebook make so much money but Wikipedia has to ask us for donations?" pondered someone else.
"Why does Wikipedia always ask for money? Why not change their business model" asked another person.
So, why does 'Wikipedia' need your money?
"Wikimedia Foundation is the charity that owns and operates Wikipedia. We're a non-profit organization that exists primarily from the small donors, people donating, you know, $20, $30, those kinds of amounts is really the backbone of the funding," Wikipedia founder Jimmy Wales explained in a 2013 interview with WISE Channel.
Article continues below advertisement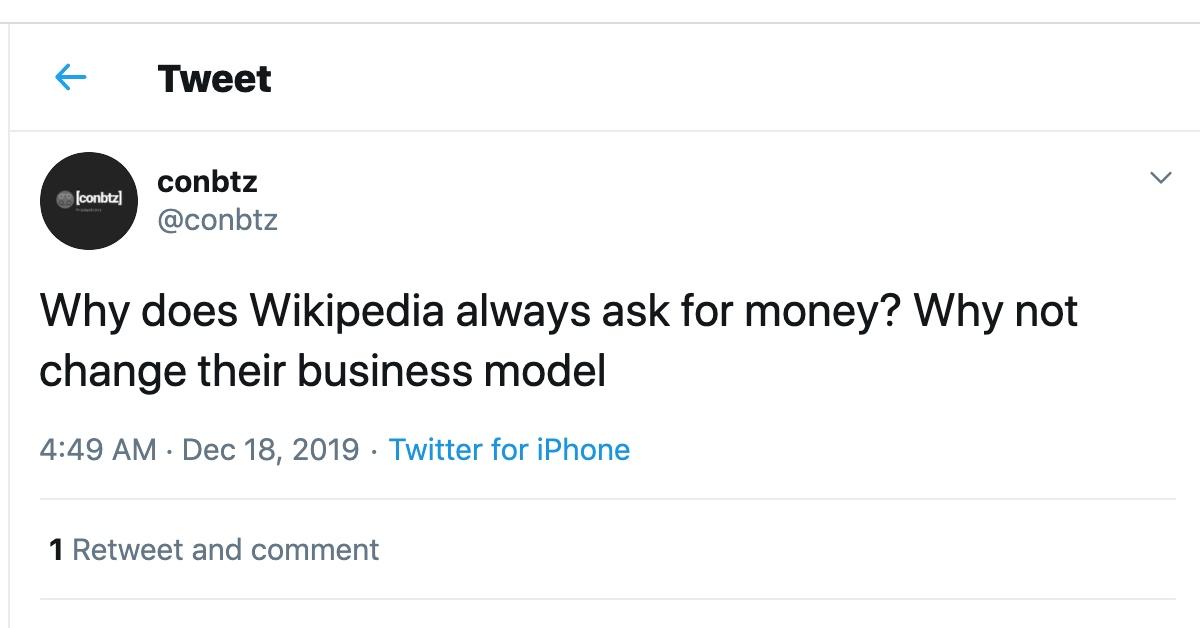 "Our budget for the next year is about 29 million U.S. dollars, so it's a very small budget to do this very big thing, and only a small percentage of the people who are viewing donate money. This isn't a problem for us because of the massive audience," he added.
Article continues below advertisement
Although Wikipedia receives donations from charities as well, a significant percentage of their financial resources come from small donations.
"[People] do feel like this is something important, it's important that we have this space in our culture, it's important that it's non-commercial, it's important that it's neutral, all of the great, community-driven values of Wikipedia," Jimmy added.
The donations allow Wikipedia to maintain its neutral tone and non-commercial style.
In addition, the organization needs the money to cover the expenses associated with its internal operations, such as updating the website or providing staff new learning and training opportunities.
Article continues below advertisement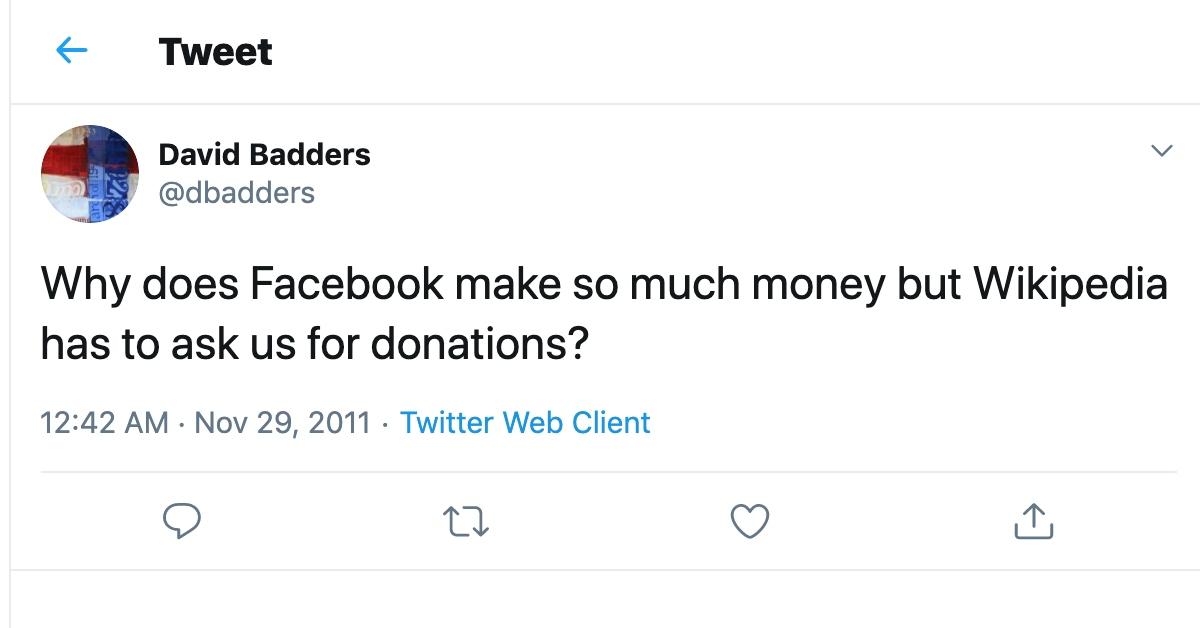 According to the 2019 financial report published by the charity behind Wikipedia, the Wikimedia Foundation, about 32 percent of the annual financial gains went toward providing more learning and networking opportunities for its volunteer editors and writers.
43 percent of the money was used to improve the website, 13 percent was spent on administration and governance, while 12 percent went toward fundraising.
According to a Wikipedia page, they managed to raise a whopping $28,653,256 in 2019 alone. The statistics for 2020 are yet to be published.