Did anyone else wonder where Al Roker was on the Sept. 18 show? Us, too! After the TV personality wasn't on Today with our daily dose of the weather, fans began to worry about him. And after the 65-year-old uploaded photos and videos of himself at the hospital, people are asking: why is Al Roker in the hospital? Scroll down for everything we know about his health!
Why is Al Roker in the hospital?
Al went into the hospital on Wednesday, Sept. 18 for a hip replacement after suffering osteoarthritis. Earlier in the day, he posted a video of himself lying in the hospital bed letting fans know he was waiting for the doctor to begin the hip resurfacing surgery (a new-age hip replacement). 
"Well, here we go!! Waiting to get my #totalhipreplacement I'm ready!!" he wrote.
A few moments later, he shared a selfie of himself and his wife since 1995, Deborah Roberts, in the hospital. "Hellloooooo nurse!!! Thanks, @debrobertsabc for taking care of me," he wrote alongside the sweet snap of the two.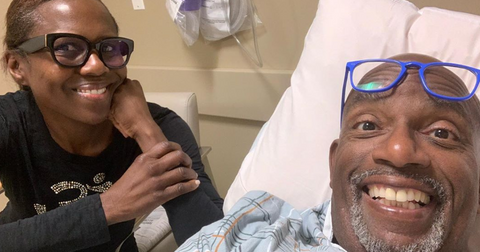 Is Al Roker going to be okay?
Yes! In fact, he already confirmed to fans that he's doing just fine following his surgery. At around 1 p.m. EST, he posted a video of himself in the recovery room, and shared that he's awake and well.
"And we're back. So far, my #totalhipreplacement is a success. No pain yet. The folks from #physicaltherapy stopped by. Still in a recovery room," he wrote.
Fans were thrilled to hear that their favorite weatherman recovered quickly from the procedure. "Yay! Feel better soon," one user wrote. Another added, "Glad you made it through successfully! Hope you heal fast!" One said, "Wow!!! So awesome... quick recovery to you!" 
When does Al return to Today?
It seems Al is hoping to return to the popular NBC talk show by Monday, Sept. 30 at the latest (but hopefully before, of course!).
 "Going in [Wednesday] and with any luck, I'll be back in a week and a half or so," he shared on the Tuesday, Sept. 17 episode of the show.
Why did Al Roker have to get a hip replacement?
Al revealed that as of three months ago, he started to deal with hip pain. "All of a sudden, I started feeling this twinge in my hip — and then my back was acting up," he told Today.com. "It seems like my hip went fairly quickly." 
He added, "My left hip has been deteriorating, and I decided, let me go get it taken care of."
Being the funny guy that he is, he also joked about the matter, letting everyone know that his sister Lisa is also coincidentally getting hip replacement surgery.  "We've got a family plan going," he said. 
How old is Al Roker?
Al was born on Aug. 20, 1954, so that makes him 65 years old. 
And at that age, we're just glad he's taking care of himself... or as he says: "slowly replacing this body one by one."