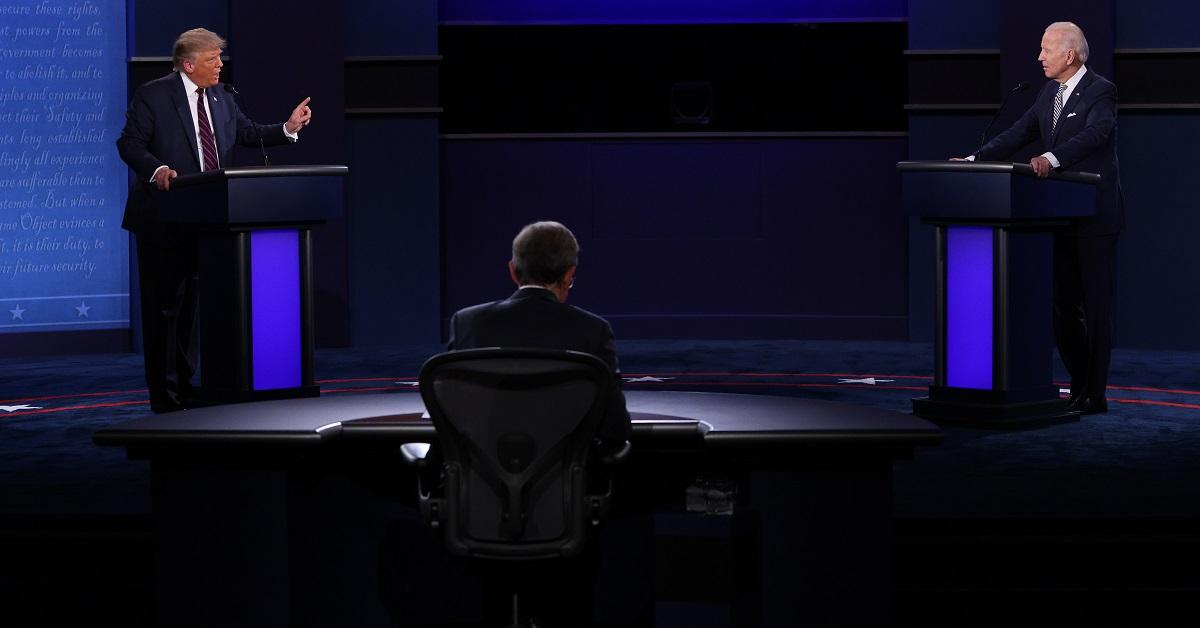 Why Did Chris Wallace Call Joe Biden "Vice President" During the Debate?
The first presidential debate between Joe Biden and Donald Trump was a disaster. The president's strategy, which was to interrupt virtually every answer Biden gave, made the debate difficult to watch and at times incomprehensible. It was a nightmare, and not one that necessarily redounded to the benefit of the president or his audience. Even as viewers dealt with the chaotic debate, some also wondered why Chris Wallace was giving Biden a special title.
Article continues below advertisement
Why did Chris Wallace call Biden "vice president"?
Throughout the debate, moderator Chris Wallace had trouble effectively keeping Trump from talking over his opponent, but some also had a more specific question about his performance as a moderator. Throughout the debate, Wallace referred to Trump as "Mr. President" and Biden as "Mr. Vice President," which left some viewers confused, because Biden is not currently the vice president.
Article continues below advertisement
Although Biden is not currently the vice president, people who have served in those positions often retain their titles after they've left the job. As a result, former presidents are often given the designation until they die, and vice presidents and cabinet officials retain their titles as well. Hillary Clinton, who served as the Secretary of State under President Obama, was referred to as "Madam Secretary" throughout her debates with Trump.
The vice-presidential nominees are the next to debate.
The current vice president, Mike Pence, will take the debate stage next opposite Biden's running mate, Kamala Harris. In that debate, Harris will not be given the designation of vice president, but Pence will. The debate will take place on Oct. 7, and is likely to be a less chaotic affair than the debate on Sept. 29. Harris and Pence are both more conventional politicians than the current president.
Article continues below advertisement
Polls suggest Joe Biden won the debate.
Biden, who currently holds a lead in most national polls and in polls of crucial swing states, also appeared to emerge the victor from the first presidential debate. Although much of the coverage of the debate described it as chaotic, voters who were asked favored Biden over Trump in a number of different polls. Ultimately, it's unclear what effect — if any — the debate will have on the presidential race.
Article continues below advertisement
Trump refused to condemn white nationalists during the debate.
Perhaps the most widely covered moment from the debate came after Biden and Chris Wallace called on Trump to condemn white supremacists who were inciting violence in cities around the country. Trump ultimately declined to do that, and instead told the Proud Boys, a far right militia group, to "stand back and stand by." He also blamed much of the violence in America's cities on left-wing groups like Antifa.
In the aftermath of the debate, there was some speculation about whether there would be another. Thanks to the chaos around the first, it seems like many spectators and news commentators are hoping this will be a one-time thing. Ultimately, though, it seems likely that the other two presidential debates, which are scheduled for Oct. 15 and Oct. 22, will move forward. Whether you watch them is another question entirely.