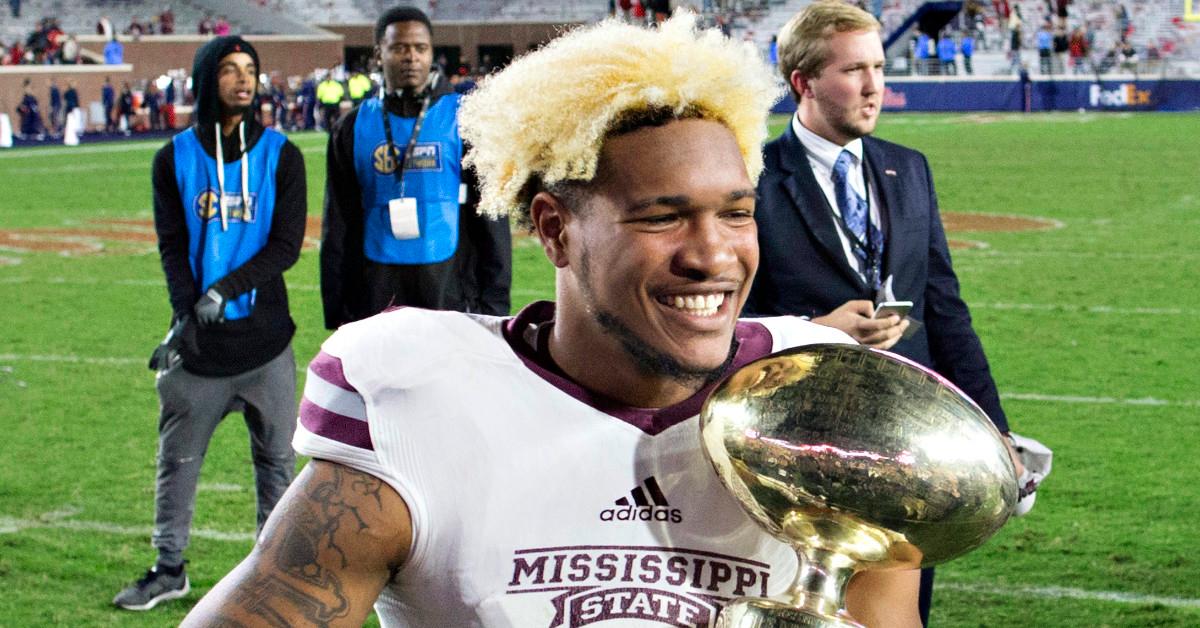 Ole Miss and Mississippi State Are Scrambling for the Egg in This Year's Egg Bowl
Article continues below advertisement
With days to go until the big game, the pressure is on for both teams, as new Mississippi State coach Mike Leach told reporters on Monday, Nov. 23. "I do know that just over the years, even when I was a kid, it was always an incredibly intense game," Mike said, per The Clarion-Ledger. "I know that it's very meaningful to people, and I know that it's in conversation all year round. There's not a day where I don't hear somebody mention the Egg Bowl."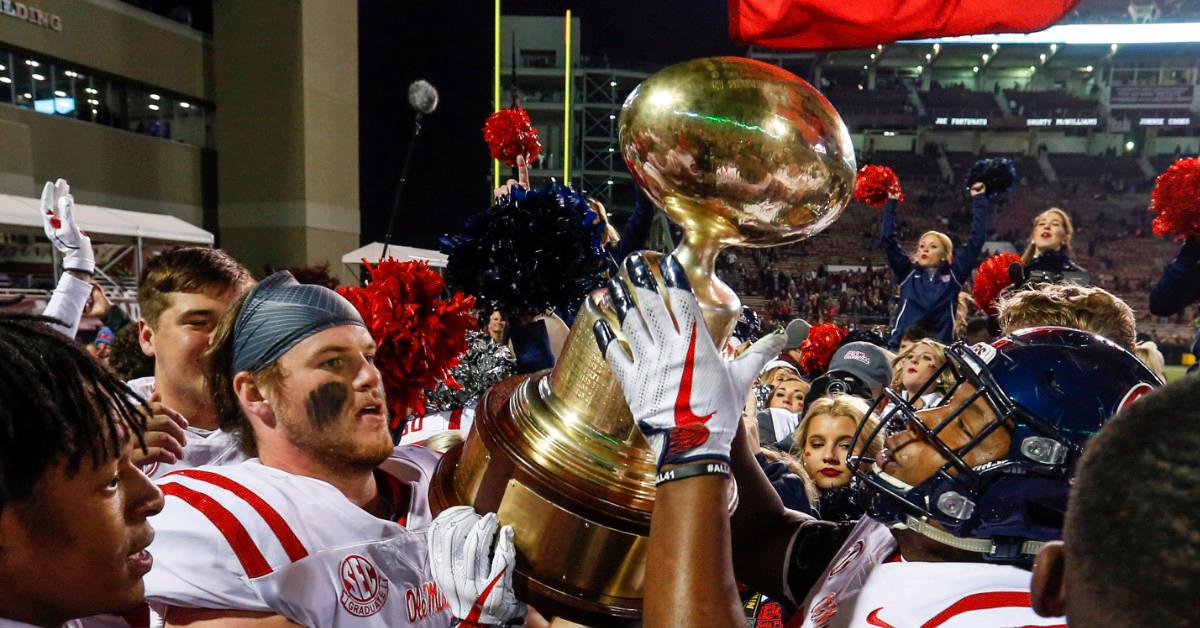 Article continues below advertisement
Why is it called the Egg Bowl?
Long story short, the name came from the trophy, and the trophy came from a brawl, as 247Sports reports. When Ole Miss beat Mississippi State (then named Mississippi A&M) in 1926 and broke a 13-game losing streak, Ole Miss fans stormed the field, A&M fans pursued them with cane-bottom chairs, and mayhem ensued.
The following year, the Ole Miss honorary society Sigma Iota proposed that the winner should receive a trophy in a dignified ceremony. The two teams approved the plan, agreeing that the prize would be a gold-plated football on a pedestal, a $250 expense that the teams would split. And thus, the Battle for the Golden Egg was born.
Article continues below advertisement
As for the "Egg Bowl" moniker, that was the 1979 brainchild of the late Tom Patterson, a former sports writer for The Clarion-Ledger, as the Mississippi Sports Hall of Fame explained in 2014:
Article continues below advertisement
"This will tell you much about Patterson, his ideas and his ego. He didn't think Mississippi sports teams measured up to his sports sections. He wanted to show off all that talent with a special section covering a special event. Problem was, the Ole Miss and Mississippi State football teams weren't good enough at the time to qualify for a bowl game. So, guess what? Patterson made up his own. The traditional Battle for the Golden Egg became the Egg Bowl."
The last two games have earned their own nicknames.
The 2018 Egg Bowl was dubbed the "Egg Brawl" after players started fighting over the ball — and even shoving and punching each other — after an apparent football, per 247Sports. Following the fight, one Ole Miss player and three Mississippi State players were ejected from the game, and all players were given unsportsmanlike conduct penalties.
Article continues below advertisement
The 2019 game, meanwhile, earned the nickname "The Piss, the Miss, and the Double Dismiss" for a series of unfortunate events. After an Ole Miss player celebrated a touchdown by pretending to be a dog urinating in the end zone, he earned an unsportsmanlike conduct penalty, and the team's extra point attempt was extended from 20 yards to 35 yards.
The team missed that extra point attempt and ended up losing the game 20–21. As for that double dismiss? Both Ole Miss and Mississippi State fired their head coaches in the weeks after the game.