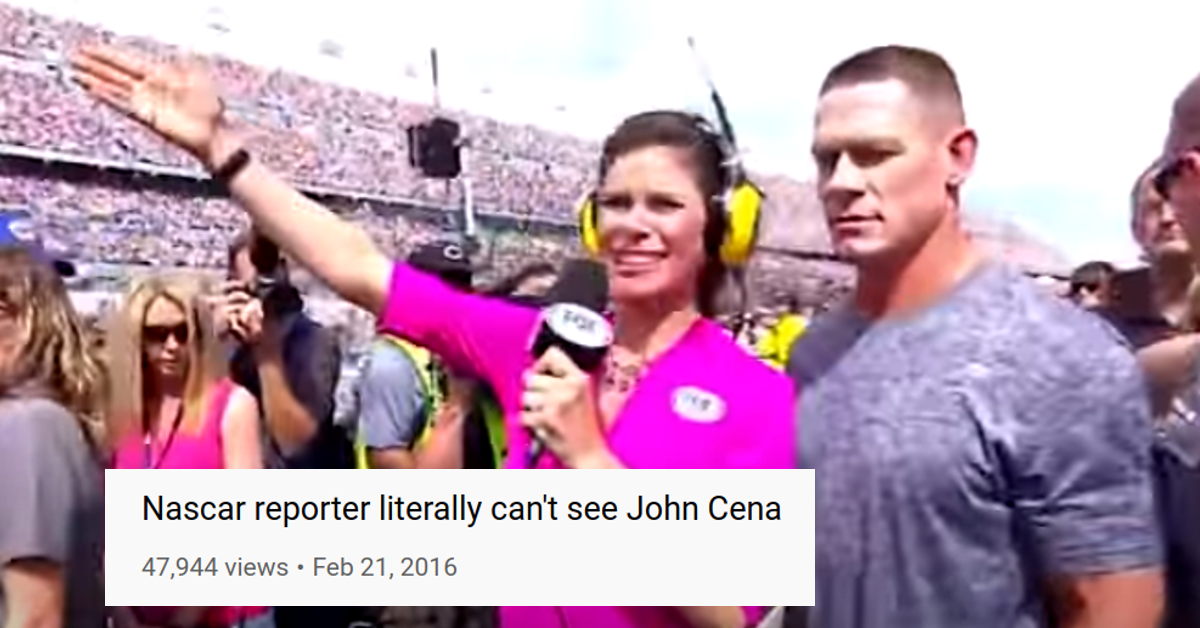 John Cena's "You Can't See Me" Meme Explained
It's one of the longest running memes ever… but just why is John Cena invisible and why is it so funny? Details on the meme, the man, and the myth.
Every single wrestler has their own catchphrase. For Dwayne Johnson, it's "If you smell what the Rock is cooking." For Steve Austin, it's "And that's the bottom line, 'cause Stone Cold said so." For D-Generation X it was, "And we got two words for you: SUCK IT!" There are tons of beautiful taunts the wonderful world of sports entertainment has provided for fans over the years, and in the case of John Cena, his "You Can't See Me" chorus is the reason why he is invisible in so many memes.
Article continues below advertisement
Wait, why is John Cena "invisible"?
Again, it all started from his "You Can't See Me" taunt, but where did the idea for a 6-foot-1 251-pound man, who is jacked beyond belief and physically impossible to not be seen, come up with such a catchphrase? It stemmed from him joking around with his brothers growing up.
John and his younger sibling Sean were practicing dance moves meant to come out with his rap album titled "You Can't See Me."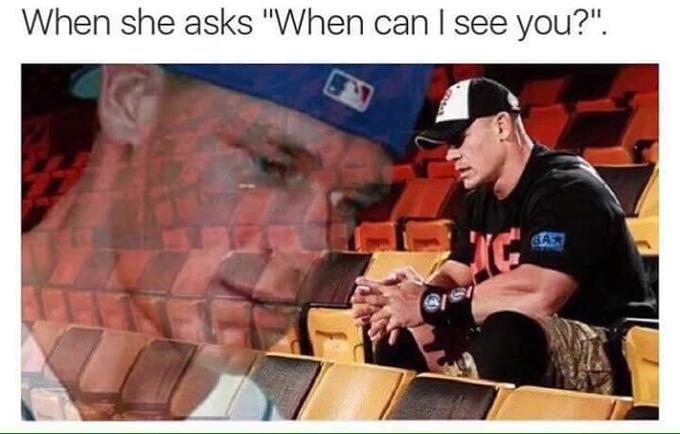 Article continues below advertisement
One of the moves involved Sean waving his hand in front of his face, and the two found the entire thing hilarious. We all have jokes and "you wouldn't get it" references between close friends and siblings that really don't make sense out of whatever weird, shared context that other person just gets. My best friend Chris Conroy and I have this William Fichtner/Peter Stormare bit no one else understands, and that's fine.
But one thing people do understand even if they don't realize it's happening, is an individual's personal enthusiasm for something. So when John was dared by his younger brother to perform the "You Can't See Me" dance during filming of an ancillary WWE program called Velocity and John actually followed through on it, it resonated with a lot of viewers in a variety of ways.
Article continues below advertisement
John's one of the most polarizing figures in the sport, some people genuinely love the guy and his entire in-ring gimmick, while other people just love to hate him for whatever reason. Cena himself seems to understand the strong-in-either-direction response he gets from viewers, and how his "You Can't See Me' catchphrase ended up becoming a meme.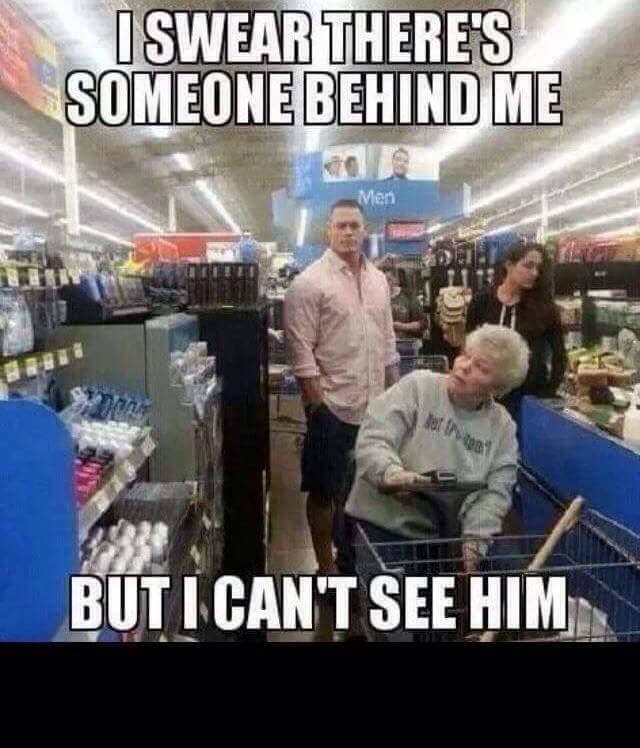 Article continues below advertisement
Cena talked about the origin of the phrase with WWE.com: "The 'You Can't See Me' thing was a joke from my little brother. "My family is a bunch of idiots. This stupid song came on, we started dancing around and my brother Sean did this dance from a video where he moves his head around his hands."
John is pretty aware of the fact that he's got a lot of haters as well as fans, and he seems to be equally appreciative of both: "Every time you see me come out, it's like I'm shot out of a cannon. It's because I'm ready, I'm ready to go, and that's whether you're telling me I suck or whether you're telling me that I'm great. It's why I orchestrate you to continue to make noise because as a performer, this makes me feel 10-feet tall."
Article continues below advertisement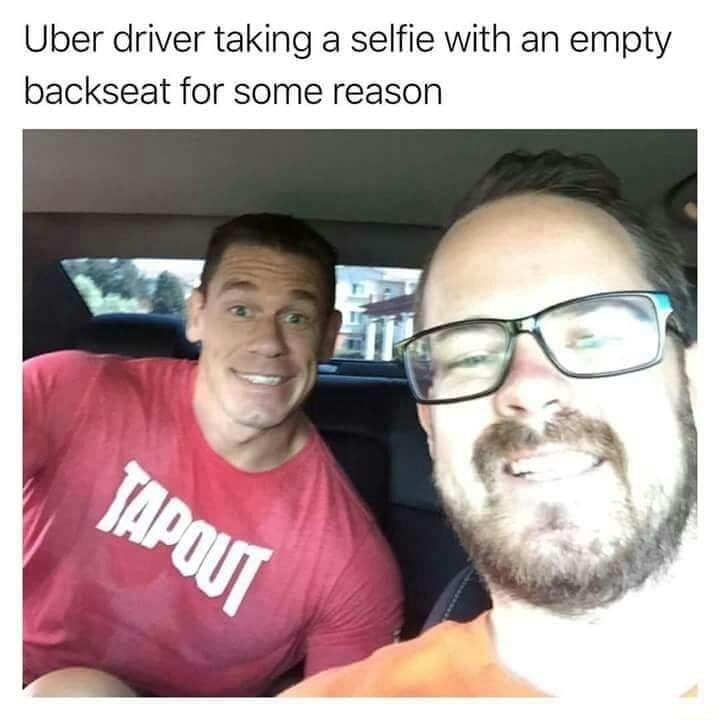 He continued, "Just audible reaction. I love it when a group of people has so much energy that it's viscerally negative towards me. I also love it when the energy is so overwhelmingly positive, it does lift you up. It's like it's all so f--king wonderful."
And it seems like he's co-opted the meme, which started as a lampoon of his catchphrase, into almost a lovable form of expressing appreciation toward the professional wrestler.
Article continues below advertisement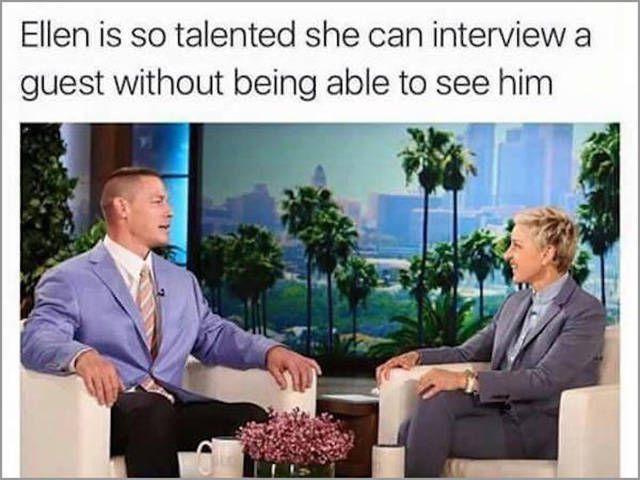 Article continues below advertisement
Who is John Cena married to now?
Cena, who was previously engaged to fellow WWE star Nikki Bella, tied the knot in an intimate ceremony with Shay Shariatzadeh, a Canadian-Iranian product manager for a Vancouver-based tech company. John and Shay reportedly had that "love at first sight" magic occur when they first met, and dated for a year before eventually tying the knot on Oct. 12, 2020, out of the spotlight of cameras and paparazzi.
Article continues below advertisement
Cena's ex-fiance, Nikki Bella, reveals she was raped twice as a minor in her new memoir.
Nikki talked about her past trauma in Incomparable, which was co-written by her sister Brie, and said that she was assaulted when she was 15 and 16 years old. The first time it occurred by someone who "she thought was a friend," and the second time she was drugged by a college-aged man.
People shared a snippet of Bella's story from the book:
"There is the horrible offense in the moment, and then the shame and blame that follow and feel almost worse than the original pain. When something like this happens to you, you understand the blame-the-victim mentality, how easy it is to feel shame rather than anger, how easy it is to feel like you could have stopped it yourself."
Article continues below advertisement
Bella was thankfully fortunate enough to work through her past trauma to become a huge star in the WWE and carve out an amazing career for herself. She congratulated John and Shay on their engagement and is currently expecting her first child with Dancing With the Stars performer Artem Chigvintsev.
If you need support, The National Sexual Assault Hotline is available 24/7 at 1-800-656-4673. You will be connected with a trained staff member in your area. Or visit RAINN.org to chat online with a support specialist at any time.