What Is the Strange Connection Between John Cena and Potato Salad?
John Cena is one of the WWE's most recognizable stars, so why is he being compared to potato salad? Details on the strange development here.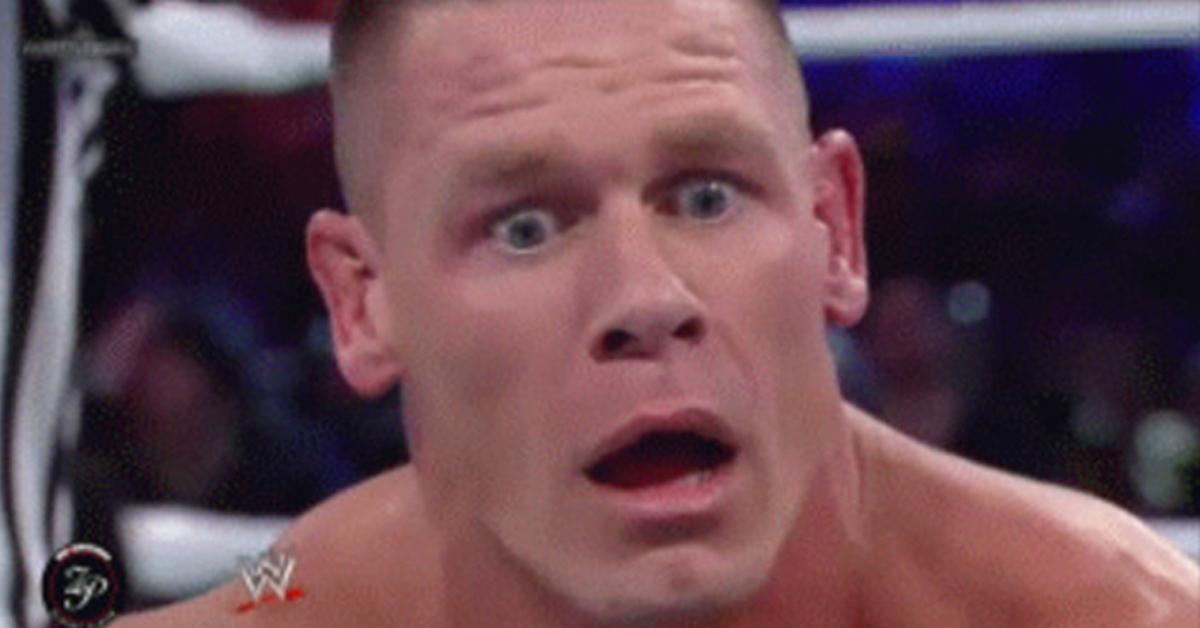 Fandom is interesting. Who wouldn't want legions of people supporting your work and applauding your talents? While many folks are always quick to say "eff the haters" and "I'm just gonna do me," actually "doing me" is pretty tough. We're social creatures, and it's hard not to want some type of affection and adoration for what we do. But fans can often be cruel, which is exactly what's going on with so many WWE viewers calling John Cena potato salad.
Article continues below advertisement
Why is John Cena potato salad?
You'd figure that one of the WWE's most recognizable stars would get a lot of respect. He's got worldwide appeal. He managed to deliver an entire speech in Mandarin for the organization's expansion into Asian markets. He's got leading roles in top movie franchises, and has been top dog for the WWE for years. He's always been in shape, is rarely injured, and hasn't had any public PR disasters that would get him "canceled."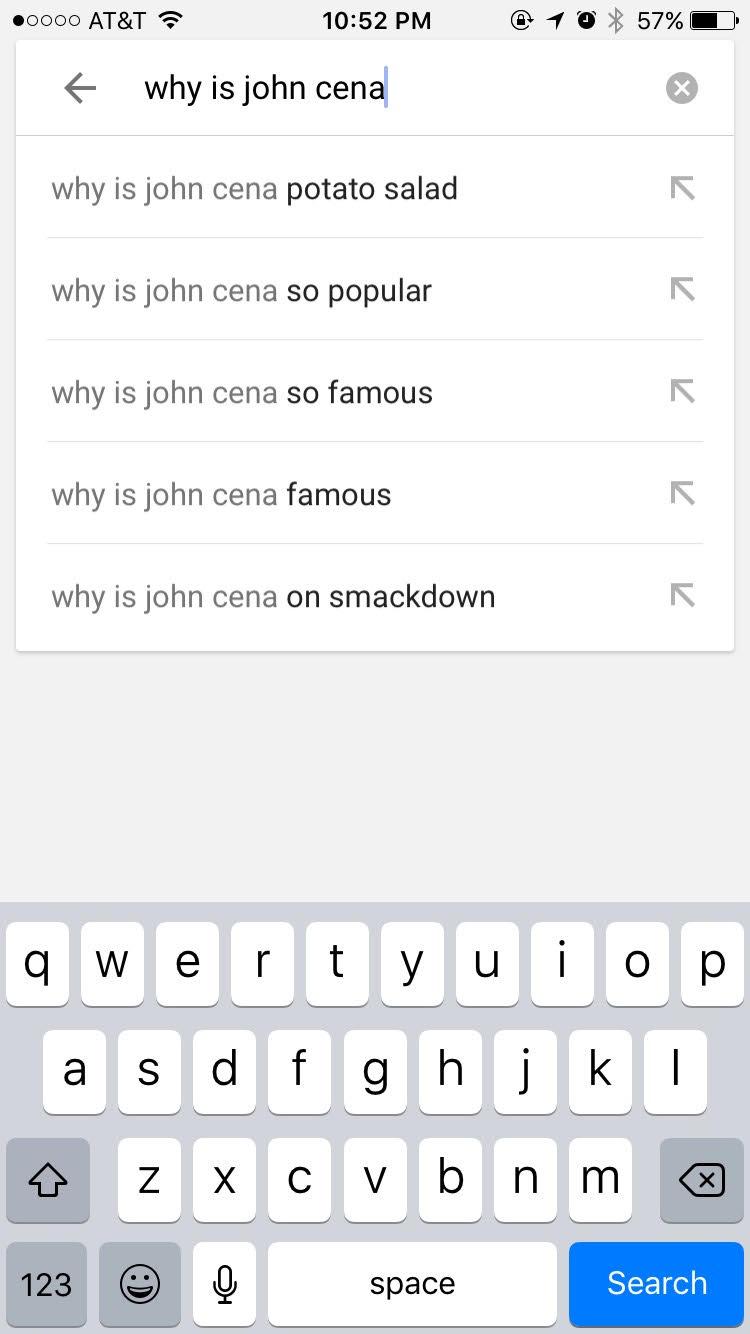 Article continues below advertisement
So why are people comparing the man to potato salad? Well, it's because a lot of fans think that John is just kinda... boring. There's really no other way to put it. Folks find Cena's entire persona and in-ring mic skills uninspiring. But are there really that many people who dislike him? Or is it just a very vocal minority of pro-wrestling fans who have it out for John Cena and love to hate the man because he's just a little too... perfect?
It's a topic that Bray Wyatt touched upon in his amazing Wrestlemania bit with Cena that was more like a performance art-piece and sketch comedy routine than it was a wrestling match. It was filled with references to John's physique and lampooned his reputation as a "good company man."
And a company man John is: he's been Vince's go-to for a variety of different business deals and for headlining countless events.
Article continues below advertisement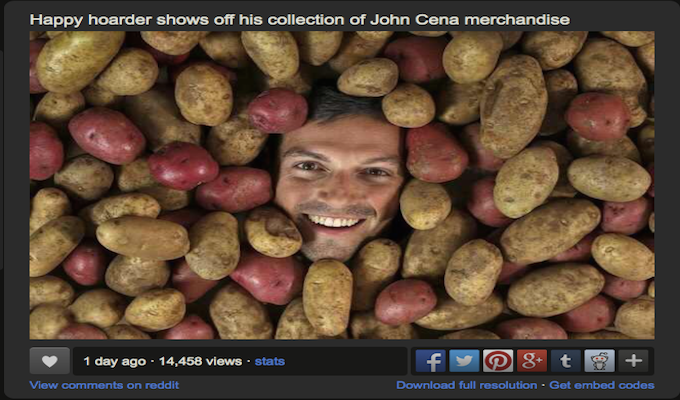 There's also the fact that John has more Make-A-Wish appearances than any other person on the planet and the fact that he's constantly going above and beyond for fans, signing thousands of autographs in a single session for folks who either show up to events or for special occasions. The man will sit in a chair and deplete tons of sharpies just to make the fans happy.
Article continues below advertisement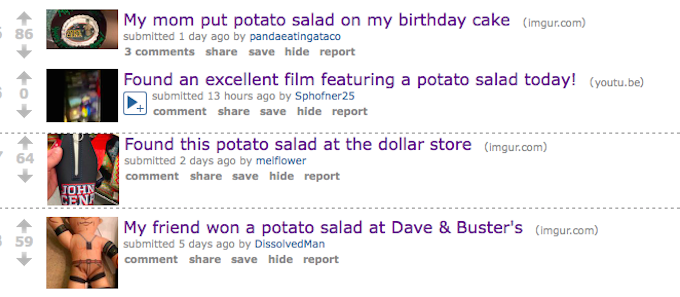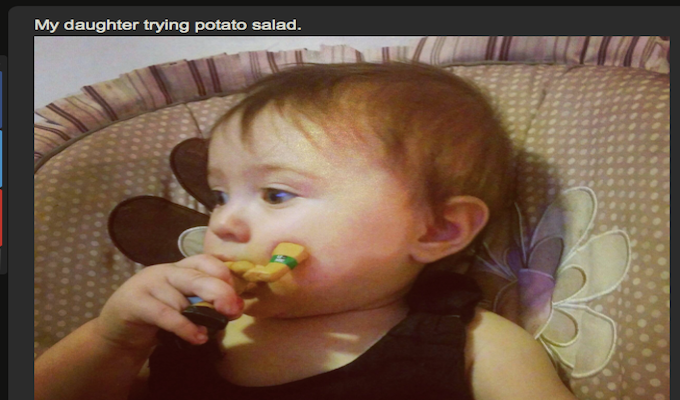 Article continues below advertisement
So it's still kind of a mystery why people are constantly saying the man is "bland." Several Redditors have posted memes/pictures of potatoes saying that they just spotted John Cena or that they won potato salad at an arcade, or showing photos of people surrounded by potatoes, stating that they're showing off their John Cena merchandise collection.
Article continues below advertisement
John Cena is also the host of 'Are You Smarter Than a 5th Grader.'
Again, the potato salad comparisons are a bit unfair when you also consider that the man was charismatic enough to be given a high-profile hosting position for a popular game show. Given John's epic reputation when it comes to putting smiles on kids' faces, he was a natural choice for the series.
Article continues below advertisement
So is John Cena really potato salad? No, he's a human being, gosh darn it! But I don't think he's too perturbed by the comparisons — the dude's got a $55 million net worth and has a pretty dang good life and career. Plus he's like, totally jacked, bro.